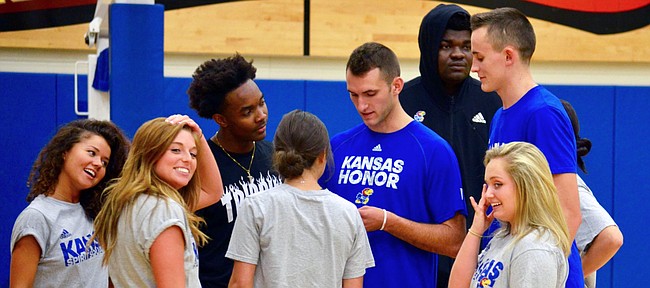 Marcus Garrett had the perfect playcall in his head. Well, sort of.
The play was actually a dance, performed in the music video for the song "Drip From My Walk." And after thinking it over, the freshman was starting to second guess himself.
"He was like, 'Oh, I don't know if I can do that,'" said Keaten Olson, one of the Rock Chalk Dancers tasked with putting together the men's and women's basketball dance routines for Late Night in the Phog.
So it was up to Olson and her crew to make it happen.
She and another dancer studied the video, one they'd admittedly never seen before, and completed the quick turnaround to implement a similar routine in the next practice.
The accelerated time frame, spanning just shy of two weeks from start to finish, was already difficult enough, not to mention the stakes of a performance in front of some 16,300 fans and thousands more with their eyes glued to their screens at home.
But that's the gig. It's Late Night in the Phog, and it waits for no one.
"Really, we've had three hours to put together this whole dance," Olson said. "The fans would never know."
No kidding.
As fans camp outside and eventually pack into Allen Fieldhouse on Saturday, awaiting them will be a host of performances from the men's and women's basketball teams, who may be even more excited — or perhaps anxious — to take the court.
After all, the lead time is already limited, spread out between one rehearsal and four practices that often involve the players just shooting around on a hoop. Then there's the adjustments.
Katie Lomshek, a senior on the dance team, noted one practice was flipped on its head after redshirt sophomore Malik Newman suggested a switch to a dance he saw on YouTube.
The rest of the practice, which lasted no more than an hour, became a film study of Grammy award-winning artist Chris Brown.
"Here, you guys learn this, and come to practice … and teach us," Lomshek recalled Newman saying. "We sat there and watched a bunch. A bunch."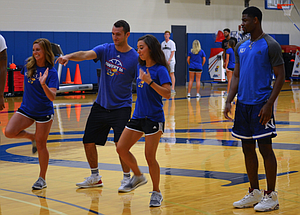 Simple enough. Sometimes.
Although a tweak to a dance can be installed at a single practice, sometimes the players have a little more in mind.
Allie Walters, a KU senior who previously worked with the women's basketball team, came into her third year ready to choreograph a dance to the song "Can't Feel My Face." There was just one problem.
"The girls were like, 'Eh, we don't really like that song,'" Walters recalled. "We were like, 'What do you guys listen to?'"
They got their answer, and they were off and running.
"It was funny because they actually taught us the 'Juju on that Beat' song," Walters said. "It was really fun. ... We got to incorporate that into the rest of the choreography that we had come up with."
For the most part, Walters said, the women's team takes it all pretty seriously. To compensate for the limited practice time, the dancers record videos of themselves and pass them along to the players, though some are pretty natural when it comes to the routine.
"We've had some really good one ones over the years," Walters said. "Jayde (Christopher) was super awesome. ... Caelynn (Manning-Allen) was really fun last year too."
Then there's the coaches. Olson noted women's basketball coach Brandon Schneider really got into a solo for a video the Rock Chalk Dancers help put together; on the other side, the men's basketball assistants like to have fun in their own way.
"The coaches just kind of stand there, overlook us and (heckle) the players," Lomshek joked. "They'll be like, 'Svi, what are you doing? What are you trying to do out there?'"
"They get a hoot from it," Olson added. "They love watching."
They aren't the only ones.
Among the most memorable instances from past dances were a backflip done by Frank Mason — don't expect to see anyone try that this year — and a move by Svi Mykhailiuk known as "the dolphin," where he leapt into the air, contorting his body back in forth in a way that descriptions fall well short of the actual video.
And with a "battle" theme to this year's Late Night and plenty of ideas bouncing off the walls up until the last minute, there's no telling just what might be in store for the KU crowd come Saturday.
"We were practicing (Wednesday) in Allen," Lomshek said, "and I'm still just as nervous as some of the freshmen were."