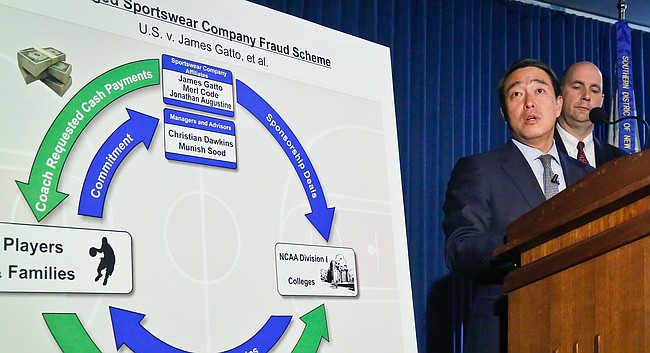 University of Kansas officials are monitoring allegations against a high-level Adidas executive but have fielded no inquiries from federal investigators about a probe into college basketball recruiting practices, KU associate athletic director Jim Marchiony told the Journal-World Tuesday afternoon.
Although KU was not referenced in a Tuesday morning news conference led by acting U.S. Attorney Joon H. Kim in New York City, which revealed more details about the investigation that produced more than 100 pages worth of findings, KU does have a long-standing sponsorship agreement with Adidas.

Last week, the KU athletic department announced the extension of its contract with Adidas, with the partnership now lasting for at least the next 14 years and including a $191 million price tag that is expected to help the athletic department as it pursues a stated goal of $350 million for facility upgrades in football, basketball, volleyball and baseball.
James Gatto, the global marketing director at Adidas, was one of the 10 men charged with using bribes to influence high-profile athletes in their choice of schools, shoe sponsors, agents and financial advisers.
In recent days, Gatto had touted the deal Adidas reached with KU on his social media pages. Marchiony, though, said Gatto "had nothing to do" with the recent negotiations between KU and Adidas.
As of 3 p.m. Tuesday, Marchiony said KU had had "no contact from the federal government" about the probe and added that KU officials had been proactive in their quest to find out more information about the situation.
"We've been on the phone with Adidas," Marchiony said. "And we, along with Adidas, continue to monitor the situation."
Along with Gatto, four of the 10 charged were assistant coaches at highly visible college basketball programs — Chuck Person of Auburn University, Emanuel Richardson of the University of Arizona, Tony Bland of the University of Southern California and Lamont Evans of Oklahoma State.
Three of those four schools are affiliated with Nike and the fourth, Auburn, is an Under Armour school.
Kim said at the end of the news conference that the investigation was ongoing and many college basketball analysts across the country described what went down Tuesday as merely "the tip of the iceberg."