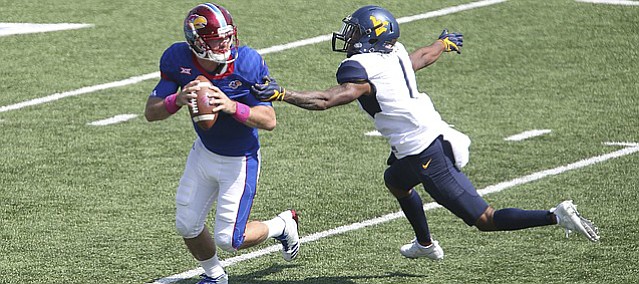 Entering a bye week, Kansas football coach David Beaty said he saw some improvements during his team's 56-34 home loss to West Virginia last weekend.
The Jayhawks nearly fought back from a 25-point deficit in the second quarter and had plenty of success on offense through sophomore running back Khalil Herbert.
But following KU's third straight defeat, Beaty wasn't going to spend much time emphasizing only the positives.
"I don't believe in moral victories; I believe in winning and losing," Beaty said. "We don't give out medals for losing around here. We don't do any of that stuff. The focus is on trying to win the next day so we can create the byproduct that we want."
In each loss this season, the Jayhawks (1-3, 0-1 in Big 12) have fallen into a similar theme of a slow start. That will be one of the several areas that Beaty wants to address throughout the bye week, along with turnovers and costly penalties.
Kansas has committed nine turnovers this season, which is fewer than only 11 teams across the nation.
"Getting off to a good start is going to be critical for us as we move forward," Beaty said Monday. "It's something that has plagued us this year already. We simply can't do that. I don't know many teams that can, honestly."
One of the most encouraging parts of the loss to West Virginia (3-1, 1-0) was KU's play in the third quarter. The Jayhawks forced three punts and a turnover, while outscoring the Mountaineers, 14-0.
"I told our guys I thought we controlled the third quarter of that game," Beaty said, "and I felt like we also controlled the fourth quarter, just in a different way by doing some things that allowed them some easy points."
West Virginia quarterback Will Grier added: "They came out in the third quarter, played really hard and beat us on some stuff. We beat ourselves on a couple things. They played hard and they made some good plays."
Despite some of the similarities during KU's three losses, Beaty said the coaching staff evaluates each game differently.
"From our standpoint, we look at each day and each game separately," Beaty said. "The byproduct is going to be winning. As I go back and look at that game, I look at the things that put us in a hole and I look at how we responded to that adversity."