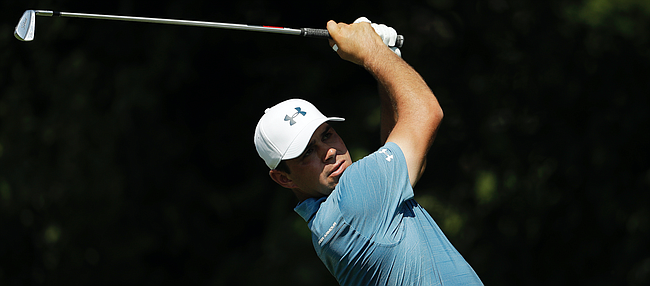 What professional golfer Gary Woodland told Golf Channel was "the toughest year of my life by far," came to a close Sunday at East Lake Golf Club in Atlanta, where the top 30 golfers in the FedEx Cup competed for four days.
Woodland shot 67-67-71-74 and the mental grind has come to an end until it resumes next season.
During the season, Woodland and wife Gabby lost one of their twins in the womb in March. Her twin brother, Jaxson, was born 10 weeks premature in June. Earlier this month, Gabby and Jaxson evacuated Florida in anticipation of Hurricane Irma. When the Woodlands returned to their home, they lived without power and water for three days.
Golfers cherish their weeks off because they need them to escape the pressure and refresh their minds. Woodland didn't have that luxury.
"Every off week since the Match Play my wife or my kid has been in the hospital," Woodland told Golf Channel. "The only week he wasn't in the hospital we had to evacuate Florida, so it's just been no off weeks and that's been tough."
Still, Woodland, 32, finished 28th in the FedExCup standings and was 43rd in the most recent Official World Golf Rankings, earning himself a spot in all four majors again next season.
Considering all that weighed on him in a sport that even more than most benefits those with a clear mind, Woodland had a darn good year. Look for him to have an even better one next season.
Woodland obsessively works at his game and statistics available on pgatour.com reveal his practice especially paid off in two areas this season. He ranked 10th in sand-save percentage at 60.68, shoring up what used to be his biggest weakness. He made great gains in dialing in his distances into the green and ranked 15th in the metric for approach shots.
Woodland had the season's 10th (410 yards) and tied for 22nd-longest (403). Dustin Johnson had the longest (439). Woodland finished 13th in driving distance (307.6), a category led by Rory McIlroy (317.2), but just 115th in driving accuracy (59.31 percent in the fairway, compared to leader Ryan Armour's 72.73).
Woodland logged five top-10 finishes and finished second twice, despite having an off year with the putter.
The PGAtour.com stats break down every player's percentage of makes from specific distances. Woodland made 89.72 percent of his 5-footers, good for fifth-best on the tour. Add a foot and it became a completely different story. From 6 feet, Woodland made 56.32 percent, 187th among 190 golfers. Charles Howell III ranked first with an 84.75 percent make rate. Woodland made 58.97 percent from 7 feet (110th), 53.85 percent from 8 feet (tied for 101st), and 31.58 percent from 9 feet (186th).
He has time to figure out a better approach for putts in the 6-to-9-foot range and he'll work with Butch Harmon to hone his accuracy with the driver. Look into your crystal ball and see if it doesn't show what mine shows: Woodland's name on the leaderboard on Sunday in the 2018 Masters.