Saturday, September 23, 2017
Now that new University of Kansas chancellor Douglas Girod made it clear he stands behind athletic director Sheahon Zenger and football coach David Beaty and no changes will be made there any time soon, the challenge to Saturday's home football game became seeking a sign, any sign, of progress from a football program running on a hamster wheel for going on eight years.
The sign appeared Saturday: The Kansas offense is getting better, which is a good thing because the defense is not.
Kansas lost to West Virginia, 56-34, but at least sophomore tailback Khalil Herbert supplied plenty of entertaining moments, replays of which will be worth watching synced to classical music.
His sharp cuts, low-to-the-ground running style and great balance made for an afternoon of he's-down-wait-no-he's-not long runs behind an improving offensive line.
Photo Gallery
Kansas football v. West Virginia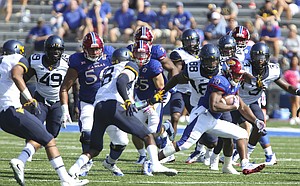 View a gallery of images from Saturday's game between the Jayhawks and Mountaineers at Memorial Stadium.
Herbert had at least one run of longer than 10 yards in each quarter. He popped loose for gains of 18, 21 and 12 yards in the first quarter, a 67-yard touchdown run in the second, had a 60-yard ballet on artificial turf in the third and 15-yard gain in the fourth on his way to a 291-yard, two-touchdown day.
No running back does all that without the help of physical blockers. Herbert, Beaty and quarterback Peyton Bender were quick to give them credit.
Herbert rushed for 137 yards in a 42-30 loss at Ohio and KU amassed 375 yards on the ground vs. West Virginia. Clearly, moving Andru Tovi in place of Jayson Rhodes at left guard and Zach Hannon in place of Antione Frazier at right tackle has had a positive impact.
"I think a lot of it's development to be honest with you," Beaty said. "We have just a few new guys in there, but (redshirt freshman) Chris Hughes (at right guard) is a developing guy. He developed over last year. He didn't play at all, but we knew he was going to be a pretty good player. He's got a lineage. His brothers both played at Texas. Both of them were massive and really good players. We knew he had a chance to be really good, and I thought Zach (Yenser, offensive line coach) did a great job bringing him along."
Not that the line is a finished product. Starting guards Tovi and Hughes were flagged for two false-start penalties apiece, three coming in the first quarter.
Center Mesa Ribordy and left tackle Hakeem Adeniji bring smarts and maturity to the O-line and both have two years of eligibility after this season, so those on a mission to find hope, might want to start there.
"I think development has been kind of a key for us up front, and we knew that coming into this project, this turnaround project, that it was going to be hardest up front," Beaty said. "But I am proud of Zach Yenser and what his vision was for what we were trying to get done up front. I think it's starting to pay dividends."
KU has the personnel to make the run game a big part of the Air Raid offense coordinated by Doug Meacham, who was happy to have Taylor Martin (11 rushes for 59 yards and a touchdown) back among the healthy.
A sign of progress: In Beaty's first 23 games vs. FBS opponents, KU never scored more than 24 points in a game. The Jayhawks have averaged 32 points the past two weeks, reaching the 30-point barrier in back-to-back games for the first time since interim head coach Clint Bowen's offenses, coordinated by Eric Kiesau, put up 34 points in a victory vs. Iowa State and 30 in a loss to TCU in 2014.
Kansas resumes its schedule after a bye week, trying to reach the 30-point milestone for a third consecutive time in a home game vs. Texas Tech, a streak that would be the longest since Mark Mangino was coach in 2009.
Two weeks of more watchable offense does not a sea change make, but it's a start.
https://www.youtube.com/watch?v=wL5IaVLIWzk
https://www.youtube.com/watch?v=87jbAvU2pTc
— See what people were saying about the game during KUsports.com's live coverage.
---
More news and notes from Kansas vs. West Virginia