Saturday, September 23, 2017
Among the miscellaneous errors that made it impossible for the upset-minded Kansas football team to topple West Virginia Saturday at Memorial Stadium, the penalties and turnovers bothered head coach David Beaty most of all.
Running backs Khalil Herbert and Taylor Martin combined to average 7.4 yards per carry against the Mountaineers, but KU's eight penalties and three giveaways became a major obstruction for the Jayhawks in a 56-34 home loss.
"We know it's not athletically that we're struggling," Beaty said at his post-game press conference. "We know that we athletically can do it. It's just managing the mental part of the game and being a smart football team. We say that every week, not letting crazy things happen to us."
On one of the more glaring flags of the afternoon, junior defensive end Dorance Armstrong Jr. jumped offside on a Mike Molina 29-yard field goal that went through the uprights. WVU picked up a first down because of the penalty and scored on a Will Grier touchdown pass to David Sills V two plays later.
"That was a big play in the game," Beaty admitted of KU giving the Mountaineers an extra four points. "But (Armstrong) also did a lot of things for us to get us into that position. They didn't score on that play. We could have stopped them, and we didn't. Those type of things are going to happen. You don't want them to, but you're going to have some negative adversity come your way, and you've got to find a way to bow your neck and get on the field again."
Photo Gallery
Kansas football v. West Virginia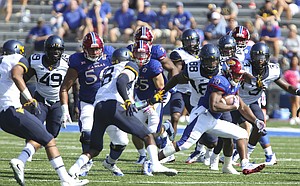 View a gallery of images from Saturday's game between the Jayhawks and Mountaineers at Memorial Stadium.
The Preseason Big 12 Defensive Player of the Year, Armstrong made three total tackles, batted down a pass and hurried Grier twice in the loss, but remained sack-less on the season.
Beaty also lamented a series of false starts by KU's offensive linemen, labeling those plays, as well as Armstrong's, "unacceptable."
Sophomore left tackle Hakeem Adeniji agreed.
"That's something that we've got to get straightened out," Adeniji said of false starts. "That's something that we can't have. I think we finished the first quarter with three points and we could've had maybe 10, 13-plus. Then there's an offsides later in the game that turns a field goal into a touchdown. And I feel like if we can stay away from that we're going to be good."
Beaty labeled the mistakes a reflection of both him and his staff.
"I know my guys. We don't like that, because I know we teach them better," Beaty added.
Podcast episode
After a 56-34 home loss to West Virginia on Saturday, Kansas football coach David Beaty discussed his disappointment with the fourth quarter and how the Jayhawks planned to utilize Khalil Herbert and the team's rushing attack.
First-time starters
KU's starting lineup featured three new faces against WVU (3-1 overall, 1-0 Big 12).
On offense, Caperton Humphrey, a sophomore who transferred to Kansas (1-3, 0-1) from Eastern Kentucky was credited with a start at fullback.
Graduate transfer Zach Hannon, who played most of the loss at Ohio a week earlier at right tackle, also made his first start with the Jayhawks.
Both Humphrey and Hannon and a slew of other blockers up front, sophomore running back Khalil Herbert said, contributed to his personal-best 291-yard rushing day.
"I think it's just the attitude. Knowing we can run the ball a lot and they love it, so we keep doing it," Herbert said.
Senior defensive tackle Jacky Dezir, credited with two solo tackles, also started.
This and that …
KU junior linebacker Joe Dineen reached double-digit tackles for the fourth consecutive week. Dineen led Kansas with 14 total tackles, and added a sack, two tackles for loss and a QB hurry. … Junior kicker Gabriel Rui connected on a career-long 41-yard field goal to close out the first half. … Back from an undisclosed injury, junior running back Martin rushed for a season-best 59 yards. … KU's 367 rushing yards were the most by the team in one game since 2012, versus Texas Tech. … In two straight games, Herbert reached 100 rushing yards before halftime, becoming the first Jayhawk to accomplish that since James Sims, in 2012. … Herbert's back-to-back rushing total of 428 yards ranks third all-time for KU. … Herbert's 67-yard rush in the second quarter eclipsed his former personal best of 66, in 2016 vs. Memphis.
https://www.youtube.com/watch?v=wL5IaVLIWzk
https://www.youtube.com/watch?v=87jbAvU2pTc
— See what people were saying about the game during KUsports.com's live coverage.
---
More news and notes from Kansas vs. West Virginia