Despite one of the best outings in school history by sophomore running back Khalil Herbert on Saturday, the Kansas football team couldn't keep up with West Virginia in a 56-34 loss at Memorial Stadium in its Big 12 opener.
The Mountaineers pulled away with 21 points in the fourth quarter, which including a pair of three-yard touchdown runs by junior quarterback Will Grier, which turned a one-score game into a blowout.
Herbert rushed for 291 yards and two touchdowns on 36 carries, the third-most yards in a single game by a KU player in program history. It was behind only Tony Sands (396 yards vs. Missouri in 1991) and Nolan Cromwell (294 vs. Oregon State in 1975).
It just wasn't enough when the Mountaineers (3-1) produced more than 600 yards of offense. Grier, a transfer from Florida, threw for 347 yards and two touchdowns, along with one interception. WVU running back Justin Crawford, the league's leading rusher heading into Saturday, had 125 rushing yards and a score on 18 attempts.
Photo Gallery
Kansas football v. West Virginia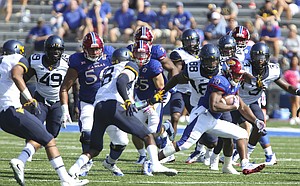 View a gallery of images from Saturday's game between the Jayhawks and Mountaineers at Memorial Stadium.
The Jayhawks (1-3) pulled within eight points at the end of the third quarter after a one-yard touchdown run by junior running back Taylor Martin, and again midway through the fourth quarter on a seven-yard TD pass to junior receiver Steven Sims Jr.
But each time the Jayhawks tried to make the most of their momentum, West Virginia's offense found a way into the end zone.
KU junior quarterback Peyton Bender completed 17 of his 32 passes for 197 yards, one touchdown and two interceptions. Sims had six catches for 96 yards.
Defensively, KU linebacker Joe Dineen led the Jayhawks with 14 tackles (11 solo) and the team's only sack Saturday.
Here's a quick look back at some of the action:
• The game turned when: The Jayhawks stiffened up on defense throughout the second half. After allowing 28 points in the first two quarters (West Virginia added a score on a pick-six interception), KU's defense held the Mountaineers without any points on their first four drives out of halftime.
In those four scoreless drives, WVU only had 73 yards over 17 plays, which included an interception by sophomore cornerback Hasan Defense and three punts. Thanks to the defense (and Defense), the Jayhawks scored 17 unanswered points.
• Offensive highlight: After busting up the middle on a 67-yard touchdown run, Herbert opened the third quarter with another big play. On KU's first drive of the second half, Herbert sprinted through a hole created by center Mesa Ribordy and left guard Andru Tovi, breaking an arm tackle around the line of scrimmage.
Herbert nearly stumbled as he broke into the open field, but he caught his footing and cut to his left, stiff arming a WVU defender in the process on his way to a 60-yard run. On the next play, Herbert added a five-yard touchdown run.
An honorable mention of the offensive highlight goes to Bender's best throw of the day, a 64-yard connection with Sims on a pass along KU's sideline. Sims had to extend his reach on the play, but still caught the ball in stride to the three-yard line.
• Defensive highlight: The Kansas defense hasn't recorded many turnovers during the first three weeks of the season, but cornerback Defense stepped up near the start of the third quarter for one of the best plays of his short KU career.
Defense wrestled the ball away from WVU receiver Ka'Raun White for an interception, helping the Jayhawks sustain some momentum in the second half. It was the second interception of the season for KU.
• Key stat: Yards per carry. The Jayhawks had a historic day on the ground behind Herbert, who averaged 8.1 yards on each attempt. Taylor Martin added 5.4 yards per carry, helping KU average a blistering 7.3 yards.
West Virginia was just as strong on the ground, averaging 6.7 yards per carry. Backup running back Kennedy McKoy averaged 8.8 yards on 12 attempts.
• Up next: Kansas will head into its bye week. In two weeks, on Oct. 7, the Jayhawks will play host to Texas Tech in their second Big 12 game, which will serve as the school's homecoming game.

HOW THEY SCORED
FIRST QUARTER
8:52 — Gabriel Rui 28 field goal. Fourteen-play drive for 64 yards, in 6:08. (KU 3, WVU 0.)
3:37 — Kennedy McKoy 7 run. Mike Molina kick. Eight-play drive for 80 yards, in 2:17. (WVU 7, KU 3.)
SECOND QUARTER
13:14 — Justin Crawford 11 run. Molina kick. Seven-play drive for 80 yards, in 1:43. (WVU 14, KU 3.)
8:56 — McKoy 23 run. Molina kick. Ten-play drive for 86 yards, in 3:22. (WVU 21, KU 3.)
5:17 — David Sills V 49 pass from Will Grier. Molina kick. Seven-play drive for 85 yards, in 2:10. (WVU 28, KU 3.)
4:11 — Khalil Herbert 67 run. Rui kick. Three-play drive for 75 yards, in 1:06. (WVU 28, KU 10.)
0:36 — Mike Daniels 25 interception. Molina kick. (WVU 35, KU 10.)
0:00 — Rui 41 field goal. Five-play drive for 49 yards, in 0:30. (WVU 35, KU 13.)
THIRD QUARTER
9:02 — Herbert 5 run. Rui kick. Nine-play drive for 89 yards, in 3:34. (WVU 35, KU 20.)
3:22 — Taylor Martin 1 run. Rui kick. Four-play, 67-yard drive, in 1:25. (WVU 35, KU 27.)
FOURTH QUARTER
11:02 — Sills 7 pass from Grier. Molina kick. Eleven-play, 86-yard drive, in 2:55. (WVU 42, KU 27.)
7:35 — Steven Sims Jr. 7 pass from Peyton Bender. Rui kick. Twelve-play drive for 75 yards, in 3:27. (WVU 42, KU 34.)
5:16 — Grier 3 run. Molina kick. Six-play drive for 72 yards, in 2:12. (WVU 49, KU 34.)
4:42 — Grier 3 run. Molina kick. Two-play drive for 31 yards, in 0:27. (WVU 56, KU 34.)
https://www.youtube.com/watch?v=wL5IaVLIWzk
— See what people were saying about the game during KUsports.com's live coverage.
---
More news and notes from Kansas vs. West Virginia