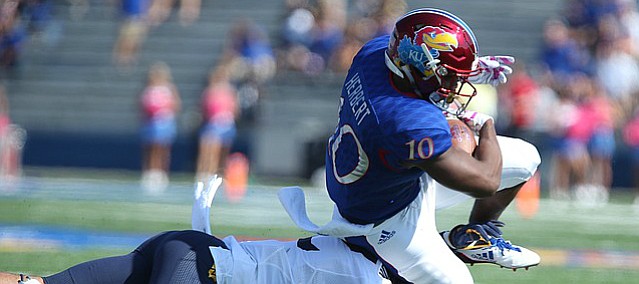 If it were possible for one man on an outmatched Kansas football roster to carry the entire program to an upset victory over West Virginia Saturday, it was going to be Khalil Herbert.
The sophomore running back's at times Herculean performance inspired hope within his teammates on both sides of the ball, for certain. Herbert and the Jayhawks even kept the announced crowd of 23,901 at Memorial Stadium entertained into the fourth quarter.
However, Herbert's personal record day — an FBS season-best 291 rushing yards on 36 carries, with a pair of touchdowns — could only do so much damage in a 56-34 loss to the Mountaineers.
Head coach David Beaty said his staff game-planned to feed Herbert, because they projected the ground attack as a strength against the Mountaineers (3-1 overall, 1-0 Big 12).
Herbert, a 5-foot-9, 200-pound sophomore inspired a little more than a week ago by his coaches openly challenging him at a practice, said following a career day the Jayhawks (1-3, 0-1) worked at practices to perfect their rushing plan. And when WVU got out to a 28-3 lead in the second quarter, the running back kept plugging away behind Hakeem Adeniji, Andru Tovi, Mesa Ribordy, Chris Hughes and Zach Hannon.
"I try to make plays to get my team back in the game, help us win any way possible," Herbert said.
Photo Gallery
Kansas football v. West Virginia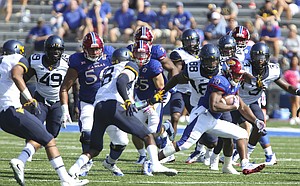 View a gallery of images from Saturday's game between the Jayhawks and Mountaineers at Memorial Stadium.
The more Herbert showed out, the more it seemed to help KU in every facet of the game, as the Jayhawks rallied to cut their deficit to 35-27 before the end of the third quarter. With chunk-yardage gains of 18, 21, 67, 25, 60 and 15 yards in the loss, Herbert kept providing everyone on the team with reasons to keep fighting.
However, the Herbert-heavy offense that made KU competitive disappeared down the stretch. Trailing by just eight points with 15 minutes left, the fourth quarter opened in positive fashion, with junior quarterback Peyton Bender hitting Steven Sims Jr. (six receptions, 96 yards, TD) on the sideline for a first down — WVU even helped the home team out with a 15-yard penalty on the play, due to a hit out of bounds by Elijah Battle.
But following a short Herbert run on first down, Bender couldn't connect on two straight passes. On third-and-eight, Bender (17-for-32 passing, 197 yards, one TD, two interceptions) could've kept the ball and tried to run, and had Herbert open over middle, but tried to thread the needle in front of him to senior tight end Ben Johnson, as two defenders closed in and the drive ended.
"I'm not sure if it was a turning point or not. I was just trying to go out there and make a play," Bender said. "It was third down and kind of got flushed out of the pocket. Ben re-routed to the sideline. I tried to put it on him, put it a little bit low. We still felt positive about where we were at."
Podcast episode
After a 56-34 home loss to West Virginia on Saturday, Kansas football coach David Beaty discussed his disappointment with the fourth quarter and how the Jayhawks planned to utilize Khalil Herbert and the team's rushing attack.
However, WVU responded with an 86-yard scoring drive — its fifth of more than 80 yards in the victory — and added two more touchdowns in the final five-plus minutes.
That eight-point deficit and a sense that KU might score an upset evaporated in a hurry.
"I don't know," sophomore cornerback Hasan Defense began, when asked how the game shifted in the fourth. "Will Grier (WVU quarterback, who threw for 347 yards, rushed for 52 and accounted for four total TDs), he was just making plays all over the field. He was honestly just breaking tackles. I think that was what kind of put them over the edge when we were down eight points. He's coming from SEC play (transfer from Florida). He knows the game. He's one of those guys that you can take him away from the SEC but he's just going to make plays."
As it did in losses to Central Michigan and Ohio, KU's defense proved too problematic for the Jayhawks in their third consecutive loss. WVU put up 635 yards of total offense, as running backs Justin Crawford (18 carries, 125 yards, TD) and Kennedy McKoy (12 runs, 105 yards, 2 TDs) combined to nearly keep pace with Herbert. Receiver David Sills V often benefited from the breakdowns in KU's pass defense, too, going for 130 yards and a pair of scores on eight receptions.
"It's still communication at the end of the day," Defense said of the unit's shortcomings on the day the sophomore corner made his first KU interception. "The secondary has to communicate better and our brothers in the box have to communicate better, you know. Everybody has to trust the guy next to him. I feel like sometimes we don't. We try to overplay instead of just letting a guy next to us make his own play."
The offense wasn't exactly blameless, either. For as much success as Herbert and junior running back Taylor Martin (11 carries for 59 yards and a TD) experienced, helping KU produce 564 total yards, Bender struggled much of the first half, when he completed just six of 15 throws.
On one particularly disastrous snap just before halftime, Bender had Sims wide open to his left, near the line of scrimmage. The QB's throw sailed far too high for the receiver to snag and after Sims leapt to get one hand on it, the ball deflected into the arms of WVU senior corner Mike Daniels, who took it 25 yards for a touchdown.
Said Beaty of the pick-six: "Man, it was a booger. It killed you."
Junior QB Bender lamented the offense's slow start more than anything.
"Not a good first half once again. We came out firing in the third quarter, had a really good third quarter again," Bender said of a 14-0 frame in KU's favor. "That seems to be our best quarter so far this season. We've just got to keep getting more consistent. I think we're real close to clicking and getting that consistency down to where we can sustain drives throughout the whole game."
The fourth quarter, though, included Bender's second interception, his seventh of the season. He had put the ball in Jeremiah Booker's catching radius, but the defensive hit that followed popped the ball out, allowing linebacker Al-Rasheed Benton to pilfer it. Earlier in the fourth quarter, a review showed Bender lost a fumble, giving KU three turnovers on offense, compared to WVU's one.
All of the miscues added up to outweigh Herbert's massive output, which ranks him third all-time in KU's record books — ahead of a 283-yard rushing day by Gale Sayers in 1962, and behind both Nolan Cromwell's 294 in 1975, and Tony Sands' 396 in 1991.
"I am seeing improvement, which is good," Beaty said after the loss. "Very discouraged about that fourth quarter. Because that's not how I felt like that game should've ended up. And all the unfortunate things that were self-inflicted that happened."
KU has an idle week upcoming, before playing host to Texas Tech on Oct. 7.
— See what people were saying about the game during KUsports.com's live coverage.
---
More news and notes from Kansas vs. West Virginia