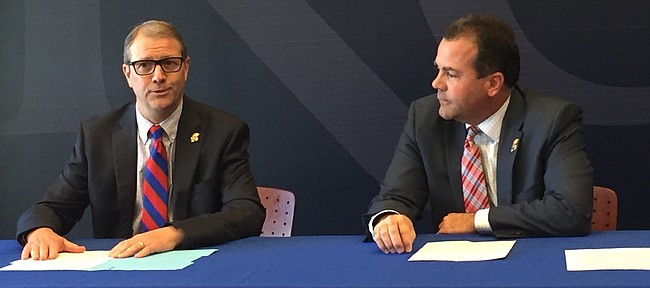 A couple of things quickly became clear about the new University of Kansas chancellor, Douglas Girod, during his initial session Friday with reporters who cover KU Athletics.
First, he fully understands the importance of Kansas remaining a power-five school and knows the best way to secure that status lies in elevating the football program to respectability.
It's not much of a leap then to expect Girod to set high standards for the caretakers of KU football. He won't tolerate perpetual losing.
Girod also revealed himself as a man who doesn't seem prone to making emotional decisions. Given that he's a surgeon, that's hardly surprising.
His words in support of athletic director Sheahon Zenger, whose two football hires have combined to go 10-53, and football coach David Beaty (3-23) left the impression both men will be in their positions one year from now. Girod, new to the scene, does not seem like a man who will be talked into rushing to judgment.
Can anything that happens over the next nine football games change Girod's mind?
"I think we know that we started this rebuild in a pretty big hole. I think we would all agree with that comment," Girod said.
No question. Had Zenger's first hire, Charlie Weis, been left in place for his entire five years of a contract that paid him $12.5 million, he might have reached the center of the earth, which by the way is made of 80 percent iron and 20 percent nickel. Maybe that was Charlie's goal in digging the hole? After all, every nickel counts.
"And I also know in my background, having worked 18 years to help improve KU Medical Center, you've got to set a plan, you've got to set a course, you've to stick with it and you've got to give it time to work," Girod continued. "And it's not easy and it's not ever a straight line and you just have to keep fighting, keep pushing and keep moving to the next level. And that's worked for us in the past."
Three years, based on Girod's life experience, is not long enough.
"I think we're on the right path right now and we've just got to keep pushing, give it time, but I do believe we've got to show that we mean it and this is a big part of showing that we mean it," Girod said.
The chancellor listed the traits that he said make him a Beaty believer: "It's his vision. It's his integrity. It's his enthusiasm. It's his work ethic, and his ability to just really excite players and inspire players. Obviously, that translates into recruiting and even more importantly to on the field."
It hasn't been visible on the field yet and it's too early to reach a conclusion on his recruiting.
"When we hired coach Beaty, one of the initial things we said about him is his ability to recruit and I think he's shown that," Zenger said.
The jury will remain out on Beaty's performance as a recruiter through Dec. 20, the first day of the first year of early signing. If the verbal commitments from Louisiana all sign letters of intent, that will lend credibility to the belief that recruiting has been upgraded in a way that makes a difference.
Beaty has recruited some gems, such as defensive end Dorance Armstrong, receiver Steven Sims, and safety Mike Lee, and there is reason to believe both Peyton Bender and Carter Stanley will upgrade the quarterback position, but unless Kansas puts up a better fight in the Big 12 than it did in the two games vs. MAC competition, Beaty's recruiting draws an incomplete grade, at best.
I asked Zenger what is a steeper challenge: Reaching the $350 million fundraising goal in five years or building a football program that can compete in the Big 12? The AD chuckled.
"I'm not sure we have three hours to talk about that and argue both sides of the coin," Zenger said. "You don't have one without the other. Programs I've been associated with in the past, rebuilds, you had to show the commitment to attract the young men to come in."
Zenger has two possible paths to survival: KU could have a successful capital campaign or Beaty could turn around the football program.
If Zenger succeeds on the first front and Beaty can't turn it around, surely no one will trust Zenger to hire another football coach. But the AD would have a safe landing spot in the Williams Fund, where he could devote his full attention to fundraising, won't have to read the football record of his hires anymore, and will not be let anywhere near any selection committee for another football coach, a job that would fall to the next AD.