In the early stages of Peyton Bender's evolution as the starting quarterback at Kansas, new lessons come every week.
Saturday, in the Jayhawks' 42-30 loss at Ohio, though the junior transfer misfired on some passes, Bender found a bit more consistency in terms of completions, going 30-for-47 for 343 yards, with two touchdowns and one interception.
Another aspect of playing QB, however, proved more confounding, as Bender suffered five sacks in an Air Raid offense built on shotgun snaps and quick decisions.
"There was some things on third downs, offensively," third-year KU coach David Beaty said after his team dropped to 1-2, "that I'm not real happy about. We just didn't do a very good job on third down at times. We held the ball way too long at times, and Peyton's got to be better at that. He did some really nice things (Saturday), but he took some sacks in some situations where it was zero blitz and we knew we only had a couple of different things we could do with the ball. And you hold it and you know you're going to get sacked."
Photo Gallery
Kansas football v. Ohio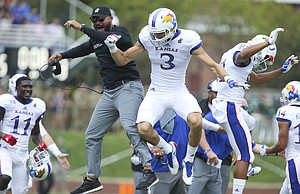 View a gallery of images from Saturday's game between the Jayhawks and Bobcats in Athens, Ohio.
The Jayhawks converted on seven of their 16 third downs at Ohio, and the Bobcats only sacked Bender on one of those occasions. Even so, Beaty said his QB, who surrendered just three total sacks in KU's first two games, has a couple of options with the ball in his hands and a defensive lineman or blitzer(s) closing ground.
"Get rid of the ball and snap it again or try to find your quick answer," the coach said. "We just didn't do a good job of that and I thought it hurt us on a couple of them drives."
After spending his first two college football seasons learning under Mike Leach at Washington State, and working since he got to KU with offensive coordinator Doug Meacham, Bender, of course, knows these Air Raid truths. The QB also admitted he failed to follow protocol against Ohio (2-1).
Bender credited the Bobcats' defensive front for forcing its way into the backfield before shouldering some of the blame for how those scenarios played out.
"But some of those they just made nice plays and other times in a few instances I could've got the ball out of my hand, seeing blitz," said Bender, who is averaging 343.3 passing yards a game, with six touchdowns and five picks on his stat line. "Missed a few blitz pickups, but I can help my O-line out getting the ball out a little bit quicker."
On one particularly disastrous snap in the second quarter, which went viral in the college football sector of the Twitterverse, three Ohio defenders had open season on the Kansas quarterback after the offensive linemen in front of Bender all went low for cut blocks on a play that completely backfired.
https://twitter.com/ChasenScott/status/909097270473363456
"That's a call I'll give the line, the cut call, if I want them to cut," Bender explained, "and I was just hoping Quan (Hampton, freshman slot receiver) was going to get open over the middle of the field. And he got walled off and I held on to it too long. I just need to check that down. For cutting you're not going to have much time, so you've got to get it out."
In three games, Bender is 46 yards away from outperforming KU's leading passer of 2016, Montell Cozart, who put up 1,075 yards in eight games during his final season, before graduating and transferring to Boise State.
Bender said he planned on reviewing the game footage to determine what caused some inaccuracies on intermediate throws at Ohio, too, as he continues learning from mistakes headed into Big 12 play.
The Jayhawks play host to West Virginia (2-1) at 11 a.m. Saturday at Memorial Stadium.
Last-second score
The play only impacted the final margin of loss by six points, but KU sophomore running back Khalil Herbert and the Jayhawks beat the fourth-quarter clock at Ohio on the game's final play.
Herbert's last two yards of a career-best 137 came on a rushing touchdown, his second of the day.
"It's what our coach instills in us, never to quit," Herbert said of his 19th carry, which got him in the end zone.
After Ohio still won by 12, leading receiver Brendan Cope (five catches, 104 yards) was asked for his thoughts on the game-ending play.
"I mean, the Kansas coaches are in a position, whether they're doing it for stats or to make games appear closer than they are, they do things for reasons that they do," Cope said. "I don't take it too hard. We should still stop those plays and not give up so many yards. Ultimately, we're playing some less aggressive defenses and forcing their hands in some four-man and two-man offenses for the whole fourth quarter. We were in control, so I don't feel bad about it."
Sophomore Fairs impactful
In the loss, Bender completed throws to nine different teammates, including sophomore Evan Fairs.
The long, athletic backup wideout made a career-long 34-yard reception on one play, helping his totals of three catches and 77 yards.
Fairs was one of five Jayhawks with at least three receptions. Steven Sims Jr. and Hampton each made six, Chase Harrell added five, with a score, and Jeremiah Booker accounted for four and a TD.
Before the Ohio game, Fairs only had 2 catches for 24 yards.
---
More news and notes from Kansas vs. Ohio