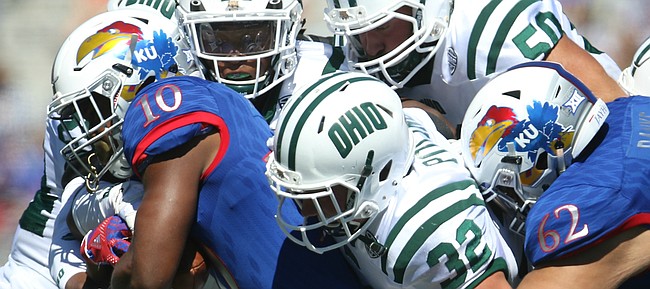 — Kansas (1-1) at Ohio (1-1) • 11 a.m. kickoff, Saturday, Peden Stadium, in Athens, Ohio • Game-time forecast: 76 degrees, mostly sunny, 0% chance of rain • TV: ESPNU • Radio: KLWN, FM 101.7 / AM 1320
— Log on to KUsports.com for our live game blog and follow our coverage team on Twitter: @KUSports, @BentonASmith, @TomKeeganLJW, @NightengaleJr and @nickkrug
Keys for Kansas
1. Takeaways, not giveaways
Realistically, if the Jayhawks ever are going to put an end to this epic 41-game road losing streak they are going to have to win the turnover battle.
Two games into the season the KU offense has lost the ball four times via Peyton Bender interceptions and on another occasion on special teams, when fill-in punt returner Tyler Patrick lost a fumble. Already this season, opponents have scored 21 points off KU turnovers.
Meanwhile, the Kansas defense has yet to make an interception. Defensive end Josh Ehambe pounced on an errant Southeast Missouri State snap for a fumble recovery and receiver Chase Harrell came away with another on punt coverage, giving Kansas a net minus-3 in turnover margin in two home games.
Now the Jayhawks find themselves in the unenviable position of needing to play mistake-free offensively while identifying the right spots to get greedy on defense. A rare positive turnover margin — on the road no less — would do wonders for their chances of upsetting Ohio and winning the program's first road game since a 2009 trip to UTEP (during the final season of the Mark Mangino and Todd Reesing era).
Some picks from KU defensive backs, too, might help heal the burn wounds left on them by Central Michigan a week earlier.
Podcast episode
On this episode of the KU Sports Hour, hosted by KU football beat writer Benton Smith, the KUsports.com staff discusses KU football's 45-27 loss to Central Michigan. Topics include: Is KU better than last year? (0:55-17:30), are lineup changes coming? (17:30-27:40), the KUsports.com football mailbag — coaches on the hot ...
2. Bounce back, Bender
In his second game as KU's starting quarterback, Bender often misfired versus CMU, racking up 30 incompletions and two interceptions.
The Bobcats, like Kansas, haven't intercepted an opposing quarterback through two games, but even if Bender can make it through unscathed in that category, a completion percentage just above 50 percent probably won't be enough to get the Jayhawks in the win column.
Coaches and teammates speak highly of Bender's even-keeled approach, so he'll have to channel that while also correcting the miscues that last week grounded KU's Air Raid offense.
"I think one thing I really want to improve on is just being a little bit stronger in the pocket," Bender said, "and delivering the ball more accurately."
Entering Week 3, the junior transfer QB has completed 55.6 percent of his 99 throws for 687 yards and four touchdowns. Bender has been sacked three times.
3. Show off that skill player depth
If their hunches end up incorrect and No. 1 receiving threat Steven Sims Jr.'s right ankle isn't healthy enough for him to play or make a real impact, KU's other passing game targets have to make up for Sims' production.
Whether it's senior tight end Ben Johnson, true freshman receiver Quan Hampton, juniors Jeremiah Booker and Ryan Schadler, sophomores Chase Harrell and Daylon Charlot or some combination of the aforementioned, KU needs skill players making things easier on Bender and the not-yet cohesive offensive line.
That goes for running backs, too. Last week junior Taylor Martin was held out due to injury. If he's unavailable again, true freshman Dom Williams, junior transfer Deron Thompson and sophomore Khalil Herbert all need to make the most of their touches, regardless of how the distribution shakes out. The more players Kansas can get involved, the more difficult the offense will be to defend.
Mega Matchup
Ohio rushing attack vs. KU defensive front
It's unlikely KU will see Ohio attempt to exploit its defense through the air, the way Central Michigan did. But the Bobcats will try to impose their will offensively.
Old school head coach Frank Solich's influence can be seen in the play-calling, with Ohio averaging 45.5 rushes a game, compared to 24 passes.
"On the offensive line, they're big and physical. They cut their splits down and maul you," KU defensive coordinator Clint Bowen said of a group that includes two O-linemen listed at 340 pounds — junior left guard Joe Anderson and senior right tackle Jared McCray.
"Their identity is they want to punch you in the mouth, turn it into a phone booth football game on the front," Bowen said of an Ohio offense that rushed for 329 yards at KU in 2016.
Running backs A.J. Ouellette and Julian Ross benefit from that approach, as does quarterback Nathan Rourke, whose 5.7 yards per carry lead the team. Rourke and Ross have three rushing TDs apiece. Ohio's passing game takes a back seat, with Rourke having completed 22 of 33 throws with one score and no interceptions.
KU's defensive strength comes up front, with junior linemen Dorance Armstrong Jr. and Daniel Wise, while another junior, linebacker Joe Dineen, regularly makes stops close behind them.
It will be on those three captains to make sure the rest of the unit is up to the challenge of handling an Ohio O-line that reminds Bowen of one that would make his KU coach, Glen Mason, proud.
Bowen shared Mason's favorite saying about blockers: "I want to see butts from hash to hash. I just want big, wide butts that can move people off the ball."
Jayhawk Pulse
The players in this ever-rebuilding program entered this season hopeful it would be one that righted the ship. Now the Jayhawks, two weeks in, realize they missed a huge opportunity with a poor performance versus Central Michigan, arguably the second-worst opponent on the schedule. How do they respond at Ohio? The answer to that question could determine where the season goes from here.
"It was not a good showing," Bowen said of KU's 45-27 loss a week ago. "Didn't play well. And I think our kids are competitive kids with pride, and that bothers them. Bothered all of us. That's about the only way you can respond. If you're a competitor at all you're going to show up and go back to work and fix the problems and go and improve."
Tale of the Tape
KU ….. Ohio
KU run D vs. Ohio run game √
KU pass D vs. Ohio pass game √
KU run game vs. Ohio run D √
√ KU pass game vs. Ohio pass D
√ Special teams
Prediction
Ohio 38, Kansas 24