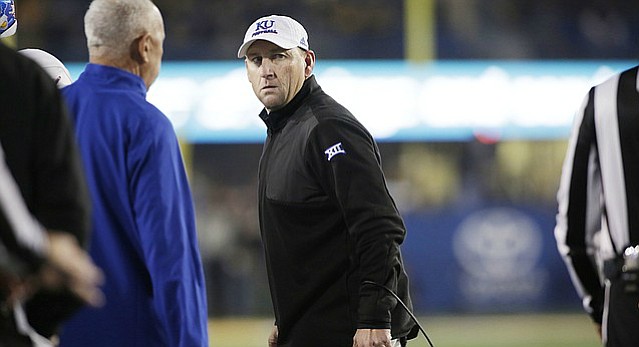 Taking the podium for weekly state-of-the-program addresses ranks as one of the many, many steep challenges of wearing the "head football coach at Kansas" title.
Charlie Weis preferred the blunt approach, and once referred to his players on the field as "a pile of crap." That didn't do much for team morale or for his job security.
A few days after standing on the opposite sideline from one of the men responsible for one of the most merciful acts in the history of mankind, Turner Gill took the opportunity to point out that his team, which had surrendered an average of 60.3 points in the three most recent games, actually was better than that number might suggest.
"There are a lot of good things that have occurred in our football season and also with our football team," Gill said. "We are No. 1 in the conference in net punting. We are No. 1 in the conference in yards per game as far as amount of penalties."
Oklahoma State coach Mike Gundy had inserted his third-string quarterback into the game by the second quarter and employed mighty tame play-calling the rest of the way or the score would have been a lot worse than 70-28. Had Gundy gunned for 100, his team would have obliged.
David Beaty's style is closer to Gill's than Weis' in terms of looking on the bright side.
"We're still a good football team," Beaty said in the wake of the disappointing drubbing at the hands of Central Michigan. "That's the thing I'm excited about. We're still a good football team. Nothing's changed."
Nothing has changed in that Kansas hasn't been a good football team since starting the 2009 season with a 5-0 record.
Beaty pointed out that Kansas went 4 of 5 on fourth-down conversions in the 45-27 loss to the Chippewas.
True, but Kansas ranks ninth in the Big 12 in net punting averaging at 32.7 yards — not the shade of lipstick you want to put on a pig.
The timing of the loss was particularly vexing because KU is trying to raise $300 million for stadium renovations — I'm told one remarkably generous donor pledged $100 million spread out over 10 years.
Look for stadium plans to come out soon because back when he announced the ambitious plan, athletic director Sheahon Zenger said he would share details in September.
During a summer tour to meet with boosters, Beaty generated excitement for the stadium facelift and for the season. Many left those gatherings convinced Kanas would get to a bowl game this season.
Now they feel cheated, even though bowl aspirations were on the unrealistic side.
In the end, talk is always cheap and the scoreboard tells the story, which makes this Saturday's game in Athens, Ohio, so ginormous.
An upset victory could restore a measure of hope, end the road losing streak at 41 games and provide solid evidence that real progress is being made. After all, at halftime last season in Lawrence against Ohio, KU trailed in total yards, 359-21, on the way to a 37-21 loss in a game it trailed 25-0. Pounded at home one year, victorious on the road the next. Progress.
Another loss and it won't matter what is said at the podium from which "pile of crap," net punting and fourth-down stats have spewed in recent years.
Al Davis, unrefined late owner of the seedy Oakland Raiders, said all that needs to be said in three words: "Just win, baby!"