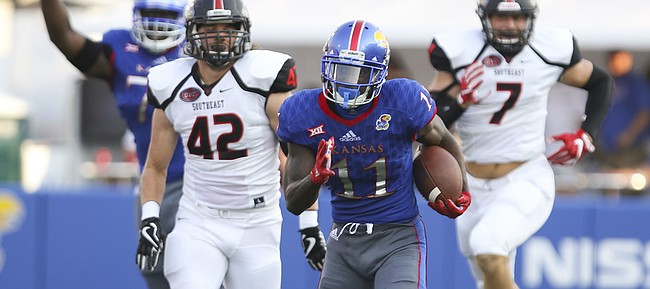 The most experienced skill player on the Kansas football roster, Steven Sims Jr. knew his hobbled right ankle would limit his effectiveness this past Saturday, but he wanted to give it a shot and see if he could overcome the pain enough to play.
The junior receiver knew his coaches already had determined he wasn't healthy enough to start on offense, so he pleaded for a chance to test his ankle on special teams, in his typical punt returner role. But after a couple of reps there and a cameo on offense, Sims had to shut it down in what evolved into a 45-27 Central Michigan victory in his absence.
However, both Sims and his head coach felt optimistic Tuesday about the team's leading receiver getting back on the field for KU's road opener at Ohio.
"We think that Steven is going to be available this week, which is good," Beaty said. "He seems to be doing a lot better. I think that he'll be fine. I'll know a lot more today after we go through practice."
Podcast episode
On this episode of the KU Sports Hour, hosted by KU football beat writer Benton Smith, the KUsports.com staff discusses KU football's 45-27 loss to Central Michigan. Topics include: Is KU better than last year? (0:55-17:30), are lineup changes coming? (17:30-27:40), the KUsports.com football mailbag — coaches on the hot ...
Sims, who led KU with 72 receptions, 859 receiving yards and seven touchdowns in 2016, got his junior year off to a quick start versus Southeast Missouri State, with four catches, 142 yards and two touchdowns.
The speedy, 5-foot-10 Air Raid target from Houston felt emotionally wounded, too, watching the CMU loss from the sideline.
"It hurt. It hurt not to be able to go out there and fight with my teammates, but I can only do what I can do," Sims said. "I've got to get healthy for them in the long run, because we have a long season. It's going to be a hard week for me. I've got to get back out there."
In the unnatural capacity of observer, Sims locked in on outside receivers Jeremiah Booker and Chase Harrell, running the routes he couldn't.
"So I was just watching those guys battle and those guys fight," Sims said. "It just hurt that I couldn't get out there and help those guys, and I hope I'm out there this week."
Four days ahead of KU's non-conference finale (11 a.m. Saturday, ESPNU), Sims felt confident about resuming his spot in the starting lineup and giving the offense a boost.
"I've got to leave it in God's hands and I've got to continue to just get treatment and hopefully my ankle's ready to go," Sims said. "I feel like I'll be ready, because I feel like I could've done a little bit on Saturday (against CMU)."
The ankle injury ended Sims' streak of 24 consecutive games with a reception.
Holani also hurt
Beaty revealed at his weekly press conference Tuesday afternoon senior defensive tackle Isi Holani suffered an unspecified injury during KU's loss to Central Michigan.
"I'm not sure yet," Beaty said of the 6-3, 325-pound lineman's status for Ohio. "We're still waiting on a solid prognosis on him. But I don't know that he'll be able to go this week. He may be unavailable. Based on just my talking with him today and seeing him, I don't know if he'll be available or not.
"But I didn't think Dom (Williams, freshman running back) was going to be available last Wednesday," the coach revealed, "and he played a bunch (18 carries, 64 yards, two touchdowns). We'll see. Hopefully (Holani and Sims) make big jumps, because we need everybody. We need them all."
Baldwin's disappearance from depth chart
Asked whether the absence of junior right tackle Charles Baldwin on KU's published depth chart this week was punishment- or incentive-based, Beaty stated it had more to do with Baldwin losing the position battle to starter Antione Frazier and new backup Zach Hannon.
"Zach Hannon's come on playing really good for us. I would be shocked if Zach doesn't get some playing time, a little bit more playing time this week. He's a veteran guy. Started several games for Nebraska throughout his career," Beaty said of Hannon, a graduate transfer who redshirted for the Cornhuskers in 2013, and played all 13 games on the punt team in his second year with the program.
Hannon didn't play in a game during his redshirt sophomore year, then only appeared in two as a reserve in 2016, before graduating.
"He's a local dude from Kansas City," Beaty added of the former Rockhurst High standout. "The story there is Zach. It's Zach. It's not Charles. That's not the story."
Baldwin sat out 2016 at KU, as a transfer from Alabama, where he was dismissed after joining the national powerhouse program for only spring football.
"One of these days we'll get off the fact that Charles came from Alabama. I mean, c'mon," Beaty said. "That lasts for about two minutes, and then it's about what you do, right? Nothing against Charles, but Zach has done a terrific job, you know. He's prepared himself. He's got himself in position."
Frazier, a 6-4, 285-pound sophomore, Beaty went on, "flat took" the starting job at right tackle.
"We can count on those guys. That's one of the biggest things when it comes to your quarterbacks, is making sure they got guys on the bookends they can count on," Beaty said. "Does that make sense?"