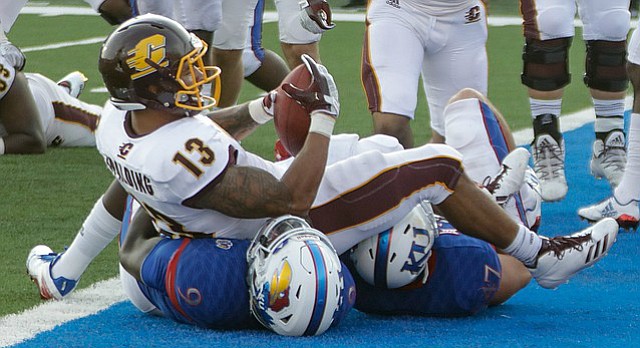 It didn't feel like just one loss, even though that's what the record shows. Kansas lost more than a football game Saturday in coming up way short against Central Michigan, 45-27.
The football program lost the faith of a fan base that wanted to believe that the darkest days were in the past and the program was on the rise.
It must have felt like more than one loss to the players as well, based on the comments of one of the team's captains, junior linebacker Joe Dineen, after the game.
"I feel like my job next week is to keep everyone motivated," Dineen said after Kansas fell to 1-1 on the season. "We have a long season ahead of us and we have a lot to improve on. But this isn't going to be the end of it, so my job is to keep everyone motivated and headed in the right direction."
Staying motivated isn't a common Week 3 concern, but it surfaced because Kansas looked so overmatched on defense and offense against what on paper shaped up as the second-weakest team on the 12-game schedule.
Surely, there are no shortage of motivators for the Jayhawks heading into Saturday's 11 a.m. kickoff in Athens against Ohio University, which is coming off a 44-21 drubbing at the hands of Purdue.
Given that Kansas has been turned into roadkill every time it leaves Lawrence for so many years the road would seem as if it should be the last place the team would want to head. But Saturday's beating cast such a pall over Memorial Stadium, virtually empty by the final stages of the game, that spending a Saturday elsewhere amounts to a welcome change of scenery.
Removing the stink of defeat from Saturday's disappointment should be motivation enough to bring a better effort, but it's far from the only driving force.
This game represents KU's best chance at stopping a streak that by Nov. 11 could stamp Kansas as the worst road football team in history of college football, five days after the 148th birthday of college football.
KU's road losing streak of 41 games, which doesn't include three losses to Missouri at Arrowhead Stadium, is the second-longest in history. Western State, located in Gunnison, Colorado, lost 44 in a row on the road from 1926-36.
Kansas has four chances to ensure Western State retains at least a share of the embarrassing mark: Ohio, Iowa State (Oct. 14), TCU (Oct. 21), Texas (Nov. 11).
If Kansas can pull out a victory in Athens, Ames or Fort Worth, then it stays in second place in the futility standings and nobody remembers who finishes second. If it can't and wins in Austin, then it must share the record with Western State. Lose all four and the record is KU's alone.
Ohio could become the 14th state in which a KU loss has occurred during the skid. KU's record in the 13 states, in order of when the first loss happened: Texas (0-16), Oklahoma (0-6), Iowa (0-4), Kansas (0-4), West Virginia (0-3), Colorado (0-1), Mississippi (0-1), Nebraska (0-1), Georgia (0-1), Illinois (0-1), North Carolina (0-1), New Jersey (0-1) and Tennessee (0-1).
The head coaches: Mark Mangino (0-4), Turner Gill (0-9), Charlie Weis (0-12), interim Clint Bowen (0-5) and David Beaty (0-11).
Peyton Bender will try not to become the 11th quarterback to start a game during the roadkill era. The first 10: Todd Reesing (0-4), Jordan Webb (0-7), Quinn Mecham (0-2), Dayne Crist (0-3), Michael Cummings (0-7), Jake Heaps (0-4), Montell Cozart (0-7), Deondre Ford (0-1), Ryan Willis (0-5) and Carter Stanley (0-1).
Putting that streak to bed Saturday won't restore all the faith in the future that faded away as Saturday's familiar-looking loss droned on, but it at least would serve as a fresh start of sorts.
The oddsmakers favor Ohio, coached by Frank Solich, by nine points.
---
More news and notes from Kansas vs. Central Michigan
---