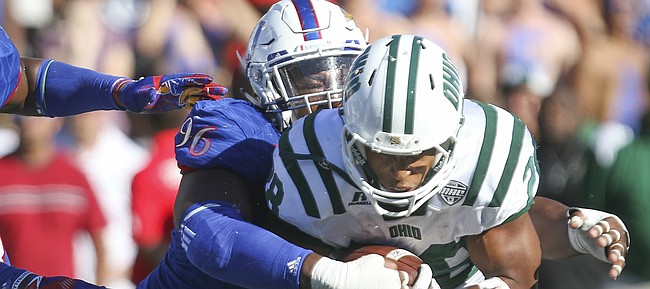 With Hurricane Irma leaving many college football programs in the southeast scrambling to rearrange their schedules, the Worldwide Leader in Sports found a gap in its programming which the Kansas Jayhawks will help fill.
Originally scheduled to air via online streaming service Watch ESPN (otherwise known as ESPN3), KU's Week 3 trip to Ohio has been moved to ESPNU.
To accommodate ESPN, kickoff time for the Jayhawks' final non-conference game of the season has been moved, too, from 1 p.m. to 11 a.m.
KU enters Athens, Ohio, this coming weekend 1-1 after a 45-27 home loss to another Mid-American Conference team, Central Michigan. The Bobcats are 1-1, as well, following a 44-21 loss at Purdue this past Friday.
Kansas lost in Lawrence, 37-21, to Ohio, in 2016. Ohio is 2-0 all-time versus the Jayhawks, having also won at Memorial Stadium in 1967.
The Jayhawks have lost 44 consecutive games away from Lawrence.