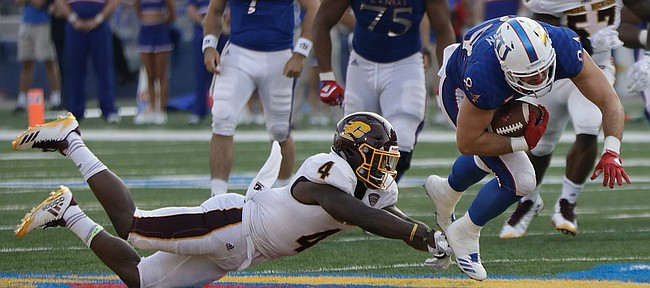 A "tough sucker," according to his head coach, junior Kansas receiver Steven Sims Jr. did all he could to try and get healthy enough to make an impact Saturday against Central Michigan.
However, after trying to return a couple punts and giving it a go on offense briefly, an ankle injury kept Sims from factoring in KU's plans for the vast majority of what turned out to be a 45-27 loss at Memorial Stadium.
"We tried to get Sims going. We did," KU coach David Beaty said after his team fell to 1-1 and was out-gained in total yardage 590-470. "But he just couldn't push off. Obviously there were some things going on injury wise, but we couldn't get him well."
The Jayhawks' leading receiver in every category a year ago, Sims spent much of the past week with KU's medical staff hoping to return to full health.
"He tried, to his credit. When you're missing a dynamic guy like that it makes it a little bit difficult on you. But, hey, we've got other guys that can do it," Beaty said.
In Sims' absence, senior tight end Ben Johnson led the team with a career-high seven catches for 57 yards. True freshman Quan Hampton made six receptions for 67 yards and junior Ryan Schadler added six of his own, for 60 yards. Redshirt sophomore Chase Harrell caught three Peyton Bender passes for 39 yards.
"Daylon Charlot (one catch for no gain) is a guy we think is very capable and we certainly know Chase is," Beaty said. "We've got to be more consistent with those guys, as well."
Junior transfer receiver Kerr Johnson Jr. also missed the game due to injury, as did junior running back Taylor Martin.
No backup appearance
Though Bender (32-of-62 passing, for 323 yards and two interceptions) often struggled versus Central Michigan, Beaty said he didn't feel inspired in the second half to relieve his No. 1 QB in favor of a reserve.
"No, we didn't talk about it. We didn't talk about it at all," Beaty said. "We wound up moving the ball down there late (KU cut the deficit to 38-27 with 10:02 to play). We wound up going down there and getting another touchdown. We felt pretty good about going down there again and getting in there again and we just stalled."
Redshirt sophomore quarterback Carter Stanley has yet to play through two weeks.
Podcast episode
After a 45-27 home loss to Central Michigan on Saturday, Kansas football coach David Beaty talked about what went wrong defensively, offensive struggles and which lessons the team needs to learn.
O-line issues?
Bender was sacked twice by the Chippewas and threw 30 incompletions to go with his two turnovers.
The starting offensive line of Hakeem Adeniji, Jayson Rhodes, Mesa Ribordy, Chris Hughes and Antione Frazier weren't always to blame, though, according to Beaty.
"There was times that they did (struggle in pass protection), but when you look at it I think some of it had to do with how long we were holding the ball. Some of those times, they were in a drop-eight situation a few times. There's just not a lot of open windows back there," Beaty said of CMU's coverage. "Peyton's got to pull it down and run it sometimes in those situations. Everybody's accounted for except for the quarterback, so he can't just stand back there and hold it forever."
Coordinator connection
Not that it ended up providing a competitive advantage, but when KU defensive coordinator Clint Bowen fired up game video of Central Michigan's Week 1 victory over Rhode Island it was far from Bowen's introduction to CMU offensive coordinator Chris Ostrowsky.
Bowen said earlier this week he has known Ostrowsky for some time now, because the Chippewas' play-caller and quarterbacks coach was a childhood friend of former KU offensive lineman Keith Loneker Sr. Bowen met Ostrowsky through Loneker when the now-coordinator and assistant head coach at KU was a defensive back for the Jayhawks.
Their existing relationship meant Bowen entered the week familiar with Ostrowsky's style, because he had followed his career from the coordinator's time as an assistant at Northern Michigan.

This and that...
KU attempted 96 plays, the most since 90 versus Texas Tech in 2015. … Senior corner Derrick Neal made a career-best nine tackles. … Senior kicker Gabriel Rui made two of three field-goal tries, including a career-long 33-yarder in the second quarter. … Harrell recovered the first fumble of his career on special teams in the second quarter while covering a botched CMU return.
— See what people were saying about the game during KUsports.com's live coverage.
---
More news and notes from Kansas vs. Central Michigan
---