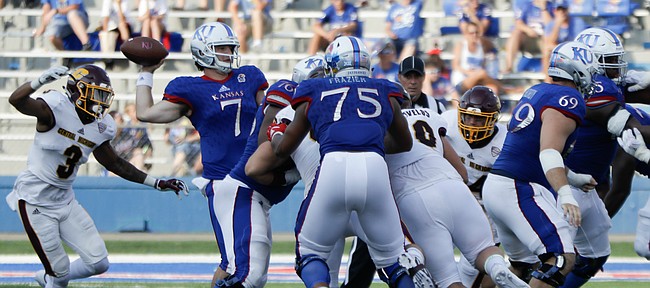 In a game the Jayhawks put up 27 points, their quarterback felt they could've — and should've — scored into the 50s.
While the KU defense struggled to contain a Central Michigan offense that was held to 21 points in regulation in its season opener against Rhode Island, the KU offense — especially in the first half — missed out on several key opportunities to come out with big plays. And it cost them.
Hurt by a couple gaffes on the offensive line, the Jayhawks were held to a mere six points through the first two quarters. The team trailed by three scores at the break, which was ultimately where it finished, falling 45-27 to the Chippewas on Saturday.
"I thought we just had some missed opportunities," said quarterback Peyton Bender. "If we make the most of those opportunities who knows? I think we left 21, 28 points out there on the scoreboard that we should've had."
The first missed opportunity was obvious.
The Jayhawks (1-1) had a second-and-goal from the 1-yard line, looking to break the scoreless deadlock midway through the first quarter.
Bender tried to connect with Chase Harrell on a fade route, but his pass sailed incomplete. What happened next, KU coach David Beaty said, was unacceptable.
The Jayhawks lined up to attempt to punch the ball in, but right-tackle Antione Frazier flinched and was called for a false start. The Jayhawks were backed up to the 6-yard line, where after an incomplete pass, they'd settle for a field goal.
"You can't do that," Beaty said. "Good teams can't do it."
Media requested to speak to Frazier after the game but he was not made available. His teammates, however, acknowledged how crucial that sequence was.
"We can't hurt ourselves like that," said Bender.
"That hurts," added wide receiver Ryan Schadler. "What, we get a field goal out of it instead of a touchdown? Yep, that hurts."
Podcast episode
After a 45-27 home loss to Central Michigan on Saturday, Kansas football coach David Beaty talked about what went wrong defensively, offensive struggles and which lessons the team needs to learn.
Beaty said after the game that from the 1-yard line the Jayhawks would've had two more shots at a touchdown, presumably on third and fourth down. But once the penalty backed them up, the equation changed. It wouldn't be the last time.
After Central Michigan took a 17-6 lead on a touchdown with 2:59 to play in the first half, the Jayhawks needed a response. Knowing they'd receive the ball to start the third quarter, the opportunity was still there for the Jayhawks to put together a couple scoring drives and regain control of the game.
That wasn't how it went.
Starting at its own 25, the offensive line held up well enough on the first play. Bender dropped back and found Quan Hampton for a 12-yard gain.
On second down, Frazier was shoved right back into the pocket and Bender was forced to throw the ball away. Later on the drive, on a second-down just past midfield, a Central Michigan pass rusher broke right around Frazier, laying a hard hit on Bender as he chucked the ball out of bounds.
Some of those plays, Beaty put on his quarterback — "Peyton's got to pull it down and run it sometimes in those situations," he said after the game — but the last play of the drive certainly wasn't one of them.
Facing second-and-13 on the edge of field goal range, Bender dropped back and was instantly under pressure as a defensive lineman shoved his way through right guard Chris Hughes. Bender launched a pass toward Hampton, but it was wrestled away for an interception.
"I was pressured up the middle it seemed like," Bender said. "It's unfortunate how it happened, but we've got to be better executing that."
Once in a position to make it a one-score game, the Jayhawks watched the Chippewas drive down the sidelines for another touchdown with just six seconds left in the half.
From that point on, they'd never lead again. They scored on back-to-back drives to begin the third quarter, but the deficit was too much to overcome.
"Oh that killed us. That was a big, big deal. And the thing is . . ." Beaty said, pausing to take a loud sigh. "You know you come out at halftime and get some momentum like that. And you don't think at all that you're going to go in and give up that touchdown right there. That was very disappointing."
— See what people were saying about the game during KUsports.com's live coverage.
---
More news and notes from Kansas vs. Central Michigan
---