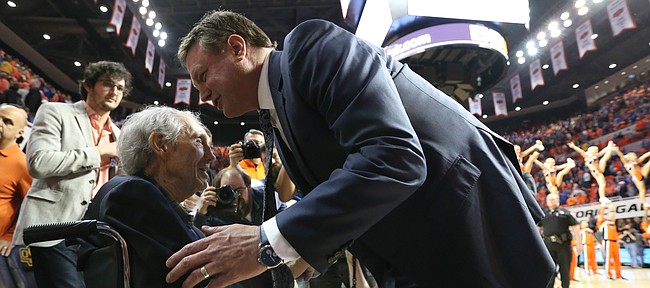 Thanks, but first a phone call.
That was the general thought and feeling that overtook Kansas coach Bill Self when he learned this spring that he had been elected into the Naismith Memorial Basketball Hall of Fame's Class of 2017.
Driving down Naismith Boulevard, of all streets, en route to his office at Allen Fieldhouse when he got the call, Self, who officially will be inducted into the Hall of Fame at a 6:30 p.m. ceremony Friday night on NBATV, immediately thought of one man whom he knew he had to call.
So, just as he had done hundreds of times before, including in 2003 when he was considering taking the job at Kansas, Self picked up his cell phone and reached out to former Oklahoma State coach Eddie Sutton.
To Self, the fact that Sutton, who during his 36-year coaching career racked up a whopping 806 wins at Creighton, Arkansas, Kentucky, Oklahoma State and San Francisco, — good for eighth all-time — will be watching while Self, owner of 623 victories and counting (30th all time), is inducted into the Hall of Fame is a bit of a crime. And it was important that the KU coach let his mentor know that.
"I said, 'Coach, this is uncomfortable because you deserve this far more than I do,'" said Self earlier this week before taking off for Springfield, Mass. "I learned so much from him. It's a little embarrassing, to be candid, I'd be doing this on Friday night when he hasn't done it yet."
Don't confuse Self's respect for his mentor for apathy about his induction. The KU coach who has won at an unprecedented rate while at Kansas and will look to lead the Jayhawks to a record, 14th consecutive conference title this winter, has not been shy about sharing his appreciation for the honor and on Tuesday called it "as good an individual honor as I'll receive in my lifetime."
But he also understands how it happened, why it's coming today and the role that being the head coach at Kansas has played in the whole adventure.
"That's made it possible," said Self of leading the storied Kansas program for the past 14 seasons.
"People don't get put into the Hall or win coaching awards if they go 18-15. It doesn't mean they don't do just as good a job. It just means that, for whatever reason, people identify with records, with exposure, with history and things like that. And I understand that.
"With awards like this, this is sad to say, but the reason I have a chance to go into the Hall is because I coach at Kansas.... I mean, let's be real. You're at this place where there's so much attention and history and everybody that's coached here has had unparalleled success just about. It's unbelievable, of the eight coaches, the success that all of them have had and what they've meant to our sport."
Self, without question, is one of them. And one day he may be the best of all of them. But he's far too busy chasing other dreams — prized recruits, more conference titles, Final Fours and another national championship — to abandon the things that got him to this point.
Passion for the game and the relationships that come from it, relentless work ethic and the fire and drive to be the absolute best have put Self on the brink of official induction into the Hall of Fame. But he will be the first one to tell you that none of it would have been possible without the type of guidance and support he received from Sutton and two others, one of whom will be presenting him at the Hall of Fame on Friday night.
"I probably had the best three mentors anyone has ever had coaching this game," said Self said of Sutton, former KU coach and Self presenter, Larry Brown, and former Oklahoma State coach Leonard Hamilton, who hired Self at OSU. "How I lucked out into being around those three people has just made my career. It's pretty ridiculously amazing that just because of contacts and being at the right place at the right time that doors have opened."