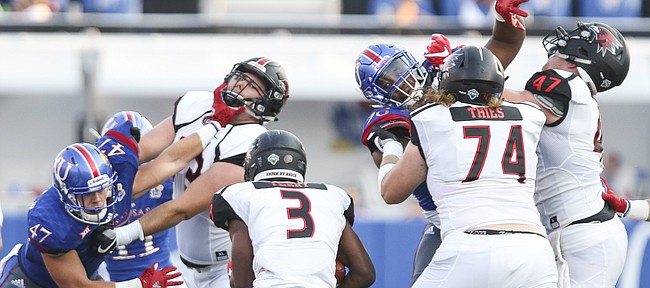 Some might cite Central Michigan's triple-overtime victory over Rhode Island this past Thursday as a sign the Kansas football team should have no problem in Week 2 defeating the visiting Chippewas, picked by Mid-American Conference coaches to finish fifth in the MAC's West Division.
Third-year KU football coach David Beaty spun it the other way Monday morning, during his time on the Big 12 coaches media teleconference.
"That's the thing that sticks out to me, is even when a team is facing some adversity throughout a game and it doesn't look like things are going their way that team kept playing," Beaty said of CMU finally prevailing, 30-27, versus an FCS team, URI, that went 2-9 in 2016, including a 55-6 loss at KU just over a year ago.
"They kept playing. They forced a missed field goal in the second overtime by Rhode Island and wind up scoring a touchdown in the third overtime to take the victory from them," KU's coach continued. "To me that's the mark of a veteran team. They kept playing and they had pretty good stats."
New Chippewas quarterback Shane Morris, a graduate transfer from Michigan, completed 25 of 49 passes for 226 yards, with one touchdown and one interception. Morris' TD toss was the first of his college career after making just two starts during his four years at Michigan.
Despite CMU's struggles against Rhode Island, which included allowing the visitors out of a 21-7 fourth-quarter hole, it is a program that in the previous two seasons under head coach John Bonamego has made it to two bowl games (0-2) and played Oklahoma State tough twice, defeateing the Cowboys in controversial fashion at T. Boone Pickens Stadium, Week 2 of 2016.
Beaty, though, said he wouldn't need to remind his Jayhawks (1-0) of Central Michigan's recent success versus a stronger Big 12 program than he coaches.
"We're never in a position — we feel like we're the underdog anytime and every day we take the field," Beaty said. "The hard edge won't be a problem. We're going to carry that hard edge with us everywhere and we're always going to feel like that underdog."
Like Beaty, this is Bonamego's third year on the job, and the CMU coach enters Saturday's matchup (3 p.m. kickoff, Memorial Stadium) with a 14-13 record. When Beaty watched Central Michigan footage from last season in preparation, he noticed a disciplined team.
"They're not going to make a bunch of mistakes; they're going to make you beat them," Beaty said.
As for more recent video, from CMU's season-opener, Beaty couldn't help being impressed by the defense's program record-tying six interceptions — two each by safety Josh Cox and cornerback Amari Coleman, and one apiece courtesy of safety Darwyn Kelly and linebacker Alex Briones.
"They create turnovers, and they also had a bunch of sacks (one) and tackles for loss (five)," Beaty remarked. "They've got some guys over there that can really play this game at a high level. So we're going to have to be on top of our game to be able to match that type of talent that they have. And then we're really going to have to be able to out-energize them and have a lot more intensity than even what we had last week (38-16 win over Southeast Missouri State) as they come in here, because this is a really good football team that's coming into our place, and we've got to make sure that we make the most of the home-field advantage that we're going to have."
The Jayhawks, Beaty added, will have to play more consistently than they did versus SEMO. The coach doesn't expect a repeat performance from the Chippewas after they had to dig in to put away a Rhode Island team that a year earlier put up just 16.8 points a game and ranked 100th or lower in the FCS in 10 key statistical categories.
"Most of the improvement in college football comes between game one and two," Beaty said, "and we think that we've got to be ready for them to be much improved from what they were the other day, and likewise we have to be much improved from where we were."