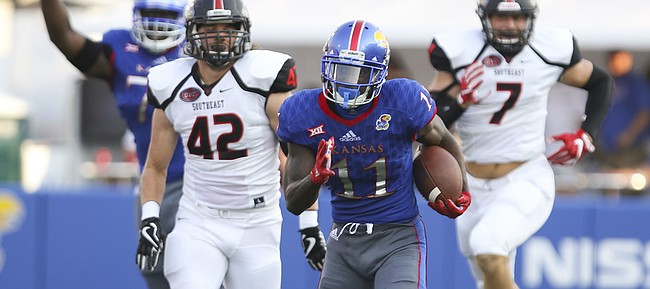 As the horde of media surrounding him started to dissipate, Steven Sims Jr. pulled out his cellphone.
Sims, one of several Jayhawks from areas affected by the devastation of Hurricane Harvey, was in contact with his family often in the days before Kansas football's season debut, a 38-16 win over Southeast Missouri State. On the preceding Tuesday Sims wasn't sure if his family would be able to make the trip to Lawrence, and he was still concerned during interviews about their well-being after sending a text to his mother moments earlier.
"She hasn't texted me back, so I'm kind of just worried about her," Sims said at the time. "But earlier today they told me they were all right, so I hope they're all right."
For the Houstonians on the KU roster, that was a common thread.
Speaking in the Gridiron Room of the Anderson Football Complex this past week, defensive end Dorance Armstrong Jr. — another Houston-native — said he'd been in contact with his family every day since the start of the hurricane. Armstrong noted some of his family did have to evacuate because of the water but said everyone was now in a safe place.
"It's very scary. I can't do nothing about it because I'm here," Armstrong said. "But I've already dedicated everything I've got to my family and my city back home."
One thing Armstrong said he appreciated was the support of the coaching staff, who checked in with all the parents of players who lived in the area.
Sims agreed, noting he could tell how much the call from head coach David Beaty meant to his mother.
"It touched her," Sims said. "She was kind of teary eyed. I could tell through the phone, my mom was kind of teary eyed and stuff. It just means a lot that coach Beaty and our coaches care about us that much."
It's likely another gesture — one from Sims on Saturday — meant just as much.
Sims put his stamp on the KU's first win early, catching a pass from Peyton Bender on the first drive and shaking a defender en route to a 77-yard touchdown. As he finished off the play, he lifted his right arm in the air, pointing through the back of the north end zone and at one person in particular.
"I'm hyped that she's here," Sims said of his mother, Nytasha. "I was pointing at her today in the stands. I was just happy she came."
Both Sims and Armstrong noted earlier in the week they'd understand if their families couldn't make it to the game, agreeing safety was the most important thing.
Armstrong wasn't among the players who spoke to the media after the SEMO victory, but Sims, who caught four passes for 142 yards and two touchdowns, was able to confirm his mother and a couple of his uncles from New Orleans were all in attendance.
Regardless of who could or couldn't make it, the duo made it clear they'd have their families on their mind as they took the field. And as was noted by Armstrong beforehand, that thought wasn't just because of the tragedy.
"My main focus is just I have to play as hard as I can this year in case anything happens to my family," Armstrong said. "I want to be able to take care of them and I want to be the reason they're OK."
---
More news and notes from Kansas vs. SEMO
---