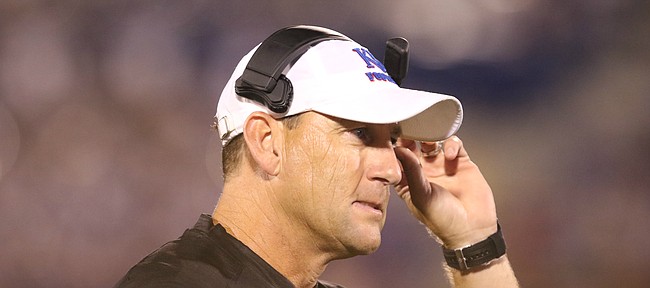 In general, upbeat Kansas football coach David Beaty is happy to see his Jayhawks notch a mark in the victory column in any fashion. Still, following KU's season-opening win against overmatched FCS visitor Southeast Missouri State, Beaty pinpointed numerous areas in need of improvement.
Following the third victory of his time as Kansas coach, Beaty said he expected to put a much more crisp product on display for the fans who showed up at Memorial Stadium to support the long-struggling program and its lasting example that things can get better, the 2008 Orange Bowl champion Jayhawks.
"A lot of self-inflicted things that I think if we can get them shored up, which I know we can, we've got a chance to be a decent football team, but those things can't show up," Beaty began. "We talked about playing a clean game before we started. Several penalties, several of the big variety that is something that we can't have. Those are all mental mistakes that we can prevent, and then turning the football over, we can't do that. We can't throw it to the other team."
On the penalty front, officials flagged KU (1-0) five times for 49 yards. Starting left tackle Hakeem Adeniji was called for holding on a rushing play in the red zone late in the second quarter and picked up another red-zone infraction on a pass in the third quarter — though KU scored a touchdown to close each of those drives.
Photo Gallery
Kansas football v. Southeast Missouri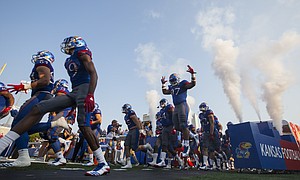 View a gallery of images from Saturday's game between the Jayhawks and Redhawks at Memorial Stadium.
Shortly after halftime, receiver Jeremiah Booker was flagged for pass interference, and in the fourth quarter Ryan Schadler was, as well.
One of the most annoying miscues in Beaty's mind, though, came to open the third quarter, when a holding call negated freshman Quan Hampton's kickoff return and forced Kansas to open the series at its own 10-yard line.
The third-year KU coach hoped a masterfully quick scoring drive to shut down the second quarter would give his team momentum to really put on an offensive show in the final 30 minutes of action.
"Well, I thought it would, and then we came out in the second half and we had a dag-gum penalty on the kickoff return and put us inside the 10, then we get another holding call or a pass interference call. Those are just things that just to so disappointing, because you get off that goal line, and it would have been nice to see if (quarterback Peyton Bender) could have stayed on that roll there, right."
In his Kansas debut, the team's new starting QB completed 23 of 37 throws (62.2 percent), was only sacked once and racked up four touchdowns and 364 yards. But Bender wasn't overly pleased with his production, mostly because his stat line included a pair of interceptions, one in each half.
"You know, I'm confident in my ability to get the job done. I didn't come in thinking I was going to throw for four touchdowns or five touchdowns. I just wanted to come in and do my job and do what the coaches wanted me to do. But, to be honest, I think I can play a lot better," Bender said. "We left a ton out on the table tonight. You've got to attribute a lot of that to SEMO. They played their tails off. But we have a lot to improve on as an offense."
After the Jayhawks jumped out to a 14-0 lead, they punted three times before they scored again, and one drive never started because Tyler Patrick fumbled a punt return while giving Steven Sims Jr. (three returns, 24 yards) a breather.
"I felt like left a lot out there as an offense," Sims said. "We kind of stalled a little bit too much. But we've just got to go back to work Monday and get right."
While Beaty knows Bender wishes he could take back those two passes that were picked, he trusts his quarterback will learn from those miscues. The head coach felt more discouraged by his Jayhawks' inability to maintain a high level of competency versus SEMO.
"I do believe that they probably out-energied us as we went down the stretch there, and that's something that we control," Beaty said. "We've got to get better in that area."
Junior defensive tackle and captain Daniel Wise, credited with three tackles for loss, a sack and two QB hurries in the victory, said coaches tend to notice such trends from the sidelines even when players fail to pick up on them in the heat of competition.
"I think he's right on that," Wise said. "We got up a little bit (on the scoreboard), got a little bit too happy and had to lock back in."
Next up for Kansas is a 3 p.m. Saturday non-conference meeting with Central Michigan (1-0), which opened its season with a 30-27 overtime victory against Rhode Island. Las Vegas considers the Jayhawks a three- to four-point favorite at home.
Not much action for Charlot
Former Alabama transfer Daylon Charlot played sparingly in his KU debut, as coaches had indicated was possible ahead of time, due to a lack of consistent production and availability in the preseason.
A four-star prospect in Patterson, La., not that long ago, Charlot entered in certain packages but didn't record a reception off the bench.
"We've got a bunch of guys now, and every one of them probably could be the starter," Beaty said of KU's receiving corps. "I mean, we're about three deep at every spot."
New position for freshman big man
The No. 68 jersey and his spot as a backup offensive tackle disappeared for KU true freshman Earl Bostick Jr., in KU's opener. Beaty said afterward Bostick, listed at 6-foot-6, 270 pounds, had been moved to tight end. The Barnwell, S.C., native played, too, wearing No. 87.
Fish back with Washington
A day after being cut from Washington's 53-man roster, former KU safety Fish Smithson, according to The Washington Post, is expected to be signed to the team's practice squad.
---
More news and notes from Kansas vs. SEMO
---