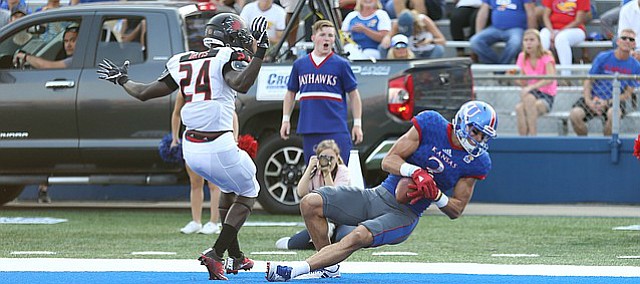 Let's say you spend the next four months watching nothing but college football on Saturdays, logging, oh I don't know, roughly 180 hours in front of the tube, taking in every regular season game you can and keeping up all the way through bowl season.
In all of that time, after thousands of plays, you may not find a better catch by anyone, anywhere, than the one Kansas sophomore Chase Harrell hauled in during the Jayhawks' 38-16 victory over Southeast Missouri State on Saturday night at Memorial Stadium.
The season-opening victory, as imperfect yet appealing as it looked, was crucial for the Jayhawks (1-0) in what they hope will be the program's best season in years.
And Harrell's catch, a sick, Odell-Beckham-Jr.-esque, one-handed, over-the-head grab between a SEMO defender and the end zone's sideline, was representative of why so many people believe this year might be different than the handful of seasons that have come before it.
"Guys like Chase, that have been here for three years, that was a young guy who really didn't know a whole lot when he first got here, have got to show up right now," KU coach David Beaty said after the victory, his third as the leader of the Jayhawks. "We need him to play that role."
Photo Gallery
Kansas football v. Southeast Missouri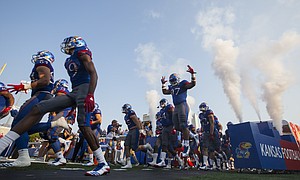 View a gallery of images from Saturday's game between the Jayhawks and Redhawks at Memorial Stadium.
Harrell's highlight grab at 8:57 of the first quarter, which Beaty called an "unbelievable catch," will not win games by itself. And he's going to have to make them against much tougher teams than SEMO for it to truly matter.
But delivering in Week 1 of the most anticipated Kansas football season in years certainly was a good step and gets things off on the right foot.
"Before the year started, I knew I had to step up and make some plays," Harrell said after the win. "I know my team needs me."
Podcast episode
Following a 38-16 season-opening home victory over Southeast Missouri State, Kansas football coach David Beaty discussed Peyton Bender's strong debut, his defense and what he hopes improves heading into next week.
It was quarterback Peyton Bender (23-of-37, 364 yards, four touchdowns) who needed Harrell on that one particular throw in Saturday's first quarter. And the first-year KU QB never doubted that Harrell would come through.
"He does that every day at practice," Bender said. "We were actually working on that route Tuesday after practice last week. We probably threw 10 of those balls to him and half of them he one-handed, so it really didn't surprise me. He does it all the time."
Added Harrell: "I knew it was coming to me and I was just like, 'Make the play, make the play,' and I just had to go get it. I had to go look at the Jumbotron afterwards and after that I was like, 'OK.'"
OK as in, "Yeaaaahhhhh," not "Eh."
Harrell nearly had a second TD grab later in the game, but another impressive individual effort came up just short. After that one, Beaty caught Harrell doing push-ups on the sideline as a quick form of punishment.
"I know he was sick when he didn't get that second one," Beaty said. "I had to get him to calm down because he knows he had another one there."
Added Harrell: "I had to knock a couple out."
Harrell, you'll recall, is the wideout from Huffman, Texas, who graduated high school a semester early and arrived at KU in time for spring football in 2015. Back then, when he stood 6-foot-4, 205 pounds and drew comparisons from Beaty to a young Mike Evans, the idea was that Harrell would bring an immediate lift to the KU passing game and be one of those big-play athletes who changed the outlook for the hapless KU offense.
It never happened. After red-shirting the 2015 season, Harrell caught just five balls for 81 yards and two touchdowns a season ago, coming on late and bringing hope back into the equation.
Inside the program, Harrell had progressed exactly the way they hoped he would. He got bigger, strong, faster and smarter with each day and now stands 6-4, 215 and is one of the more physically imposing presences on the roster.
You wouldn't think that adding just 10 pounds could do that, but it's the eyes, not the brain, that are all you need to realize what Harrell is capable of this season and beyond. And there are many other Jayhawks, now juniors and seniors, who sit in the same position.
He may never be Evans, the all-pro receiver for Tampa Bay who is regarded as one of the toughest wideouts to cover in the NFL. But he doesn't need to be in order for this Kansas program to continue to take steps forward. All he needs to do is to be an example, a beacon of inspiration for all of those promising recruits you hear about on signing day but hear little about for the next year or two.
Remember, it's development that is the key in college football. And although Harrell still has plenty of room to grow and areas in which he can improve, he got both his red-shirt sophomore season and KU's 2017 season off to a terrific start on Saturday night.
Let's see where things go from here.
— See what people were saying about the game during KUsports.com's live coverage.
---
More news and notes from Kansas vs. SEMO
---