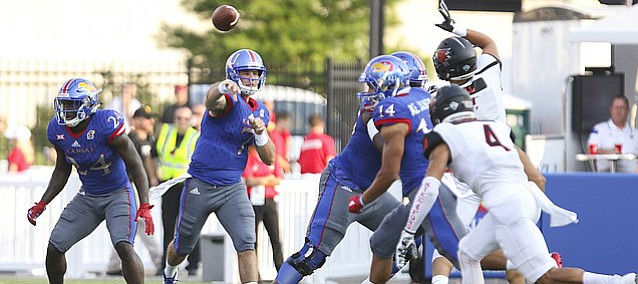 The path that first took him through Pullman, Wash., then Fulton, Miss., eventually led quarterback Peyton Bender to Lawrence, Kansas. And although the junior transfer's highly-anticipated debut didn't venture into the realm of flawless, Bender proved worthy of his place atop the depth chart on a 364-yard, four-touchdown Saturday night and piloted KU's Air Raid offense to a 38-16 victory over Southeast Missouri State in the Jayhawks' season-opener.
The opening three plays from first-year offensive coordinator Doug Meacham all called upon Bender's right arm, and the former Washington State and Itawamba Community College QB didn't often disappoint the 32,134 in attendance at Memorial Stadium.
Bender connected with Jeremiah Booker on his first career snap as a Jayhawk, and although his second throw fell incomplete, the third found Steven Sims Jr. for a 77-yard touchdown. Bender said Sims, entering his third year with KU, made his job "tremendously easy."
"I threw him a slant route on the third play of the game and he made two guys collide into each other and took it the rest of the way to the end zone," Bender said. "I didn't do much work on that play. I threw a five-yard pass and it shows up as 70 in the stat book. That's always nice."
Photo Gallery
Kansas football v. Southeast Missouri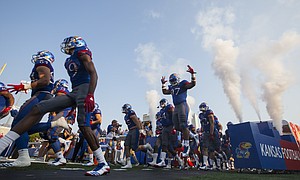 View a gallery of images from Saturday's game between the Jayhawks and Redhawks at Memorial Stadium.
That quick strike benefited Sims' output, too, as the sprint after catch set him up for a career-high 142 yards to go with his four catches and two touchdowns.
"It felt good. I kind of couldn't feel my legs," Sims said of the TD on the team's opening drive. "I guess the adrenaline was running. I was just running, running. I saw the open field, I was like, 'I've got to score. I can't get caught from behind.'"
KU's first two drives of the season, in fact, ended with Bender TD passes, the second a remarkable left-handed snag by redshirt sophomore Chase Harrell for an early 14-0 advantage.
"It felt good. Got my confidence going," Bender said of KU (1-0) opening the season with back-to-back TD drives. "Just kind of reassured myself that we can play. It was just nice to see us clicking as an offensive unit out of the gate. Like I said, though, we just need to get more consistent. We showed glimpses of how explosive we can be. We just have to do that all the time and stay consistent."
Third-year head coach David Beaty said the opener showed Bender was capable of many of the things the coaches have hoped to see since the day they signed him in December of 2016.
"Man, it was great," Beaty said of finally seeing the 6-foot-1 junior play for Kansas. "We said we needed to get off to a quick start. That's something that everybody wants to do, right. And you don't always do it. But he did it. He's a guy that we thought was going to be a very, very talented guy and you could see glimpses of that tonight."
However, the offense sputtered the majority of the first half before Bender got rolling again with the help of a two-minute drill to beat the second-quarter clock. Sims snagged a 16-yard strike from Bender in the end zone this time, leading to a 21-7 halftime lead.
The three-play, 52-yard drive that took all of 50 seconds, Bender said, helped him re-establish a rhythm.
"I think we were just playing a little tight. Maybe we got complacent — we were up by 14 early and we took our foot off the gas pedal. Getting that score going into half was huge, made it a two-score game. I think that just helped us relax," the QB said, "and we came out in the third quarter and scored a few more."
Podcast episode
Following a 38-16 season-opening home victory over Southeast Missouri State, Kansas football coach David Beaty discussed Peyton Bender's strong debut, his defense and what he hopes improves heading into next week.
As anticipated, Bender spread the ball around to numerous capable targets. Nine different Jayhawks caught a pass, with upperclassmen Booker (five catches, 66 yards) and senior tight end Ben Johnson (three receptions, 90 yards and a TD) complementing Sims' big-play ability.
No Jayhawk had thrown four touchdowns in a game since program great Todd Reesing, in attendance for the opener as KU's 2008 Orange Bowl championship team was inducted into the university's Hall of Fame, did so against Missouri in 2009.
Said Beaty: "The thing that Peyton helps you with, his release is so dag-gum quick it's different than most. He can get the ball off a lot. He got hit a few times and you almost don't see it, because he can trigger it quick."
KU's passing attack allowed the offense to get by with a pedestrian rushing attack, which averaged only 2.9 yards per carry (73 total yards), led by true freshman Dom Williams' 10-rush, 41-yard night, which included a 10-yard score in the third quarter. Though, as Beaty pointed out, SEMO's defense often had far too many defenders up near the line of scrimmage to inspire Meacham to call more rushing plays. Plus, junior Taylor Martin, Beaty said, had to leave the game in the second quarter.
With junior linebacker Joe Dineen (15 total tackles, 2.5 for loss) making stops on repeat, the defense held SEMO to 264 yards (3.4 yards per snap), and 101 in the first half, which took pressure off the offense, especially when it hit some bumps for a stretch of the first half.
"I feel like it was big," Dineen said of KU forcing SEMO to punt six times in the first half, "from the standpoint it shows people we didn't take a step back from last year. Obviously we made some mistakes and we've got to get some stuff corrected but I think overall I was pretty happy with the effort and stuff we put out there."
With Central Michigan up next on the non-conference schedule, Bender said the offense has to step up its productivity ahead of Week 2.
"We put our defense in a bad spot a few of the times tonight and they did a great job bailing us out," Bender said. 'They played tremendous all night. We've got to do a better job on first and second down, not put ourselves in bad positions."
— See what people were saying about the game during KUsports.com's live coverage.
---
More news and notes from Kansas vs. SEMO
---