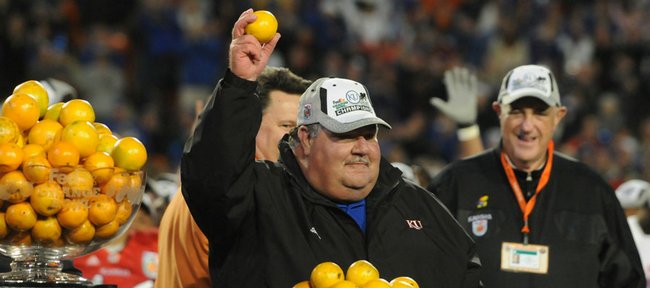 David Beaty only spent two seasons as an assistant on Mark Mangino's Kansas football staff. But when he looks back on it now, Beaty appreciates the groundwork he saw Mangino put in more than ever.
Before Mangino and the entire 2007 Orange Bowl team is enshrined in the Kansas Athletics Hall of Fame as part of the Jayhawks' season-opener versus Southeast Missouri State (6 p.m., Memorial Stadium), Beaty said his former boss found a way to make an impact on the program during his eight-year run (50-48 record from 2002-09) that remains even today.
Beaty, who joined KU's staff after the 2008 Orange Bowl championship and worked for Mangino in the two seasons leading up to the head coach's forced resignation, said even after Mangino moved on those around Anderson Family Football Complex could "still feel his teachings."
The Jayhawks' current head coach said Mangino's influence endured, even as his successor, Turner Gill (5-19 from 2010-11), and Charlie Weis (6-22 from 2012-14) struggled to replicate the Mangino era results.
"As a coach, if you have that much of an influence on a program and a place — and it was a positive thing, it wasn't a negative… there was just such a standard here of having a hard edge and a toughness to you," Beaty said of the Mangino-inspired mindset that persisted. "It's like anything else. Bad habits are hard to break, but good ones are, too. And he has left a lot of good habits around this place, as well. That's a compliment to him, because of just his steadfast relentlessness when it comes to details."
Mangino, now retired from coaching, explained Friday evening what it meant to him to return to Lawrence and hear of his lasting legacy.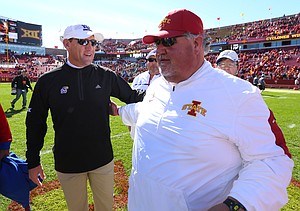 "David has said that to me repeatedly, and others. I just coached the way I knew how — the way I felt was best for KU and their players," Mangino said. "I just handled it. … We didn't have a whole bunch of slogans. Every year we'd have a theme or something. Slogans don't win games; coaching good players does."
As Mangino made his way up the coaching ranks, he recalled never getting the impression his bosses were trying to "create some kind of aura about them," but simply went about their jobs trying to do them in the smartest ways possible, so that's the blueprint he followed.
"We did a lot of things right here. We probably did things that weren't good. But it wasn't from lack of effort. All the coaches that were on my staff for the most part — I was here eight years — most of them were hard-working, grinding guys," Mangino said. "If they picked something up along the way from me, great. I'm glad to have helped."
Mangino pointed to former KU aides such as Bill Young (now Tulsa's defensive coordinator), Ed Warriner (Minnesota offensive line coach) and Kansas defensive coordinator Clint Bowen for helping him create that atmosphere.

"Those guys, hey, they were lifers," Mangino said.
As KU went 12-1 in 2007, each member of the team contributed in one way or another. Cornerback Aqib Talib, who, like his Orange Bowl champion teammate offensive lineman Anthony Collins, will see his name added to KU's ring of honor Saturday night, said it felt wonderful to make such a lasting impact on the program.
"It was history. We did something that's really never been done around here," Talib said on the eve of joining KU's hall of fame with his teammates. "We won a major BCS bowl… the highest we were ranked, I think, was like No. 2 in the nation. Go the whole season only losing one game. Winning a major bowl game, going to (Texas) A & M and getting a win, going to Oklahoma State and getting a win. It was big games that we won that year. To be a part of that team is wonderful. It's something — that vibe we had in that locker room and off the field, the chemistry of that team, man, it'll never be forgotten. We all will remember that forever."
At a program such as Kansas, where bowls and winning are more anomaly than tradition, it's difficult to ignore what Mangino and his players accomplished close to a decade ago.
"I'm not a real smart guy. They probably picked it up off each other," Mangino joked of how some of his standards managed to stick around. "I just tried to lead the way — and get out of the way sometimes."