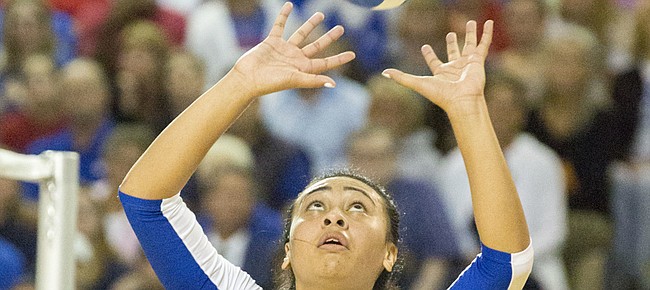 Kansas senior setter Ainise Havili recorded her fourth double-double and the KU volleyball team rolled past Utah Valley in straight sets, 25-20, 25-19, 25-23, on Thursday in Orem, Utah.
Havili helped the Jayhawks to a season-high .310 hit percentage with 39 assists, 12 digs and seven kills. The main beneficiaries on offense were Kelsie Payne (18 kills), Madison Rigdon (11) and Ashley Smith (8).
"We were pretty steady from an offensive standpoint tonight," KU coach Ray Bechard said.
The ninth-ranked Jayhawks (4-0) will face Long Beach State at 3 p.m. Friday.