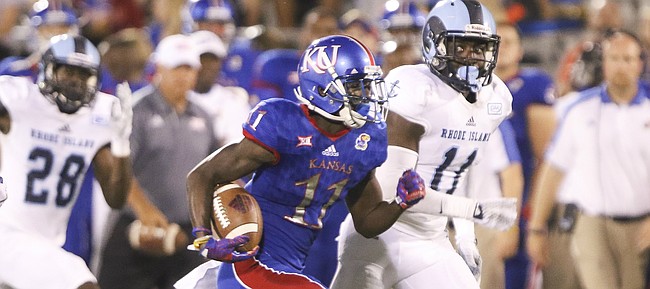 — Southeast Missouri State at Kansas • 6 p.m. kickoff, Saturday, Memorial Stadium • Game-time forecast: 81 degrees, mostly sunny, 0% chance of rain • TV: Jayhawk Television Network • Radio: KLWN, FM 101.7 / AM 1320
— Log on to KUsports.com for our live game blog and follow our coverage team on Twitter: @KUSports, @BentonASmith, @mctait, @NightengaleJr and @ChasenScott
Keys for Kansas
1. Make a great first impression
Announced attendance for Kansas football home openers has been on a steady decline for years, bottoming out in 2016 at 26,864. That figure should get an Orange-Bowl bump with the 12-1 2007 Jayhawks being honored on the night David Beaty's third KU football team kicks off its season.
With a long-suffering fan base paying attention, KU's resuscitated Air Raid offense might as well put on a show. New coordinator Doug Meacham has much more intriguing personnel at his disposal for the coming campaign, thanks to the arrival of junior transfer quarterback Peyton Bender, sophomore transfer receiver Daylon Charlot and improved versions of returning talents such as junior receiver Steven Sims Jr., sophomore running back Khalil Herbert, senior tight end Ben Johnson and others.
The pieces seemingly are there for the offense to capture the fans' imagination with an Air Raid launch party under the lights of Memorial Stadium. If Kansas is fun to watch it will give the program's backers more incentive to keep believing in this season's potential.
2. Don't overlook anybody
Sure, Southeast Missouri State isn't a Power Five program or even an FBS school, but considering Kansas went 2-22 in Beaty's first two seasons, the Jayhawks aren't in position to assume victory against any foe — including the Redhawks, picked to finish seventh in the Ohio Valley Conference this season.
Podcast episode
On the debut episode of the KU Sports Hour, the sports staff previews the upcoming football season and gives their predictions for 2017. Topics include the new-look KU offense (2:20-21:50), a KU football mailbag (21:50-40:20) and 35 KU football prop bets (40:20-close). Music credit: Laser Groove Kevin MacLeod (incompetech.com) Licensed ...
Of course, Beaty knows that as well as anyone.
"It's always a difficult task when you've got a returning quarterback. They've got the Jesse Hosket kid," Beaty said of SEMO's 6-3 senior QB, who threw for 2,332 yards and 11 touchdowns in 2016, "who is a big, good-looking dude, can throw it, moves around a lot better than you would want him to. But the guy has got a big arm. He's a big dude, too, and to have that kind of returning experience is always big for a team."
KU has defensive veterans in juniors defensive end Dorance Armstrong Jr., defensive tackle Daniel Wise and linebacker Joe Dineen, who will have to make sure the less experienced Jayhawks around them match their intensity.
3. Let loose
The reward for all that intense spring, summer and preseason work finally is here, so the Jayhawks need to enjoy the chance to put on a show. They've been eager to "hit someone else," as you always hear this time of year, so now they need to go out against SEMO and do just that.
"I mean, from our standpoint, just I'm happy for those guys because they get to literally put it on the field against somebody else," Beaty said. "This camp for some reason, I don't know what it is, it just feels like it's been longer, and number of days it really hasn't, but it just feels like we've had an extra week. It almost feels like we're a week behind for some reason… I know they are itching to get at someone else and being able to put those schemes on the field and see if we can execute and just honestly run into somebody else. They've been running into each other a lot. It's getting really, really chippy out there. Hey, that's part of the game, but all of our adrenaline is up."
Mega Matchup
KU offensive line vs. SEMO front seven
Three of the Redhawks' eight returning starters on the roster play up front for the SEMO defense. So if the latest version of the KU offensive line isn't ready to play at a higher level than a year ago, there could be problems for the Jayhawks' offense.
A trio of seniors, defensive tackle Joshua Wilson (5-foot-11, 330 pounds) and outside linebackers Kendall Donnerson (6-2, 248) and Chad Meredith (6-4, 244) all are considered potential pro prospects. When they come crashing toward the line of scrimmage, looking to add some FBS opponents to their highlight reels, it will be up to sophomore left tackle Hakeem Adeniji, senior left guard Jayson Rhodes, redshirt sophomore center Mesa Ribordy, redshirt freshman right guard Chris Hughes (or junior Larry Hughes) and sophomore right tackle Antione Frazier (or junior transfer Charles Baldwin) to make sure that doesn't happen.
KU's O-line struggles in 2016 played a factor in the team's lack of productivity and the group should come out stronger and inspired for their season debut. The offense needs to build confidence versus SEMO by moving the chains, keeping quarterbacks untouched and opening rushing lanes for Herbert, junior Taylor Martin and true freshman Dom Williams. The better the blockers up front perform, the more enjoyable the game will be for the team and the fans in the stands.
5 Questions with junior QB Peyton Bender
Is this offense similar to ones you've played in previously?
"A lot of similarities in the passing concepts. A lot of the concepts are the same from what I used to run. I'm excited to see how Coach Meacham calls plays in the game. He's highly-respected in that regard, so I'm just excited to play for him."
What else are you looking forward to experiencing during Saturday night's season-opener?
"Just excited to put on the Jayhawk uniform for the first time and represent this university. It's always fun playing someone else. The season's here, so I can't really describe what I'll feel, but I'm looking forward to it. It's been a while."
You spent your first two seasons at Washington State as a redshirt and backup before playing this past year at Itawamba Community College (Miss.). Does taking on a more prominent role at KU add to your anticipation?
"Definitely. I think it's more exciting. Obviously being here it's more big-time football than when I was in junior college. But at the end of the day it's still football. I had a blast playing down in Mississippi, but I'd say it's similar to how it was at Washington State. That competition went down to the wire, too, my redshirt freshman year. That's kind of similar to this situation. I see a lot of similarities between the two, but it's exciting."
What was it like seeing your juco team as a featured opponent on the popular Netflix series "Last Chance U"?
"It was cool to see yourself in the show. I actually watched Season 1, too. So I knew they were coming to our game last year when they were filming for the second season, so it was cool being able to re-live the game. It was a good game (threw for 566 yards and three touchdowns in a 44-42 loss). We almost ended up winning it. It's cool. I got a lot of text messages and calls about it."
You've said before better asserting yourself in the huddle was an area where you want to improve. How is that coming along?
"Every day you've got to go out there and improve on something, whether it's trying to make a throw you couldn't make the day before or your leadership qualities, speaking up to the guys, trying to get the guys going. So I go out there every day and try to improve with regards to my play, then also how I lead the team."
Jayhawk Pulse
The Jayhawks have more reasons to feel confident entering this season than they have at any point since Beaty arrived. KU finished the final three weeks of 2016 proving they weren't going to be pushed around by every Big 12 opponent anymore, and the overtime win over Texas did wonders for the staff and players alike, because it meant everyone got a glimpse of the potential for what is now the immediate future. Expect to see locked-in returning players set the tone and get the season started off the way it should be, with a victory.
Tale of the Tape
KU ….. SEMO
√ KU run D vs. SEMO run game
√ KU pass D vs. SEMO pass game
√ KU run game vs. SEMO run D
√ KU pass game vs. SEMO pass D
√ Special teams
Prediction
Kansas 48, SEMO 13