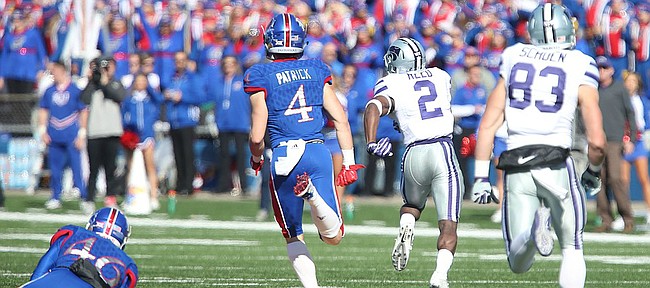 Kansas State's gifted return man D.J. Reed must have salivated at the thought of facing the beleaguered Kansas special teams in Saturday's rivalry game at Memorial Stadium.
"From watching film, I saw TCU, I forgot his name, No. 25 (KaVontae Turpin), make a big play," Reed said after helping Kansas State to defeat Kansas, 30-20. "I saw Iowa State, their punt returner (Trever Ryen) made a big play. So I knew there were going to be opportunities."
Ryen's punt return for a TD vs. KU went for 68 yards, Turpin's for 90, and Reed made it three weeks in a row that Kansas allowed a return for a touchdown when he stayed on his feet for 99 yards on a play that resulted in so many Jayhawks on their bellies. It gave the Wildcats a 7-3 lead and they never trailed after that.
Reed returned the opening kickoff of the season for a touchdown, but in recent weeks teams had been kicking away from him.
"I was just happy I got to touch the ball," Reed said. "I knew from the (start) if I was going to touch the ball, I was going to make something happen."
Photo Gallery
Kansas football v. Kansas State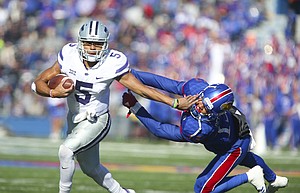 View a gallery of images from Saturday's game between the Jayhawks and Wildcats at Memorial Stadium.
He knew that because he's confident and because he was familiar with the team that would try to stop him. Before Reed used his speed and cutting ability to beat 11 defenders to the end zone, he used his mind.
"They weren't going to kick to me and Byron (Pringle) and I switched at the end so we kind of tricked them," Reed said. "I just got an opportunity to touch the ball finally. It's been like two, three games I haven't touched the ball. I just saw a hole, and it was history from there. Little celebration at the end. All good."
For the opening kickoff, Liam Jones kicked away from Reed, who was lined up on the left side, and to Pringle.
After Gabriel Rui gave Kansas a rare lead with a 28-yard field goal, Reed let Pringle know he wanted to switch sides. So they lined up in a stack, and right before Jones kicked it to the right side again, Reed sprinted to that side, Pringle to the other.
"Most definitely my idea," Reed said. "I wanted to touch the ball. I wanted to make something happen. So I said, 'Hey Byron, let's switch. Byron was down. He was cool with that.' "
Reed also ate up huge yardage with his other two touches, a 37-yard punt return and a 53-yard kick return.
KU's inability to contain Reed and other special teams blunders swung the game to Kansas State on a day the Jayhawks broke out of a huge offensive slump and stayed on their recent improvement path on defense.
Sloppy special-teams play has been the rule in recent weeks for Kansas, which had a bad snap on a punt and a dropped snap by the punter in the Iowa State blowout. In Saturday's loss, the special-teams slop included an offensive penalty on a fair catch that made Kansas start a series at its 6-yard line.
The poor special-teams play didn't make head coach David Beaty gun-shy about going out of his way to turn to the special teams on fourth-and-3 at the K-State 41. Instead of going for it, he sent punter Cole Moos onto the field. Moos booted it to Reed, who returned it five yards past the original line of scrimmage.
Moos also shanked a punt and averaged 32.3 yards on his six punts. The Wildcats averaged 20.3 yards on their three punt returns.
KU's special teams ensured poor field position for the offense and defense all day long.
K-State punter Nick Walsh averaged 44 yards a punt and put three of four punts inside the 20. The visitors' special-teams play was crisp and clean, the home team's atrocious.
"If you saw that football game, I think you would have a hard time not realizing where our breakdown was," Kansas head coach David Beaty said.
Podcast episode
Following a 30-20 loss to K-State, Kansas football coach David Beaty discussed the team's decision to start Carter Stanley at quarterback, what impressed him from the defense and problems on special teams.
Superior special-teams play gave revered Kansas State coach Bill Snyder his 20th victory in his past 21 games vs. Kansas.
If Snyder had been a more football talented player, he might not have developed such an obsession with special teams, which have been coordinated for several years by Snyder's son, Sean.
"Probably more when I was in college I think because I wasn't good enough to play anywhere else," said Snyder, 78, when asked to trace to its roots his deep appreciation for special teams. "I was ninth-team as a wing back. I did get to play on special teams, so I thought that was pretty neat. So I've enjoyed them ever since. Having Sean work with them has also shed some light on it."
It helps to have 11 men to battle the opposition's 11. On one play, KU's punt return unit, or at least most of it, was lined up. Kansas had just 10 men on the field and Steven Sims wisely called a fair catch.
KU's defense had a terrible start to the season. The offense started well, went into a deep funk, and broke out nicely Saturday. The third area, the most overlooked one, needed to be just average for Kansas to win the game. Instead, it lost by 10 points to fall to 1-7 on the season and improve to 2-5 vs. the spread.
Winless Baylor is up next for Kansas, which has a chance to show against the Bears it can sustain the progress it made in two of the three main areas of football and cure its woes in the third area.
— See what people were saying about the game during KUsports.com's live coverage.
---
More news and notes from Kansas vs. K-State