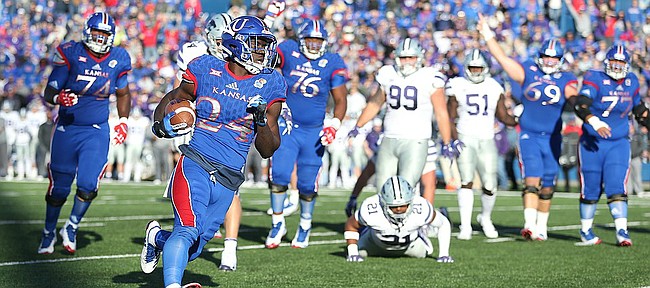 After two weeks of offensive ineptitude in back-to-back shutouts on the road, Kansas witnessed the benefit of playing with its starting center, redshirt sophomore Mesa Ribordy, once again Saturday versus Kansas State.
The return of Ribordy to the starting lineup — and a switch at quarterback to Carter Stanley — didn't propel the Jayhawks to victory, but the same offense that went nowhere without its No. 1 center produced 482 yards in a 30-20 loss to the Wildcats at Memorial Stadium.
"It sure felt like it was a stabilizing force, it really did," KU head coach David Beaty said of Ribordy returning from an undisclosed injury. "You know guys are big parts of your ball club and you get that and you know it, but once you are not with them and then they come back and you see things change dramatically, you know how important they are to you. I just — I'm excited that we have him back, put it that way. It really helped us."
Photo Gallery
Kansas football v. Kansas State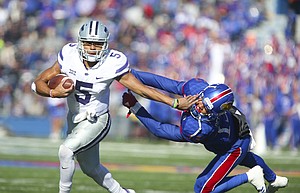 View a gallery of images from Saturday's game between the Jayhawks and Wildcats at Memorial Stadium.
The past two weeks, KU (1-7 overall, 0-5 Big 12) tried Jacob Bragg at center at Iowa State, and Zach Hannon (who missed the home loss to K-State) there at TCU.
"It's great to be back," Ribordy said. "I can't stand having to stay here and sit on the couch and know there's nothing I can do for the team."
With Stanley at QB and Ribordy snapping and blocking in front of him, KU looked nothing like the backfiring offense of the past two blowouts.
"I think we had a really good week practice-wise, preparation-wise." Ribordy said of another difference for Kansas this week. "I think we clicked as an offense better this week."
Armstrong injured
Standout junior defensive end Dorance Armstrong Jr. had to leave the game against K-State in the second quarter after appearing to suffer a leg or foot injury and limping off the field.
Beaty said KU's defensive players kept working after their impactful defensive lineman left.
"I thought our D-line did a really nice job of holding gaps for the majority of the day, and you know, without Dorance in there, that's something that you look at and you go, wow, man, that's a lot of production that walks out the door. That very first drive, he knocks a ball out and we get a fumble there created by him," Beaty said, referencing an early Armstrong strip recovered by Tyrone Miller Jr.
"But those guys stepped up and they kept playing. I didn't notice a difference without him in there in the huddle, right. If you asked me if I would want to play without Dorance, hell no, I wouldn't want to play without Dorance. But I was proud of the guys that stepped in there because they looked like they stepped in and they did the job," Beaty said.
KeyShaun Simmons made two solo tackles and a sack in the loss. J.J. Homes made three solo tackles. Daniel Wise had 2.5 tackles for loss, a sack and three total tackles.
Beaty said immediately after the game he didn't have a sense of the severity of Armstrong's injury.
"I don't yet. He was just unavailable for the second half," Beaty said. "We'll see how he responds. I haven't actually spoke to the trainers too much about it yet."
'Fire Zenger' banner flies before kickoff
Up to an hour before Saturday's kickoff an airplane could be seen flying above Memorial Stadium with a message of "Fire Zenger" in tow.
The banner referenced KU athletic director Sheahon Zenger and the football program's ongoing struggles. Numerous KU football fans over the past several weeks have stated their displeasure with Zenger, Beaty and the football program via social media and other outlets.
Beaty claimed during his post-game press conference he didn't see the plane, but described the idea of it and its message as "asinine."
"I mean, I don't know a man that loves this university as much as he does. I don't know anybody that thinks about it, cares about it, has done everything that we've asked him to do more than Dr. Zenger. That's crazy," Beaty said. "I mean, I don't have any other words for it. He's our leader, and we believe in him, and we always have, and it's never been a question. I mean, it's unfortunate, I think maybe is the best thing to say, because all of us that are doing the work, we know the real truth."
Podcast episode
Following a 30-20 loss to K-State, Kansas football coach David Beaty discussed the team's decision to start Carter Stanley at quarterback, what impressed him from the defense and problems on special teams.
Richmond starts at safety
KU sophomore safety Shaquille Richmond made the first start of his career against K-State.
Beginning the game in the position typically occupied by sophomore Mike Lee, Richmond finished with one tackle.
Lee split time with Richmond at safety in the game, and Lee made two tackles for loss and seven solo tackles.
Charlot now at safety
He didn't make his defensive debut in the game, but KU sophomore Daylon Charlot, who transferred from Alabama to Kansas as a wide receiver, wore a No. 7 jersey instead of his typical No. 2 for the K-State game.
The change in uniform, a KU official confirmed, coincided with Charlot moving from receiver to safety.
— See what people were saying about the game during KUsports.com's live coverage.
---
More news and notes from Kansas vs. K-State