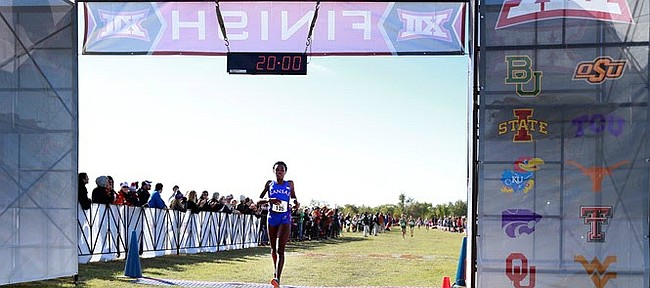 Put her in the history books.
For the second year in a row, Kansas junior Sharon Lokedi won the Big 12 Championship women's cross country individual title on Saturday in Round Rock, Texas, becoming just the fourth woman in Big 12 history to win multiple championships.
Lokedi's win, which came in 20:00.5, helped the KU women finish sixth at the team meet, and the KU men finished seventh.
Lokedi, a junior from Eldoret, Kenya, is the first Big 12 woman to repeat as champion since Sally Kipyego of Texas Tech, who won three straight titles from 2006-08. She also became the ninth Kansas cross country runner and first woman to win multiple conference titles, with Benson Chesang being the last to do so in 2004 and 2005.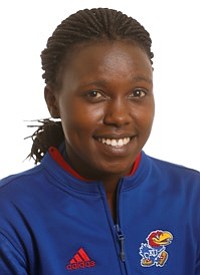 "I'm happy," Lokedi said after the meet. "It's not easy, but you keep working and have to keep believing in yourself and trusting you can do it. I kept telling myself, 'Sharon, keep going, you've got it. Just relax and trust in yourself. Believe you can do it.'"
Fellow KU junior Alaina Schroeder placed 11th to earn all-Big 12 honors. Schroeder crossed the line at 20:40.2, followed by Hannah Dimmick in 38th at 21:30.6. Lauren Harrell and Riley Cooney rounded out the scoring for the KU women, finishing 50th (21:50.5) and 58th (22:12.5).
Iowa State won the women's race, repeating as team champions and winning their sixth title in seven years. The surprise of the day was in the men's race, where the Cyclones took the team title as well, snapping Oklahoma State's nine-year title run.
The Kansas men finished ahead of Oklahoma and TCU in the team standings.
Sophomore Bryce Richards was KU's top male finisher, placing 40th overall with a time of 25:03.5. Sophomore Avery Hale followed in 42nd at 25:11.1 and red-shirt freshman Bryce Hoppel was 45th at 25:11.7 for Kansas.
Next up, Kansas will compete at the NCAA Midwest Regional Championship, hosted by Big 12 Champions Iowa State in Ames, Iowa on Nov. 10.