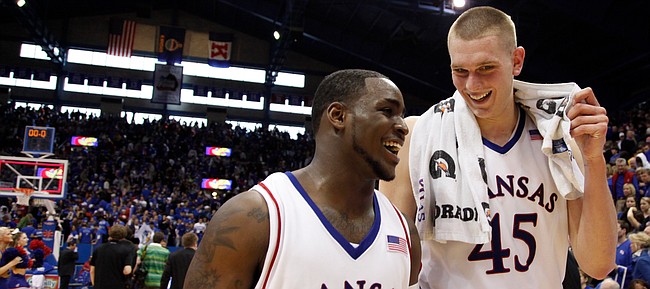 Given that their Kansas basketball careers were tied so closely together, including key spots on the 2008 national championship team, it only makes sense that Sherron Collins and Cole Aldrich would have their jerseys retired in the same year.
That will be the case in February, when the two former KU greats will participate in jersey retirement ceremonies two days apart — Aldrich on Feb. 17 and Collins on Feb. 19 — during a 2017-18 season that will feature a number of celebrations and milestone events for the Kansas basketball program.
After retiring Brandon Rush's No. 25 jersey last season, KU coach Bill Self hinted that more nights like that would be coming in the near future.
"We celebrate Kansas basketball every five years and look forward to seeing all the former players and coaches when they come in," Self said in a news release Wednesday. "This year happens to fall on the 10th anniversary of the 2008 team, and it will be great to have those guys back. Cole and Sherron were on that team, and both had outstanding careers and deserve to have their jerseys retired."
Aldrich, the former lottery pick in his eighth season in the NBA, now with the Minnesota Timberwolves, will be able to participate in the event during KU's home game against West Virginia because it will take place during the NBA's All Star Weekend.
Aldrich left KU after his junior season in ninth all time in rebounding (860 in 111 career games) and third all time in blocked shots (253).
His 13-point, 20-rebound, 10-block effort against Dayton in the 2009 NCAA Tournament was the first formal triple-double ever recorded in KU history.
Aldrich also earned Academic All-American of the Year honors in 2010 and was the Big 12 Conference defensive player of the year in both 2009 and 2010.
In addition, Aldrich was a three-year letterwinner from 2008-10, a two-time All-America selection and two-time All-Big 12 First-Team honoree. A two-time Academic All-Big 12 selection, Aldrich ended his KU career with 1,038 points and his 57.4 career field goal percentage is the sixth-best in KU history.
Collins, who ended his career as the No. 5 all-time scorer in Kansas basketball history with 1,888 points, will see his number go into the Allen Fieldhouse rafters during KU's Big Monday match-up with Oklahoma two nights later.
"Wow so blessed to have my jersey retired in Allen Fieldhouse, truly an honor to be hung in he rafters with the greats," Collins wrote on Instagram shortly after Wednesday's announcement. "I'll love Kansas forever! PS (never let anyone tell you that you can't make it or put doubt in your heat or mind, because anything is possible who ever knew a kid from the north/west side of Chicago would make it here!!!! Thank you all and most importantly thank you God!!!"
Collins earned All American honors in 2010 and also was the recipient of the Lute Olson Player of the Year, via collegeinsider.com, that same season.
The Chicago guard was the 2010 Big 12 Championship Most Outstanding Player and a two-time All-Big 12 First-Team selection. He was named to the all-conference squad in each of his four seasons at KU, including the 2007-08 Big 12 Sixth Man of the Year award. Collins also ranks ninth all-time at KU in assists, with 552, and fourth on the KU career 3-point field goals made list with 232.
In addition to the jersey retirements, KU will kick off its season of celebrations on Feb. 3, 2018 by celebrating 120 years of Kansas basketball.
Players, coaches and staff members from every era of KU basketball will be recognized during the game and that weekend's festivities also will feature a celebration of the 30-year anniversary of KU's 1988 NCAA National Championship team.
Additionally, the 2017-18 season marks the 10th anniversary of the 2008 NCAA National Championship team, which will be honored when KU hosts West Virginia on Saturday, Feb. 17.