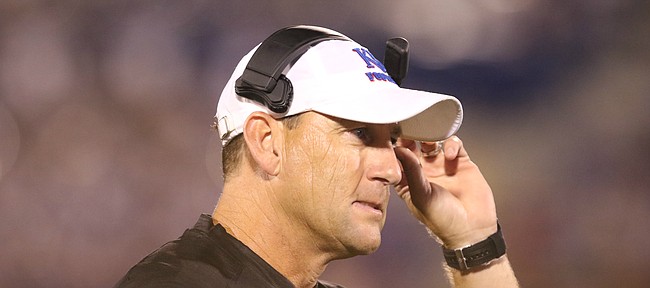 Today is Big 12 Media Day for basketball, so it seems an appropriate time to look back on Big 12 Media Day for football.
Kansas third-year coach David Beaty, fresh off a late season victory vs. Texas and a contract extension that doubled his salary to $1.6 million, bubbled with enthusiasm.
He fully understood that his mood didn't sync up with a 2-22 record in his first two seasons at the school where he had served on the coaching staffs of Mark Mangino (2008-09) and Turner Gill (2011). So he explained the source of his optimism.
"Our guys have invested so much," Beaty said. "And they were babies. They were all young'uns. And now they've got 24 games of experience under their belt, and that experience is something you just can't give them. You have to get it."
Podcast episode
On this episode of the KU Sports Hour, hosted by KU football beat writer Benton Smith, the KUsports.com staff discusses KU's 43-0 loss to TCU. Topics include: Ten horrible KU football statistics (open), comparing the teams of the post-Mangino era (starting at 19:25) and the KUsports.com football mailbag — cage ...
Finally, the coach was convinced: His team was Big 12-ready.
"We said long ago that Year 3 should be a year where we start seeing dividends," Beaty said.
Why?
"Because of the amount of time we've had to develop them," he said. "And, obviously, we were a developmental program. We still are."
And that's what makes this season the most disappointing in recent memory.
The development is nowhere to be found. The facts point to a regression from last season's 2-10 mark.
Here in the third year of the rebuild, the offensive line remains a glaring weakness, thanks to a lack of depth that was exposed when red-shirt sophomore center Mesa Ribordy went down with an injury.
Replacing Ribordy with fourth-year junior Jacob Bragg didn't work out in a 45-0 loss at Iowa State, so the Jayhawks shifted to an alignment that had three players make starts at that position for the first time this season. Clyde McCauley started at left tackle, Zach Hannon moved from right tackle to center and Hakeem Adeniji went from left to right tackle.
What followed was an unmitigated disaster in a 43-0 loss at TCU. Three quarters into the game, KU had negative-6 total yards. On one series, Kansas lost yardage on all three plays. Ryan Schadler ran for a 6-yard loss, followed by back-to-back sacks of Peyton Bender. Fourth and 25. Progress: The punt was executed without incident.
KaVontae Turpin returned the next punt 90 yards for a touchdown.
In Big 12 play, opponents have outscored Kansas, 209-53. The score vs. the same four foes in 2016: 158-87.
If you build it, they won't come, unless you give them reason to believe. They won't even pony up to let you build it. The fan base is tired of talk and promises and demands action.