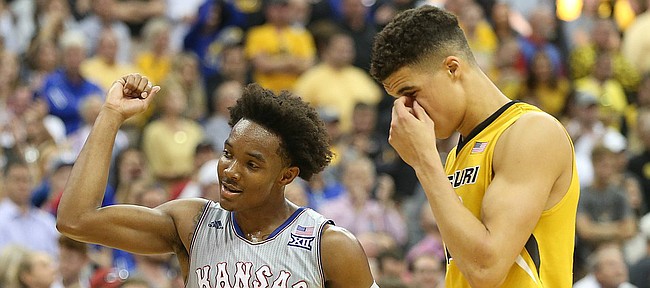 Kansas City, Mo. — The mere mention of the name Devonte' Graham instantly brought a sigh, wide eyes, a side-to-side shake of the head and ultimately a smile from first-year Missouri basketball coach Cuonzo Martin.
"One, he's battle tested. When you've been in big games as a senior, there's nothing you haven't seen before," Martin said. "He plays with a level of poise. He plays to his game. He can make shots."
Nobody made more than Graham.
"I thought we did a poor job of defending him in the first half," Martin said. "He had too many open looks, even though he made some tough shots, some deep shots, but we didn't do a very good job of putting pressure on him, making him make plays off the dribble. There were too many catch-and-shoot shots, one-dribble shots, so we have to correct that."
Martin quickly made sure he didn't give Graham enough credit for his big night.
"But he's a talented ballplayer," Martin said. "There's a reason why he's the preseason player of the year in that league. He's been at this level. He understands it. He's a competitor."
Photo Gallery
Kansas basketball v. Missouri (exhibition)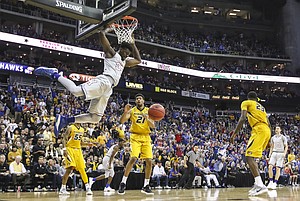 View a gallery of images from the Jayhawks' exhibition game against the Missouri Tigers at Sprint Center.
Players from both sides of the Border Showdown for Relief, won by Kansas, 93-87, at Sprint Center, likely will make more money in their pro careers than Graham, but he made it clear in so many ways Sunday that he was the best basketball player on the floor.
Missouri came out on fire and Kansas needed someone to match the heat. Graham was up to the challenge, scoring 14 early points to give Kansas a 21-19 lead. He scored 17 of his game-high 25 points in the first half, which ended with Mizzou on top, 44-40.
"If it weren't for Devonte', we're down double figures the first half," Kansas coach Bill Self said.
In listing KU's deficiencies, Self noted, "We're not a good rebounding team at all, so we've got to do it by committee."
Podcast episode
Kansas guard Devonte Graham, center Udoka Azubuike and coach Bill Self discuss the Jayhawks' 93-87 victory over Missouri in a charity exhibition game at Sprint Center on Sunday, their improvements in the second half and which newcomers stood out to Self.
Graham didn't have to be reminded of that. He snagged a team-high 10 rebounds. So he led the Jayhawks in scoring, rebounding, assists (five), 3-pointers (6 for 13) and smarts.
His most memorable play of the night came on a high, on-point lob from beyond the top of the key to soaring Lagerald Vick. Graham also had a hand in making sure to include raw sophomore center Udoka Azubuike, knowing the sooner he gets up the speed, the better for KU.
The phrase "coach on the floor," is way overused, but it applies to Graham, who brings a great deal of experience, aggressiveness and savvy to the floor and makes getting his team a good shot his top priority and has an excellent feel for when he should be the one to take it and when to get someone else going by featuring him.
He plays the game with an enthusiasm that shows how much he loves it.
"In warmups you could just tell how much juice there was in the building," Graham said. "It was a great atmosphere to play in."
This Kansas team still has some question marks, so it's reassuring for the coach to know Graham is thinking right along with him.
• BORDER WAR QUIZ: Test your knowledge of Border Wars past and enter to win a $25 Visa gift card.
• KU-MIZZOU TRIVIA: How much do you know about the history of KU's biggest rivalry? Take this quiz to find out and enter to win a $25 Visa gift card.
— See what people were saying about the game during KUsports.com's live coverage.
---
More news and notes from Kansas vs. Missouri