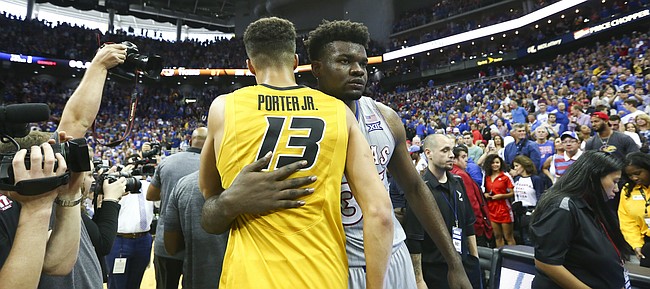 KANSAS CITY, Mo. — Missouri coach Cuonzo Martin was pleased with just about every part of Sunday's exhibition.
"I don't know if you'll find a better venue than this one with the atmosphere and the energy behind it," he said after the 93-87 exhibition loss to the Jayhawks. "Again, it's a win-win."
Except for the actual scrimmage, of course.
While Martin acknowledged as much, the player sitting to his left showed the expression of a player going through a different result: a loss.
Not a win-win-loss or moral victory. Just a loss.
"When you're a competitor, there's no such thing as an exhibition or scrimmage," Martin said. "They're all real games when you're competing. So I think he took it personal from that standpoint."
Photo Gallery
Kansas basketball v. Missouri (exhibition)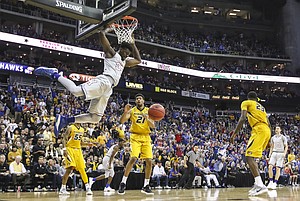 View a gallery of images from the Jayhawks' exhibition game against the Missouri Tigers at Sprint Center.
Certainly that summed up the feelings of star freshman Michael Porter Jr.
The five-star recruit and likely top-3 NBA draft selection next season showed exactly why that could be the case in the first half.
After some minor mistakes on the first few possessions where the freshman looked like, well, a freshman, Porter began to heat up, taking advantage of the smaller KU players guarding him to the tune of 15 first-half points.
"It was great to get out there and play," Porter said. "We knew it was an opportunity, (with) Kansas being a great team that's always at the top."
The second half yielded more of the same, at least with regard to the defense.
KU coach Bill Self, who mentioned several times leading up to and even after the game that his team didn't put on a full scout of its exhibition opponent, opted to put different guards on Porter.
At one point Malik Newman was matched up on Porter because of a switch. Porter didn't take advantage, and instead launched a 30-foot 3-point shot that clanked off the rim.
At other points, Porter was guarded by Svi Mykhailiuk — a 6-foot-7 guard, but still a guard. Porter was able to use his quickness to drive into the paint, something that continued to be the case whether it was Lagerald Vick, Marcus Garrett or just about anyone else in front of him.
"We did the same thing that we did the first half, which was play defense and hope he misses a lot of times," Self said. "It's hard. If you guard him with a guard, which we did almost the whole time, that's hard because he can take you post and he was able to do that a couple times. And if you guard him with a big, he's so good behind the arc that it puts a big in jeopardy."
Really, the only difference between the first and second half was Porter.
After lighting up the scoreboard in the first half, he managed only six points on 2-for-10 shooting in the second. He finished his unofficial college debut with 21 points (6-20 FG), 8 rebounds and 2 blocks in 23 minutes.
"Michael Porter is a talented guy, but he hadn't been on a stage like this," Martin said. "To be able to go through that and feel that, now as you move forward you understand what it looks like."
Still, Self felt the Jayhawks did a "decent job" on a "terrific, terrific talent," which was more than enough to get the win.
And it was for that reason that after a hard-fought loss, even in a scrimmage, the freshman wore a somber look as he spoke after the game.
"I was pretty disappointed with my personal performance," Porter said. "I felt like there were a lot more things I could've done for the team. So I'm putting this loss kind of on myself a little bit."
• BORDER WAR QUIZ: Test your knowledge of Border Wars past and enter to win a $25 Visa gift card.
• KU-MIZZOU TRIVIA: How much do you know about the history of KU's biggest rivalry? Take this quiz to find out and enter to win a $25 Visa gift card.
— See what people were saying about the game during KUsports.com's live coverage.
---
More news and notes from Kansas vs. Missouri