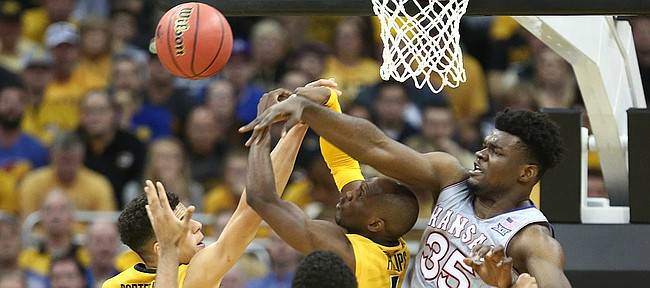 Kansas City, Mo. — With Border War bragging rights back on the line Sunday afternoon at Sprint Center, the plan all along for the Kansas men's basketball team was to get the ball to 7-foot center Udoka Azubuike and let him dominate the paint.
Had it worked for the entire afternoon, the Jayhawks might have won by 20.
Instead, the one-day renewal of the once-bitter, still-vibrant Border War rivalry turned out to be a grind-it-out affair for Kansas, which trailed by four at halftime and did not gain control until Azubuike took over midway through the second half of KU's 93-87 victory over Missouri.
After a 3-pointer from junior Lagerald Vick tied the game at 50 with 17:32 to play, Kansas ripped off a 33-16 run to open up a 17-point lead with 6:37 remaining and the rest of the game was merely a formality, much to the delight of the Kansas fans in attendance and despite the fact that the Tigers never quit fighting.
Missouri turnovers, KU's poise and experience and easy buckets in transition helped spark the Jayhawks' second-half onslaught. But none of that made quite the impact of the strong few minutes turned in by KU's 7-foot sophomore, who labored his way to five points and three rebounds in 12 minutes during the first half and finished with 16 points on 7-of-9 shooting along with four blocks and two steals in 27 minutes.
"We want to play inside out," noted KU senior Devonte' Graham, correctly recalling that Azubuike drew a foul down low on the first possession of the game. "We ran a couple plays early to try to get him going and get him fouled but they did a good job with trying to keep us from getting him the ball. He just got going the second half so we kept feeding him."
Photo Gallery
Kansas basketball v. Missouri (exhibition)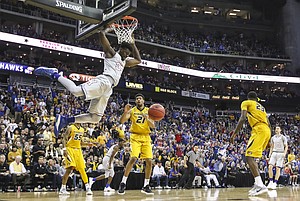 View a gallery of images from the Jayhawks' exhibition game against the Missouri Tigers at Sprint Center.
For most of Azubuike's still-young career, his biggest nights have come when he has found the freedom to hammer the rim, raise his legs high into the air and dunk the ball with anger. He had a couple of those moments on Sunday. But he was at his best elsewhere.
With the outcome still in doubt, Azubuike scored three consecutive baskets for Kansas, one coming off of a third chance on the same possession, and the other two coming on off-balance shots in the paint.
"Second half, my teammates and my coaching staff, too, emphasized me being more aggressive in the paint and just going out there doing what I've gotta do," Azubuike said after the victory. "So I just went out there in the second half and tried to post up, tried to do the best I can to make my team win."
Added KU coach Bill Self: "'Dok, he's such an athlete at his size. But I didn't think he played to his athletic ability. He was hesitant in the first half. I thought the second half he went without hesitation, so that was probably the best thing for him offensively. And I think he blocked four shots the second half, too."
For his efforts, Azubuike earned a rest and a monster ovation from the KU crowd on his way to the bench. That was with 6:18 to play and Kansas leading by 17. One minute and 39 seconds later, after a quick spurt by the Tigers pulled the margin back to 12 points, Self quickly sent Azubuike back into the game. Twenty seconds later, he picked up a steal to help Kansas close out the win and finally went to the bench for good with 1:44 to play.
"Us just being aggressive offensively and defensively," answered Graham when asked to reveal the key to the second half. "Just getting into a little bit of a rhythm and a comfort zone and then big fella started going to work and it really got us going."
Ever the critic of his team's performance, Self enjoyed a light-hearted moment with Azubuike at the podium during the packed postgame meeting with the media.
"What'd you think, 'Dok, was it fun," Self needled. "Was the second half more fun than the first half?"
The often-quiet Azubuike calmly responded, "Yeah," to both questions before joining Self and Graham in laughter a few seconds later.
Podcast episode
Kansas guard Devonte Graham, center Udoka Azubuike and coach Bill Self discuss the Jayhawks' 93-87 victory over Missouri in a charity exhibition game at Sprint Center on Sunday, their improvements in the second half and which newcomers stood out to Self.
The scene was a nice reminder that, as much as this quickly thrown together exhibition game meant to fans on both sides, and as important as it will be as the latest chapter in a rivalry that dates back more than 100 years, the whole purpose of being at Sprint Center on Sunday afternoon, 19 days before the 2017-18 season officially begins for both teams, was to have a little fun while raising money for a good cause.
Win or lose, good minutes or bad, that objective was a rousing success, as KU, MU and fans from both sides raised nearly $2 million for hurricane relief and hammered home that point with a giant $1.75 million check presented by each school's head coach and athletic director before the start of the second half.
"I admit, I had butterflies. I was excited to be out there," Self said after the victory. "But it wasn't like we were competing to try to win league or something like that. It was reminiscent (of the old Border War battles) as far as there was some energy in the building and that kind of stuff. But that's not like a regular season game. Whenever you play a regular season game there's actually strategy involved and there's schemes and a scouting report and things like that. That was two teams going out, 'Hey, let's throw it up and play.'"
To the equal parts joy and relief of Kansas fans and the disappointment of Tigers everywhere, the result on Sunday was the same that it had been throughout most of the Border War series — KU leads the all-time match-up, 173-95 — and the Jayhawks returned to Lawrence with bragging rights and their position as the lead dog in this rivalry firmly in place.
• BORDER WAR QUIZ: Test your knowledge of Border Wars past and enter to win a $25 Visa gift card.
• KU-MIZZOU TRIVIA: How much do you know about the history of KU's biggest rivalry? Take this quiz to find out and enter to win a $25 Visa gift card.
— See what people were saying about the game during KUsports.com's live coverage.
---
More news and notes from Kansas vs. Missouri