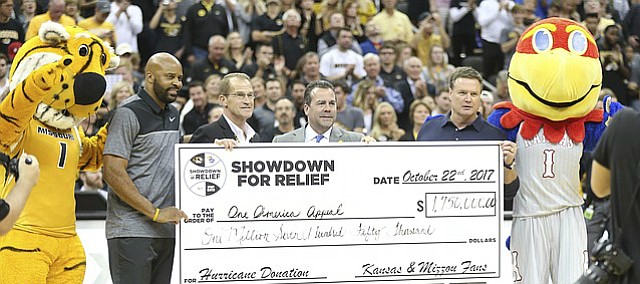 Kansas City, Mo. — Now that the two old rivals have been seen on the same basketball court again, after a five-year hiatus from one of the best rivalries in college sports, the question on everyone's mind after Sunday's 93-87 exhibition victory by Kansas over Missouri at Sprint Center was when we'll get to see it again.
First-year MU coach Cuonzo Martin was the first to answer the question on Sunday night, 12 minutes into Mizzou's 14-minute postgame meeting with the media.
"I thought you were gonna let me out of here (without asking) that one," Martin joked before adding: "Of course you want to play the game. (Kansas) is a great program, Bill (Self has) done a tremendous job. He's won the league, what, 13, 14 straight years? That's impressive. Of course we'd love to play. But I think both sides have to agree upon something like that. You saw the energy behind it. We'll see."
A little later, Self was asked the very same thing, but that question, perhaps indicative of the fact that many believe it's Kansas that has the final say in whether this rival will continue, came just less than a minute into his postgame press conference.
"That's what fans want to know, but we're gonna do what's best for us," Self said. "We're not interested in doing what's best for Missouri or best for Missouri fans. But if it's best for us to play 'em, we will. It's not a complicated deal.
"I'm not gonna say never, but I don't think there's been any change in our position. I'm the spokesman, I guess, on this, but, trust me, I'm not the only one that feels that way. There was a very large contingent of KU people that wasn't happy that we were doing this initially until they realized it was for a good cause. ... Kudos to both administrations and the fans for doing something that was pretty special."
Photo Gallery
Kansas basketball v. Missouri (exhibition)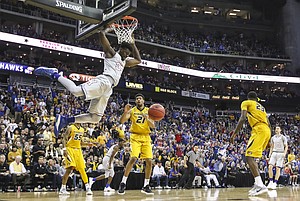 View a gallery of images from the Jayhawks' exhibition game against the Missouri Tigers at Sprint Center.
Gentlemen's agreement
In addition to simply agreeing to play the game after more than five years without facing one another, Sunday's KU-MU exhibition battle featured a couple of interesting quirks that were agreed to by Self and Martin when the talks began.
The first was to allow players on both teams seven fouls before being disqualified instead of the standard five. The reason? To keep as many big-name players as possible in the game for the enjoyment of the fans who paid big bucks to attend.
Missouri took advantage, with freshman forward Jeremiah Tilmon (10 points, four rebounds) fouling out with seven fouls in just 13 minutes on the floor. KU freshman Billy Preston (12 points, four rebounds, 15 minutes) recorded five fouls.
The other quirk was an agreement to play nothing but man-to-man defense the entire time.
While those wrinkles added to Sunday's unusual set up, Self said it still felt pretty competitive.
"I thought it was pretty good," he said. "I thought it was certainly more intense than a lot of games we'll play prior to league, without question."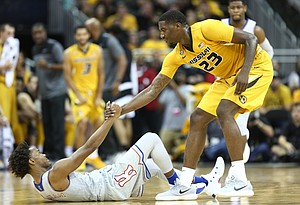 Dollars and cents
While the specifics of how much money came from which sources were not released, when it was all said and done, the Showdown for Relief raised nearly $2 million for hurricane relief, nearly double the amount of the original stated goal.
A big reason for that was the addition of the pay-per-view, online streaming option, which drew more than 18,000 purchases and added $724,480 to the amount the two schools were able to donate.
Add to that the proceeds from ticket sales, concessions and an off-the-court competition between the two fan bases via donations sent by text message and you're quickly closing in on $2 million.
By game's end, KU fans had the lead on Mizzou fans in the text war, roughly $23,000 to $16,000. When the game began, those amounts sat at $2,213 by KU fans and $820 by Tigers.
This and that...
KU's pregame video that played on the Sprint Center video board featured four highlights from the last KU-MU game in February of 2012. Two belonged to Thomas Robinson's block of MU guard Phil Pressey and the other two were of Robinson and Self celebrating the KU victory... Attendance at Sunday's Showdown was listed at 18,951 and both schools said they sold out their allotment of tickets early last week... Five of the eight Jayhawks who played in this one reached double digits in scoring — Devonte' Graham (25), Malik Newman (17), Udoka Azubuike (16), Lagerald Vick (13) and Billy Preston (12)... Next up for Kansas is an Oct. 31 exhibition game at Allen Fieldhouse against Pitt State. Tip-off is set for 7 p.m.
• BORDER WAR QUIZ: Test your knowledge of Border Wars past and enter to win a $25 Visa gift card.
• KU-MIZZOU TRIVIA: How much do you know about the history of KU's biggest rivalry? Take this quiz to find out and enter to win a $25 Visa gift card.
— See what people were saying about the game during KUsports.com's live coverage.
---
More news and notes from Kansas vs. Missouri