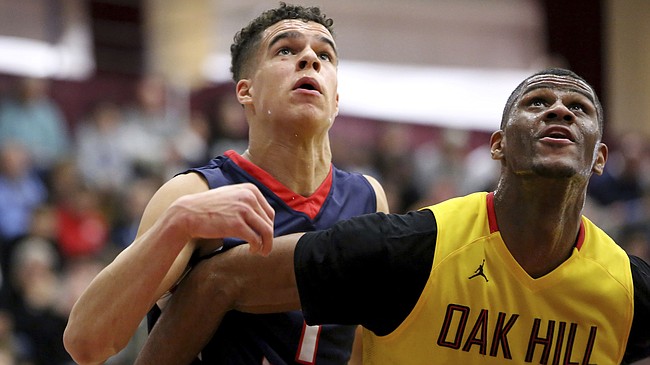 Don't look for the animosity that might percolate in the Sprint Center seats Sunday during the Border War exhibition basketball game to be duplicated on the court.
"I could tell you a lot about Mike," Kansas freshman Billy Preston said of Michael Porter, Jr., Missouri's freshman phenom. "That's one of my close friends. I've seen him on the AAU circuit. So many different camps we've been to. No. 1 player in the nation. Great player. Great player. Works hard. Very versatile player."
Porter and Preston played for the West, which defeated the East, 109-107, in the McDonald's All-American game. Porter had 17 points and eight rebounds in 21 minutes and missed all four of his 3-point attempts. Preston totaled 10 points and three rebounds in 16 minutes and made both of his 3-pointers.
Podcast episode
On this episode of the KU Sports Hour, hosted by KU basketball beat writer Matt Tait, the KUsports.com staff talks about the resurgence of the Border War, dubbed the "Showdown for Relief." Topics include: should this game be happening? (4:30-15:10), how seriously will everyone take it? (15:10-29:15), Border War memories ...
In a high school game last January in Springfield, Mass., Porter led (Seattle) Nathan Hale to an 80-77 victory against Preston's Oak Hill Academy. Porter scored 20 of his 36 points in the first half and Preston, who guarded Porter, scored 15 of his 20 in the first half.
"He's a cool guy," Preston said of Porter. "We're so tight off the court. If I see him, it's all good terms. We're chillin.' Off the court, it's kind of like LeBron and D-Wade. You're cool off the court, and you know when you're playing, it's all business. So when that point comes, we know the stakes. But off the court, me and him are cool."
Now that James and Wade are reunited as teammates, there need not be a distinction between on and off the court, but Preston, ranked No. 11 by Rivals in the Class of 2017, was referencing when they were ex-teammates.
Preston started his high school career in the Los Angeles area, moved to Dallas and then played for Oak Hill, a national powerhouse in Virginia. He didn't have reason to know much about the border rivalry until choosing Kansas from a long list of powerhouse suitors.
"Coming to KU, I have to know a little bit of history about the school," Preston said. "I did find that out. Of course, the Jayhawks and the Tigers don't get along. Kansas and Missouri, it's a rivalry. We know it's business. That's the tradition of the schools. It's a rivalry, but I'm not going to let the rivalry get in between the friendship."
Porter and Preston, a pair of highly skilled big men, likely will be paired against each other at times Sunday, a nice opportunity for Preston to show everyone how he compares to the No. 1 recruit in the nation, as long as he does it within the context of where the team needs him.
"A lot of versatility, inside presence," Preston said of what he brings Kansas. "We're not as big as last year. Landen (Lucas) is gone. We have four great guards with Devonté (Graham), Malik (Newman), Lagerald (Vick) and Svi (Mykhailiuk), so I really don't have to worry about what's going on on the perimeter. I'm just worried about this inside presence, anything from 15, 18 feet in. That's all I'm worried about really, defensively and offensively."
It's easy to say, but for someone blessed with such refined guard skills, it might be a little tougher to do.
Kansas and Missouri fans will get to see Preston and Porter play in a 40-minute game vs. college competition for the first time, one of the more appealing aspects of the game.
Again, don't look for any hatred on the court.
"Rivalry or not, the game is for a good cause, and that's really all that matters," Preston said. "I'm looking forward to the game to see where we are as a team, whatever we need to improve on, whatever we need to fix. So I'm glad we get to play a team like Missouri for the preseason game for the better cause, for the floods and for the hurricanes that happened. It's all going to happen for the better. Just looking forward to it."
— BORDER WAR QUIZ: Test your knowledge of Border Wars past and enter to win a $25 Visa gift card.