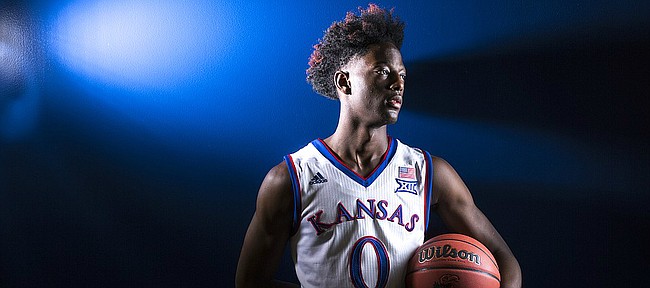 The words of his former boss have echoed through the years for Dallas Skyline High basketball coach Paul Graham.
"I learned from coach (Eddie) Sutton, 'Don't sell your soul for talent. It's not right for you and it's not right for the kids,' " Graham said of the coach he worked under at Oklahoma State.
Translation: Coach a superstar just as hard on the court and in life as any other player.
So when Marcus Garrett was a freshman at Skyline and one of his teachers informed Graham that he was "being silly, standing up, disrupting the class," the coach told the student he had better stop if he wanted to continue to play basketball.
When the teacher came to Graham again and said, "I can't put up with Marcus Garrett anymore," Graham didn't sell his soul for talent, even though the district finals were that night.
"You can't give idle threats," Graham said. "You can't say you're going to do something and then you don't do it."
Garrett showed up for the game and was told by his coach to, "Go sit wherever you want to sit because you're not playing. He sat in the stands with all his stuff in a little brown sack. It shocked him. I think that was a turning point for him."
Graham now calls Garrett one of his favorite all-time players, "a winner, a great kid and a special person in my life and a special person in my family's life. Big heart. Very unselfish. Not a prima donna the way so many of today's kids are. The thing he hates the most is to lose."
That doesn't mean Graham didn't continue to ride Garrett.
"I'd get mad at him and throw him out of the gym," Graham said. "Every time, he'd come back, say, 'My fault,' and come back strong," Graham said.
Coaches sometimes search for excuses to blast ultra-competitive athletes, knowing it will drive them to greater heights.
"When I'd get mad, he was the guy I'd get on most because I knew he could take it," said Graham, who grew up in Kansas City. "After he signed, I would tell him, 'Why don't you go to Kansas right now? I'll drive you up there right now and drop you somewhere on I-35.' That would tick him off and he'd go to work."
Garrett shared the things that triggered his high school coach's ire the quickest.
"He hated when the ball stayed in one spot," Garrett said. "He'd always say, 'Move the ball from side to side before you put up a shot.' And help defense. Those were his big keys."
The humbling of stars, demanding moving the ball rapidly in a way that makes the defense constantly shifting, obsessing on help defense. Notice a pattern emerging? Garrett's former coach sounds an awful lot like his current one.
"Very similar," Garrett said. "You had to play hard every possession and you had to play defense."
It makes sense that Graham is the Self of Texas high school basketball in many ways.
In 1992-93, Self was in his final of seven seasons as an Oklahoma State assistant, the last three under Sutton, the first four under Leonard Hamilton. Graham was in his first of seven seasons at OSU under Sutton that year. Graham and Self have remained friends since the year they spent coaching together.
After OSU, Graham spent four seasons as head coach at Washington State, four as an assistant at Colorado, four as an assistant at Georgia State. He has been at Skyline since 2011, the past four as head coach.
Little about the way Garrett played during KU's Italy trip exposed him as a freshman. He played with a lot of smarts.
"Sometimes I feel like a freshman," Garrett said. "With some stuff I don't. I feel like I had a little advantage having a college coach coaching me in high school."
Garrett's versatility makes him a potential solution for a couple of areas of concerns about KU's depth in that he can back up Devonte Graham and even possibly defend and rebound well enough to play the four position, even though he's just 6-foot-5 and 180 pounds.
"I consider my position whatever my team needs at the time," Garrett said. "In high school I was the primary ball handler."
Graham said he first alerted Self to Garrett when he was at a game to scout Marques Bolden, a Class of 2016 prospect who signed with Duke, early in the big man's career at DeSoto High.
"I said, 'Hey man, I've got one for you in four years. Everybody in the country's going to recruit him.' He started recruiting him early," Graham said. "The more they watched him, the more they liked him. I also told him, 'He's not going to blow you away with a sweet-looking jump shot because, one, we don't play that way, and two, that's not him.' His IQ is so high, he'd see a guy wide open and throw it to him and I'd get mad at him because he'd have a better chance of scoring himself. I'd get mad at him for making the right play. He can really see things on the court."
Graham cited examples of Skyline winning a game because Garrett shut down a dominant 6-9 center and on another occasion one of the state's top point guards.
"He can score, but he doesn't care about scoring," Graham said. "He just wants to win."
And win he has, Skyline going 66-4 in Garrett's final two seasons.