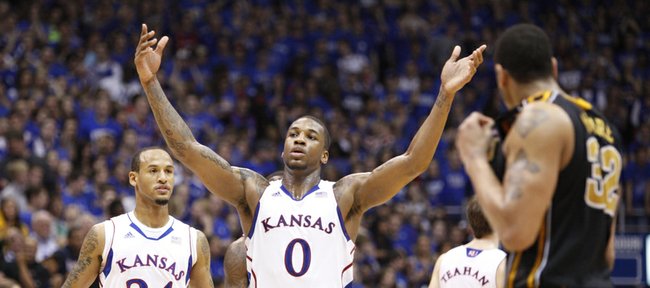 Kansas basketball Media Day very rarely includes big, breaking news, but that was hardly the case on Friday, when Kansas coach Bill Self confirmed that his team would face former Border War rival Missouri in an exhibition game for charity at 3 p.m. on Oct. 22 at Sprint Center in Kansas City, Mo.
Dubbed the "Showdown for Relief," KU and Missouri were given permission by the NCAA to host an extra exhibition game that will raise money for hurricane relief.
How much money?
"Planning on north of a million," said Self of the event, which will not be televised nor streamed online but will be available on each school's radio network. "I think it's a great opportunity for two schools to do something together for the (benefit) of the masses."
The fact that that something involves two schools whose bitter rivalry and ensuing divorce when Missouri left the Big 12 for the SEC following the 2011-12 season drew national attention is merely a sidenote, according to Self, who has been steadfastly against the idea of scheduling MU since the Tigers left.
"I haven't changed how I feel about that at all," Self explained. "My whole thinking when I called (MU coach) Cuonzo (Martin), it didn't have anything to do with us wanting to play Mizzou. It had everything to do with, how can we send the most money to those victims? And there was no doubt that the Missouri game will draw (a lot) of interest and be able to create (significant) funds."
As for the specifics of the game, Self admitted that it probably would not resemble anything close to the last game these two played against each other, an 87-86, overtime thriller in February of 2012 in Lawrence that some have called the greatest game — or at least comeback — in Allen Fieldhouse history. But he emphasized that he and his team were OK with that given the focus of the event.
"I would say it's not that big," Self said. "This is not a regular season game, you don't have your stuff in, but there is enough interest that you can put 19,000 people in a building. That's the reason why we're doing it, and that's the sole reason why."
Reaching the fevered pitch that people came to expect would be next to impossible given the fact that none of the players on either roster ever knew life with the other as their bitter rival.
"I've never experienced it," KU senior Devonté Graham said of the Border War. "You know, I see it on the video board every time before the game and I know how big of a rivalry it was back in the day, so I think it's going to be good for the fans and it's to raise money for (hurricane) relief and that's a big thing. It's just an exhibition game so it'll be a good competition."
Added junior Lagerald Vick: "Coach told us about it (Thursday) and it's probably gonna be the talk of the town soon and I'm definitely excited."
There has been some speculation that such a game might not have happened had it not been for the recent excitement surrounding the MU program, which recently hired head coach Cuonzo Martin and added No. 1 overall recruit Michael Porter Jr., among other talented newcomers. But Self, re-emphasizing the purpose of the contest, said he thought Kansas would have sought out an event like this with Missouri because the KU-MU match-up presents the best opportunity to raise as much money as possible.
"I think they'll see just a regular game," said Self when asked how intense things might get. "We'll have officials and we'll throw it up and we'll commit fouls and we'll shoot free throws. But it won't be any different than any other exhibition game. He won't have his stuff in, we won't have our stuff in, but it'll still be good. It'll be good for the fans."
Tickets will be offered first to members of KU's Williams Education Fund and MU's Tiger Scholarship Fund. Each school will be given tickets for half of the roughly 18,000-seat arena and all members of those support programs will be contacted via email about how to purchase tickets, which will range in price from $200 for courtside seats to $25 for students.
Any tickets not sold through WEF or TSF will go on sale starting at 10 a.m. Wednesday and will only be available online at sprintcenter.com.