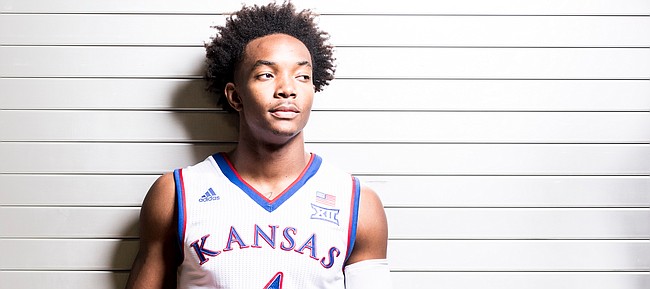 In addition to the big news about the Border War revival and more candid comments from KU coach Bill Self about the ongoing FBI investigation into college basketball — "I'm much more concerned about our sport than I am anything at Kansas," Self said Friday — Kansas basketball media day offered the entire roster, eligible or otherwise, an opportunity to meet the media dressed in full uniform shortly after taking the official team photo for 2017-18.
While that meant fielding a lot of questions from a lot of people that covered everything from their goals for the upcoming season to their favorite music or food, it also meant those with the loudest voices and biggest roles drew the largest crowds.
Right out of the gate, that meant that senior point guard Devonte' Graham attracted the biggest collection and, as expected, Graham greeted every question with his signature smile and strong dose of confidence.
Self has referenced plenty of times this offseason how the 2017-18 team would be led by Graham in just about every way, but Friday's KU Media Day offered KU's senior point guard the chance to do it himself.
Photo Gallery
Kansas basketball Media Day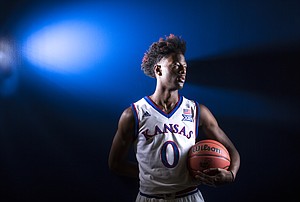 View a gallery of images from Media Day on Friday in Allen Fieldhouse.
"I definitely think it's my team," the three-year starter and KU's leading returning scorer said. "I'm a senior, senior leader, senior guard, been starting for three years, so it's definitely my team."
Beyond just indicating that he was excited about sliding into the leading role, Graham also demonstrated he knew exactly what that meant.
"You've gotta take ownership with the ups and the downs," he said. "If we win, it's on me. If we lose it's on me."
Big or small?
With limited depth and experience in the front court and a plethora of talented guards behind them, the likelihood of the Jayhawks playing a four-guard lineup at times the way they did during a big chunk of the 2016-17 season has become a reality for the 2017-18 squad.
But even with just three true big men at his disposal — sophomore Udoka Azubuike, sophomore Mitch Lightfoot and freshman Billy Preston — Self said after Late Night, a couple of weeks ago, that he would like to play with two big men around 70 percent of the time.
Now that the Jayhawks are into the meat of their season, that number has changed.
"That was before we really started practicing," conceded Self of that 70-percent target. "So I think that number's gone down a little bit to about 50. But I do think we've gotta play big at least 20 minutes a game."
Whether that proves to be how things go depends on foul trouble, development and the circumstances of each individual game. But despite what became the norm last season, Self still very much believes in playing through big men.
"You look at the finals last year, maybe the two biggest teams in the country were Gonzaga and North Carolina," he said. "You've gotta be able to control the paint and get easy baskets. There's such an advantage to having multiple bigs. We need to get to the point where we can play 6-10, 6-10 (at the two forward spots) and if we're able to do that for 50-70 percent of the game I think our chances will elevate quite a bit on us being a great team by February."
Seeing Embiid
Philadelphia 76ers center Joel Embiid's return to Allen Fieldhouse on Thursday ahead of his team's exhibition game in Kansas City, Mo., on Friday night, proved to be a highlight for Self, who joined his coaching staff and current players in watching the Sixers practice.
In addition to catching up with his former center and having a few laughs over the old days, Self got the chance to see, up close, the player that Embiid has become.
"The one thing that stood out more than anything is that is a bad man that we knew was good back then, but he's taken it to a whole new level," Self said.
Talking to reporters after Thursday's practice, Embiid said he had decided to stay for his sophomore season but was encouraged to leave after just one year. Self on Friday cleared up what exactly that meant.
"I would've preferred for him to stay all four years," he joked. "But Jo had to go. Jo was going through a phase. He was hurt, he was emotional and he loves it here. He did express that he would like to return, but the reality of it is that was not in his best interest over time and his family and people close to him convinced him otherwise."