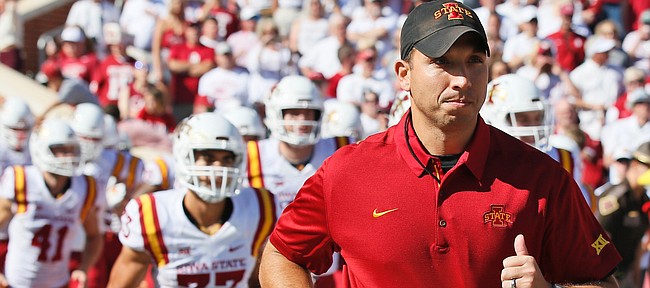 You take over a college football program from a fired coach and you're bound to have a rough baptism. Losing cultures can be so difficult to reverse and a lack of talent on hand generally is a major contributor to that reality.
So nobody freaked out last season when Matt Campbell started his Iowa State career 0-3, losing to FCS school Northern Iowa, then at Iowa, 42-3, then at TCU, 41-20.
Just one year later, the Cyclones already have made huge strides under Campbell.
On the same day Kansas was blitzed at home by Texas Tech, 65-19, in the eighth season of trying and failing to make progress in the post-Mark Mangino era, Campbell scored his third victory of the season and not just any victory.
The Cyclones stormed into Norman, Oklahoma, and came out on top against the No. 3 school in the nation, 38-31.
If Campbell and his coaches can somehow devise a game plan sound enough to slip past Kansas in Ames next week, that will make ISU's record 4-2, the most victories for the Cyclones since they won six in 2012.
It also would give Campbell more Big 12 victories (five) in his 13th game than Turner Gill, Charlie Weis, interim Clint Bowen and Beaty, in his third season, have combined for (four) in 65 (including next week) Big 12 games. No KU coach since Mangino has won more than one conference game. Their records: Gill 1-16, Weis 1-18, Bowen 1-7, Beaty 1-19.
KU football coaches hired by current athletic director Sheahon Zenger have gone 5-54 vs. FBS schools and 3-44 in Big 12 play, success that earned Zenger a contract extension in the bottom of the ninth inning of Bernadette Gray-Little's tenure as chancellor. Zenger rewarded Beaty with a contract extension after a season that included KU's first victory against Texas since 1938. In his third year at Kansas, Beaty has a 1-25 record vs. FBS schools.
Usually, if a coach is going to succeed in a rebuilding project, signs of improvement surface in his second year.
For example, Glen Mason won five games in his first season at Kent State, seven in his second. He won one game in his initial season at Kansas, four in his second, three games in his first try at Minnesota, five in his second.
Mangino won two games in his debut season at KU, six in his second.
Campbell, who went 35-15 at Toledo, went 3-9 in his first season in Ames and takes a 3-2 record into Saturday's 11 a.m. kickoff.
Campbell, 37, already has played four opponents for a second time at Iowa State and played each one tougher in the rematch.
He went 0-4 vs. Northern Iowa, Iowa, Texas and Oklahoma last season and the Cyclones scored 53 points and gave up 128. This season, ISU is 2-2 against the same four schools and has scored 128 points and allowed 116.
That's impressive progress. It shows it can be done. No reason recruiting to Lawrence should be tougher than to Ames. No excuse for what's being allowed to take place at Kansas.