Another Saturday. Another colossal first-half crater too deep to escape. Another loss for the Kansas football team.
In the Jayhawks' fourth consecutive defeat they suffered their worst start yet in Saturday's drubbing at the hands of Texas Tech.
After experiencing 18-point deficits before halftime against both Central Michigan and Ohio and trailing by 25 points versus West Virginia, KU was buried in a 28-point hole by the Red Raiders with 5:15 left in the second quarter.
"It's not a good feeling," junior defensive end Dorance Armstrong Jr. said after the 65-19 defeat. "I don't know what the issue is with our team, but we have to get that changed."
It took Tech barely more than 10 minutes to build a 21-0 lead and on the first two rushing touchdowns — 13 yards by Justin Stockton and 47 yards by Desmond Nisby — the Red Raiders reached the end zone untouched.
Photo Gallery
Kansas football v. Texas Tech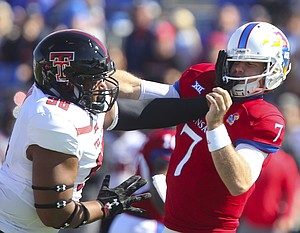 View a gallery of images from Saturday's game between the Jayhawks and Red Raiders at Memorial Stadium.
Texas Tech (4-1 overall, 1-1 Big 12) experienced so little resistance it set or tied the best performances in the conference so far this season in terms of:
• team points (65)
• touchdowns (9)
• individual touchdowns and rushing TDs (4, running back Desmond Nisby)
• and individual points scored (24, Nisby)
Although Texas Tech's Air Raid covered 75 yards to reach the end zone to open the thumping, the Red Raiders' average starting field position was their own 40-yard line by the time three-hour-and-55-minutes of dominance concluded. Five of their TD drives only had to go between 53 to 60 yards and the shortest, following a Peyton Bender interception, required moving the ball all of 21 yards.
Sophomore safety Mike Lee, who recorded his second interception of the year and added nine total tackles versus Tech, said the defense has to make more stops after KU forced just two three-and-outs.
"I guess things happened throughout the game and put us in bad positions and stuff like that," Lee said. "A few times it happened we stopped them but some other times they scored. So we can work on that as a defense."
KU head coach David Beaty reiterated the unit's sole focus should be getting the opposing offense off the field as soon as possible.
"It doesn't matter where it is. Our job is to stop them defensively. But, you know, we just, we didn't do a good enough job in any of the phases (Saturday), to be able to be successful," Beaty said. "(Tech) did a much better job than we did. I thought they played well. They out-coached us. They out-played us. The whole thing."
After surrendering three straight touchdown drives to open the game KU (1-4, 0-2) at least buckled down briefly on defense. On Tech's nine following possessions, three ended with a punt, two with Kansas takeaways, two reached the end zone, one closed due to halftime and another concluded with a missed field goal.
KU trailed 35-19 in the third quarter when Armstrong stripped Stockton of the ball and recovered the fumble.
"The energy kind of kicked in a lot. It was probably the most that I think we had throughout the game," Armstrong said of that particular juncture, "and then it just went away the next play."
To his point, the ensuing Kansas drive ended two snaps later, when Justus Parker imitated Armstrong with a strip of Chase Harrell and ran the takeaway in for a TD.
"Yeah, we had sparks but we didn't have enough to keep us going," Armstrong said. "It was a little bit of a rollercoaster — up and down, up and down. And we've just got to be consistent."
Five games into the season, Kansas ranks last in the Big 12 in scoring defense (44.8 points per game), passing defense (305.6 yards allowed), total defense (506.2 yards), pass efficiency defense (171.3) and opponent first downs (24.4).
"There's a lot of disappointment," Armstrong said of the mood of the following the loss. "You can't really look at the good things, because there are a lot of things that we did that we didn't really expect to do. We didn't play to our level like we should be."
Even Beaty, who stated following the blowout he doesn't get disappointed, admitted he couldn't feel optimistic about anything that transpired in KU's latest setback.
"It's hard to look at a positive when the score turns out lopsided," the third-year KU coach said. "I like the fact that our team, they don't quit, but other than that, I mean, we still gave up a bunch of points, and we didn't score a whole lot. That's a problem. We've got to get that fixed."
https://www.youtube.com/watch?v=MD5lNlxIm84
---
More news and notes from Kansas vs. Texas Tech