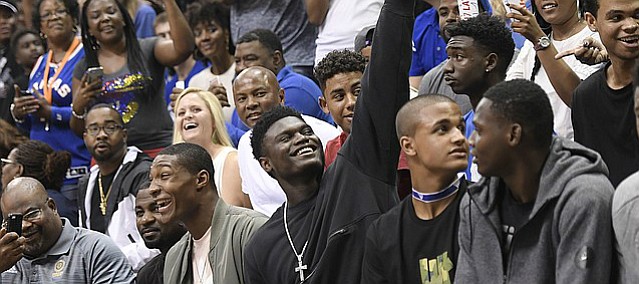 For the first time since his visit to Kansas for Late Night in the Phog a couple of weeks ago, prized Class of 2018 recruit Zion Williamson talked publicly about his recent trip to Lawrence.
Speaking on camera with Krysten Peek, of Rivals.com, at the USA Basketball minicamp in Colorado Springs over the weekend, Williamson said his official visit to KU was "everything I thought it was gonna be and more. The fans there showed a lot of love."
That love, while fairly common at Allen Fieldhouse no matter what year it is, was not limited to loud cheers, packed bleachers and clever signs.
All of those things were there, of course. But the fan flavor that most blew Williamson away was the brief moment when the KU student section started a thundering, "We want Zion" chant that bounced off of every surface inside the old building.
"That part was crazy," Williamson told Peek. "I didn't expect all that."
As for other details of his KU visit, the 6-foot-7, 230-pound Williamson who is ranked either first or second in the 2018 class depending on where you're looking, kept it brief.
Although he did not play any real ball with the current Jayhawks before Late Night, he told Peek he went through a morning workout while in Lawrence, which not only gave him an up-close look at KU's facilities, but also allowed him to stay on schedule with preparations for his upcoming senior season.
That was merely the tip of the iceberg in the pitch the Jayhawks were able to throw at Williamson while he was in town. As the only uncommitted official visitor on campus that weekend — 6-10 big man David McCormack committed just a few days before Late Night and was on his official visit, as well — Williamson received the lion's share of the attention from the entire KU program.
"They have two bigs committed so far," said Williamson of McCormack and 6-9, 245-pound power forward Silvio De Sousa. "So if I was to commit there I'd play 1 through 3, kind of like a Josh Jackson type, just playing everywhere. That's been their message."
After averaging 38 points per game as a junior at Spartanburg (S.C.) High, Williamson told Peek he would like to do more during the 2017-18 prep season.
"Probably just work on getting more triple-doubles, just more all-around game," he told Peek when asked how he planned to follow up last season's impressive effort.
With a trip to Kentucky's Big Blue Madness on tap for this weekend and potential visits still to Duke and UCLA on tap, Williamson is still a ways out from making a decision.
"Late November, early December," Williamson told Peek. "But, if it doesn't feel right, then probably longer."
Williamson also stressed to Peek that, while the blue bloods seem to be leading the way in his recruiting, people should not count out in-state programs Clemson and South Carolina.
"They're showing me a lot of love and I like the message they're giving me," he said of the two South Carolina schools. "I might take an official to one of those."
Like all prospects, Williamson is allowed to take up to five official visits. College basketball's early signing period runs from Nov. 8-15 and the regular period is set to run from April 11, 2018 through May 16, 2018.
Other impressions:
While Williamson was far and away the most hyped prospect to attend USA Basketball's minicamp over the weekend, there were a few other KU targets in attendance at the 54-player camp that featured 18 elite prospects from the Class of 2018 and 36 more from the 2019, 2020 and 2021 classes, many of whom are on KU's radar.
Here's a quick look at some other thoughts from the weekend.
Fox Sports analyst Evan Daniels on Quentin Grimes: "Like what I'm seeing out of five-star combo guard Quentin Grimes. Major upside here. Has his vision on display."
Rivals analyst Eric Bossi on possible packaged deals with 2018 shooting guard Romeo Langford: "Five-star point guard Darius Garland and five-star combo guard Quentin Grimes are both players that Langford appears to have a strong on and off the floor chemistry with."
Rivals analyst Corey Evans on Williamson: "There's no discussion this morning. Zion Williamson has been the best player on the floor, no argument."
247 Sports analyst Jerry Meyer on Williamson comps: "Larry Johnson is one I have used before for Zion Williamson. Think I like Charles Barkley a little better. A shorter Shawn Kemp?"