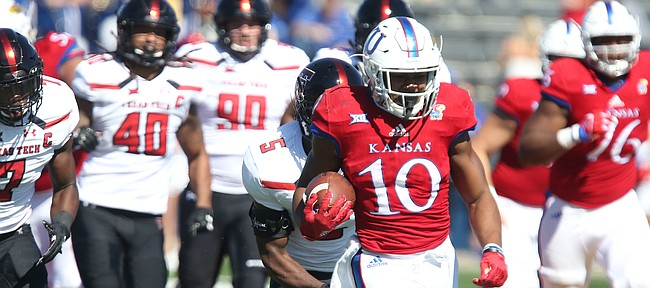 After back-to-back monster rushing days, Kansas running back Khalil Herbert couldn't extend his streak of 100-plus performances Saturday in the Jayhawks' 65-19 homecoming loss to Texas Tech.
Herbert got off to a slow start, with only five first-half carries, and when he finally looked like his former self in the third quarter, with a 45-yard run it proved to be his last.
"Yeah, his hammy kind of tightened up on him on that run," KU head coach David Beaty said afterward, adding trainers tried to get Herbert back on the field. "It just wasn't worth the risk of popping it."
Photo Gallery
Kansas football v. Texas Tech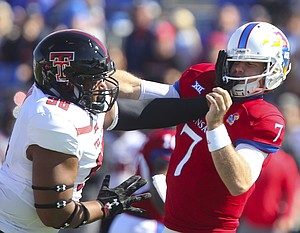 View a gallery of images from Saturday's game between the Jayhawks and Red Raiders at Memorial Stadium.
The 5-foot-10 running back, who put up 137 yards and two touchdowns on 19 carries at Ohio, and set career marks against West Virginia with 36 runs for 291 yards while scoring two more TDs, followed those memorable outings with just 10 rush attempts for 65 yards and no trips into the end zone.
"But he did have a nice run, looked like he was trying to get started there, which was good," Beaty said, adding KU's offensive line began playing better in the second half.
"I thought (Texas Tech) did a good job of handling our gap scheme stuff up front, and when you do that you shut down the run game a little bit," Beaty said after Taylor Martin ran for 32 yards on 14 rushes with a touchdown. "We kept working at it and kept handing it off in there, and when (Herbert) went out it was obviously a little bit different, but we have capable backs. We should have been able to maintain that."
The two KU running backs also teamed up for a special teams highlight in the first half, when Herbert blocked a Dominic Panozzolo punt, and Martin recovered.
It set up a 28-yard drive featuring an overturned Carter Stanley TD pass to Chase Harrell and a reviewed but successful Peyton Bender TD pass to Jeremiah Booker.
Tech rushers dominate
In the meantime, Texas Tech (4-1 overall, 1-1 Big 12) thrived on the ground. Desmond Nisby and Justin Stockton combined for 255 yards and five touchdowns.
Nisby, who scored four times, had three before halftime, the most for a Red Raider in one half since Baron Batch rushed for three against KU in 2009.
Stockton's 161 rushing yards and Nisby's 93 were both individual career highs.
Sack-less no more
After getting shut out in the sack category for the first four weeks of the season, junior KU defensive end Dorance Armstrong Jr. finally brought down an opposing quarterback versus Tech.
"It's good. I've been there before," Armstrong said afterward, "but after that game there's not really anything to be excited about."
The Big 12's Preseason Defensive Player of the Year had his most productive Saturday of this fall, with nine total tackles, 1.5 tackles for loss and a strip-and-recover fumble, as well.
"For the unit, the D-line unit, I think we kind of found ourselves," Armstrong said. "It wasn't just me with a sack. Josh (Ehambe) had one, (Daniel) Wise had one. A lot of plays we made. … We'll play better next week."
New starting corner
KU (1-4 overall, 0-2 Big 12) had a new starting cornerback in the loss. Sophomore Hasan Defense missed the game after starting the previous four.
"Hopefully we can get Hasan back here healthy next week. He's got mono, so I don't know how long it's going to be until we can get him back. It's not an injury; he's sick," Beaty said. "Hopefully we can get the kid well. It would be nice because it gives us depth at the corner spot."
In his spot, sophomore Kyle Mayberry made the first start of his college career.
"You know, I'll have to watch the tape. I thought Kyle did some really good things," Beaty said, "and there was some times where, you know, I thought maybe he could have played a little bit better in areas. There was one time where they swung a bubble out there, and I didn't think he leveraged it pretty well. But he did some good things. He had a really, really good week of practice."
Podcast episode
After a 65-19 home loss to Texas Tech on Saturday, Kansas football coach David Beaty discussed the problems on both sides of the ball, using quarterback Carter Stanley throughout the second half and why he doesn't describe himself as disappointed following the defeat.
No Neal
The secondary also lacked senior nickelback Derrick Neal, who made 22 total tackles in four starts. Tyrone Miller Jr. started at one of the safety spots in his absence.
Beaty, though, revealed it was neither an illness nor injury keeping Neal out of the game.
"He's not with us. He wasn't with us today. He wasn't dressed. You've got to win a spot to be able to dress. He didn't dress today," Beaty said.
Asked to clarify if Neal was still with the program, the head coach responded: "We'll see. We'll see how all that works out."
— See what people were saying about the game during KUsports.com's live coverage.
---
More news and notes from Kansas vs. Texas Tech