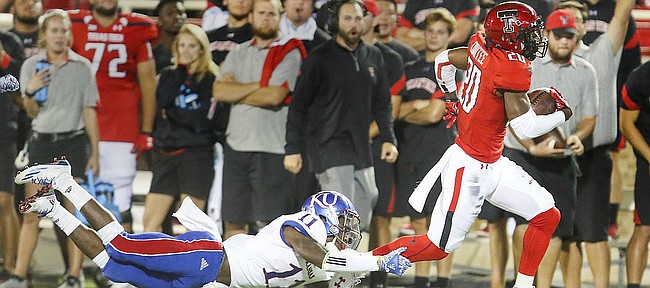 Even before the Kansas football team went into its bye week, there was plenty of familiarity with Texas Tech quarterback Nic Shimonek.
When the two schools met last season, Shimonek threw four second-half touchdown passes in relief of the injured Patrick Mahomes. Now the team's starter, Shimonek has completed 70 percent of his passes for 1,578 yards, 12 touchdowns and two interceptions in four games.
Shimonek leads the Big 12 with 394.5 passing yards per game and will present another tough challenge for KU's secondary at 11 a.m. Saturday at Memorial Stadium.
"He's interesting because he escapes, he scrambles, he does some kind of chaotic things, but he always finds a receiver and he can get the ball thrown in some odd positions," Kansas coach David Beaty said of the 6-foot-3, 225-pound Shimonek. "Man, he's a handful."
The Red Raiders (3-1, 0-1 Big 12) could be without Shimonek's favorite target, star receiver Keke Coutee, because of a leg injury. Coutee, who leads the team with 31 catches for 499 yards and four touchdowns, left Saturday's 41-34 loss against Oklahoma State with a left leg injury.
Even if Coutee is forced to sit out against KU, Beaty said there's still quite a few big-play threats with the rest of Tech's receivers. That includes Dylan Cantrell, 6-3, 220, whom Beaty said is a "very difficult" matchup because his size makes him similar to a tight end.

"It doesn't matter who is on the field, we're going to have to be aware of all of them," said Beaty, who noted he is familiar with Coutee and fellow receiver Cameron Batson because he tried to recruit both of them during his time as a receivers coach at Texas A & M.
Beyond Tech's explosive offense, the Jayhawks (1-3, 0-1) are coming out of their bye week prepared to face an improved, opportunistic defense.
The Red Raiders have already created a league-leading 10 turnovers this season. Beaty credited Tech's defensive coordinator David Gibbs with their improvement.
"You can tell those guys have put a lot of emphasis on taking the ball away," Beaty said. "They just look like they've grown a little bit. They were a little bit of a young team last year."
Bye week adjustments
During the team's bye week, Beaty estimated that the Jayhawks conducted three or four practices.
One of the main areas of focus was turnovers on both sides of the ball. Kansas ranks 119th in the country with a negative-five turnover margin, only ahead of 10 teams. The Jayhawks have committed nine turnovers, including seven interceptions.
"We feel like one of the things that we need to do a lot better job of is turnover margin," Beaty said. "Not only taking caring of it offensively, but we're not creating a bunch of turnovers defensively. We've got to be better there."
Without any game preparation last week, Beaty said the Jayhawks had an opportunity to spend extra time working on their fundamentals, special team units and "self scout."
"There's so many things that go into making sure that you're playing complimentary football," Beaty said, "and that bye week allows you to go back to maybe some fundamentals to be able to kind of shore those up when you may not have time to do as much of that during the regular season."
Another early start
For the third straight Big 12 game, the Jayhawks will have an 11 a.m. kickoff.
The conference announced Monday the late morning time slot for KU's road game against Iowa State on Oct. 14, which will be televised on the Fox Sports Network.