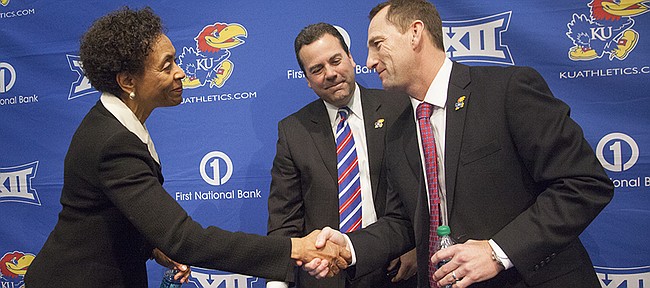 The man sitting across the desk in his office was hired to succeed Lew Perkins as athletic director at the University of Kansas, in large part because of his football-heavy background.
Sheahon Zenger played the sport at Fort Hays State and MidAmerica Nazarene. He also served as football recruiting coordinator at Kansas State, South Florida and Wyoming before taking a turn toward the administrative side of athletics in 2001 at K-State.
The AD's background hasn't translated to on-field success for the Kansas football program.
KU recently finished its sixth season under football coaches hired by Zenger with the worst six-year record in program history (10-62), which also is the worst record among 128 Football Bowl Subdivision programs that have competed in each of those six seasons. University of Massachusetts (14-58) has the next-worse record.
First-year chancellor Douglas Girod decided to stay with Zenger and take the AD's recommendation to keep the football coach for a fourth season.
David Beaty has gone 3-33 in three seasons, giving KU the worst record in the FBS during that span. Charlotte (7-29) has the next-worst mark.
Zenger, who had released a statement announcing that Beaty would stay as head coach as soon as the 1-11 season ended with a 58-17 loss Saturday to Oklahoma State in Stillwater, agreed to sit down for a one-on-one interview about the KU football program with the Journal-World.
"When we hired David, we hired him to recruit, to rebuild the unity with the team and the stakeholders and to build those relationships with stakeholders. And he's done that," Zenger said. "We also handed him the shortest roster in the history of this school and one of the shortest ever in the history of D-I football. We knew that. We knew he was in a deep hole, maybe in as deep a hole as any coach has ever started."
Three years into his tenure, Beaty hasn't made significant progress from his 0-12 debut season. Five of this season's nine Big 12 losses came by margins of 38 points or greater, and all nine were by double digits.
In 2011, Zenger fired Turner Gill, hired by Perkins, with a 5-19 record and a buyout of $6 million that had to be paid within 90 days. Zenger replaced Gill with Charlie Weis and then fired him with a 6-22 record and about $6.6 million remaining on his salary, which was paid off at the end of Weis' five-year, $12.5-million contract.
Beaty had a significantly worse record and a less painful buyout of $3 million, which begs the question of why Beaty didn't meet the same fate as Gill and Weis.
Does winning mean less now than it did then, or is the financial situation of the department worse now than then?
"I would say it's neither," Zenger said. "It's just time to put the stake in the ground and stop the rotation every 2 1/2 years. We can't keep doing this to the program. The program needs some room to breathe, to bring in four recruiting classes back-to-back-to-back-to-back."
Several months after giving Beaty a contract extension and doubling his salary to $1.6 million in the wake of a 2-10 2016 season, Zenger received an extension and raise to an annual salary of $700,000 in the 11th-hour of former chancellor Bernadette Gray-Little's administration.
It's uncommon for an athletic director to have a chance to hire another football coach after firing his own hire; virtually unheard of for an AD to be allowed to make a third hire after firing the first two.
Might Zenger have recommended keeping Beaty, knowing he would not receive an opportunity to make another hire and thereby would be ending his own tenure once he ended Beaty's?
"One, that's not up to me to decide whether that would be the case," Zenger said, referencing the belief that he wouldn't be allowed to make another hire. "That had nothing to do with it. It had to do with we've got to stop the merry-go-round. We've got to let it breathe. We've got to let another recruiting class in here."
Looking for a quick fix and aiming for a bowl bid in his third season, Weis recruited an exorbitant number of junior-college and four-year transfers from the start of his short stay in Lawrence. Most didn't pan out. The shortage of high school recruits led to Beaty inheriting a shortage of scholarship players on the roster.
Beaty also has had trouble resisting the temptation of taking recruiting shortcuts. In his first three recruiting classes, Beaty gave scholarships to an estimated 45 high school players and 29 transfers.
"Every coach comes in with the intention (of recruiting) nothing but high school seniors in the perfect world, maybe a couple of transfers to shore up some holes," Zenger said. "You start feeling the urge to address holes because you want to compete. And then you go through the first year and you don't have success in wins and you feel the pressure and you take a couple of more of those transfers. That's just the reality of what happens. It's been a pattern here."
Zenger said he will not put a limit on the number of scholarships Beaty uses on junior college players in this 20-deep recruiting class, but said he and Beaty "are aware of" the down side of recruiting too many.
Zenger said he wanted Beaty to have a senior class of his own recruits.
"We've got to let this coach have more than eight seniors on the field," Zenger said.
And whether it be Beaty or his successor, KU's football coach in 2021 deserves the same senior depth. That won't be possible if Beaty loads up on too many junior college recruits this season.
"Good point," Zenger said.
The AD said he didn't have any problem with the football coach saying, "It's a great time to be at KU," after the season-ending Oklahoma State loss.
"David's one of the most positive individuals you're ever going to meet," Zenger said before making it clear that expectations on him are ramping up. "I would say with regard to the support that we have from central administration, donors, the facilities we're able to bring in, it is a great time.
"Again, going back to the unity that he has created, that's good. Now we're at the point where we all know that needs to translate into wins, right? That's reality."