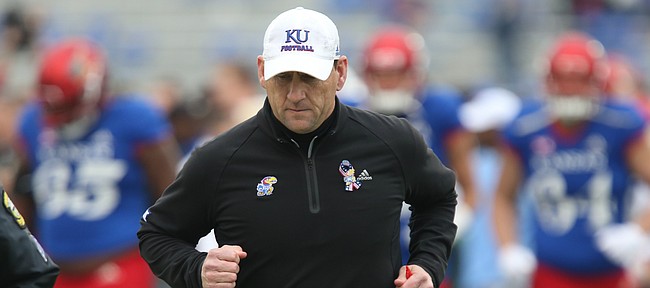 The Kansas football fan was floored by a left-right combination delivered in blurry-quick fashion Saturday afternoon. To many, it felt as if two football seasons ended in an instant.
The left to the jaw: Oklahoma State 58, Kansas 17, the 1-11, 2017, season over. The right to the chin: KU athletic director Sheahon Zenger released a statement that indicated head coach David Beaty would return, which in effect killed interest in the 2018 season.
No other college football program would have decided to bring back for a fourth season a coach with records of 3-33 overall and 1-32 vs. FBS competition. Ditto for an athletic director whose six years of football hires have combined for a 10-62 overall record, 5-61 vs. FBS schools.
So why did KU do what no other school would consider doing?
The easy answer: You can't fire Beaty without firing Zenger. And canning the AD would imperil fundraising for the $300 million Memorial Stadium renovation project. Not buying it. That supposes that Zenger is a better fundraiser than anyone KU would hire to replace him. Where is the evidence for that for an AD who started his last football hire at $800,000?
I think the real answer resides 180 degrees from that explanation. Zenger's flaws as a fundraiser actually might have had more to do with it. The idea of buying out a head coach for $3 million, plus an AD for $1.4 million and assistant coaches for another $2 million or so was so intimidating, it froze everyone into inaction and the can was kicked down the road another year — at which point Zenger and Beaty still will have the same buyouts.
Bringing in a new AD and head football coach would have created hope for KU football fans who remember that Mark Mangino inherited a mess and in eight seasons posted a winning record and a 3-1 mark in bowl games. Those fans know that it's possible to win at Kansas because they saw it.
Bringing in new leaders would have breathed life into the facilities campaign. The unknown always looks better than the known, especially when the known AD hired football coaches who combined for a 5-61 record vs. FBS competition.
Zenger in his statement called the 2017 results "not acceptable," a classic case of listen to what I say and ignore what I do, given that the coach responsible for the "not acceptable" record is being brought back for a fourth season with a 3-33 mark.
"Thanks to some amazing benefactors who understand what it takes to build a program, we plan to provide our coaching staff with even more recruiting resources," Zenger said in his statement.
So the benefactors know what it takes? Doesn't everybody know?
It takes a head football coach who knows how to run a program and leads with obsessive attention to detail in everything from assembling a staff to driving those assistants to succeed in every aspect of their jobs to then holding them accountable. It takes evaluating recruits accurately and instilling discipline that manifests itself in every aspect of the program. It takes creating an environment in which players improve and give themselves the best shot at staying healthy.
It takes humility, an aversion to excuse-making, adhering to high standards and setting high expectations.
So much for high expectations if 3-33 is good enough and so much for not making excuses if an implicit message in Zenger's statement is that KU is in this mess because it falls short in facilities comparisons. To believe that is to believe it's the donors' fault for not ponying up enough money all these years. Again, not buying it.
In preparation for the Orange Bowl after the 2007 season, Mangino had his teams walking through snow banks to practice at Memorial Stadium. Sure, where you practice helps in recruiting, but how you practice means far more. A coach who evaluates well enough to minimize recruiting mistakes will have better practices at mediocre facilities than a coach who brings in the wrong talent even if that talent practices in state-of-the-art buildings.
Kansas is 1-26 in Big 12 games in Beaty's three seasons and went winless in conference for the second time in three years. KU was outscored by an average of 48-12 in Big 12 games in 2015, 46-14 this season. That's an improvement of four points in two years, from 36-point underdog to 32. At that rate of two-year improvement, KU will break even in 2033, Beaty's 19th season.
For the ninth consecutive season, KU will not participate in a bowl game.
Rebuilding efforts at Purdue (6-6), Virginia (6-6) and Wake Forest (7-5) have led the three schools to bowl eligibility this season. Next to KU's nine-year drought, the longest ones among power-five football conferences belong to Oregon State and Syracuse, each with four-year droughts.
Nine years is a long time, so long that complacency has taken root and 3-33 is good enough to earn a fourth year and a $100,000 raise.