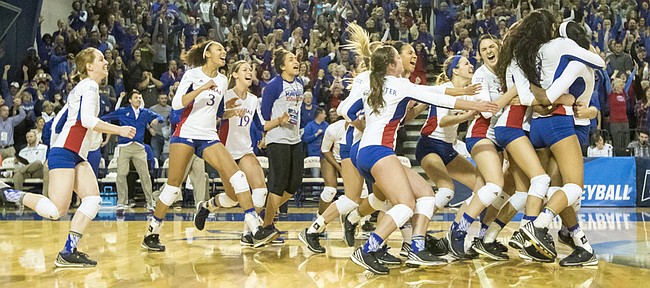 Athletes who assemble for NCAA tournament selection-show watch parties tend to stay pretty close to the script. First-round matchup appears on the TV screen and the players cheer, sometimes in hollow fashion.
Yet, Sunday night in the Naismith room in Allen Fieldhouse, nothing felt scripted about the huge roar from the Kansas volleyball players when their first-round NCAA tournament match appeared on the screen.
The spontaneous celebration would have given anyone not watching the TV a pretty good guess as to the opponent: Missouri.
The longtime bitter rivals meet at 6 p.m. Friday at Charles Koch Arena in Wichita. KU's streak of serving as host school for the first two rounds of the tournament ended at five years, but the marquee value of the first matchup kept any sizzle from leaving the Jayhawks.
The schools last met in volleyball two years ago in a second-round NCAA tournament match in Horejsi Center. KU came from behind in the third set to complete a sweep of the Tigers, and went on to reach the Final Four.
"It was crazy," senior outside hitter Kelsie Payne said. "I remember Mizzou had a lot of fans. We had a lot of fans. The bands. Everyone was yelling. I think it was the loudest it's ever been. That was probably one of my favorite college matches ever."
Senior setter Ainise Havili echoed those sentiments.
"Third set, we're down 24-20, something like that, Maggie (Anderson) goes back to serve and we go on a run and win the game (27-25), and that was one of the most fun moments I've had in Horejsi in my career, for sure," Havili said.
Kansas was on track to be one of the 16 schools to serve as host, but faded at the end of the season. Saturday's five-set loss to West Virginia at home might have been the deciding factor that enabled Wichita State and not Kansas to lock up home matches for the first two rounds.
"This is a good opportunity for us to stay somewhat local," Kansas coach Ray Bechard said. "If we couldn't be at Horejsi, it's good to be so close. I'm sure a lot of KU fans can travel and watch what I think will be a great match with Kansas and Missouri."
KU's goal is to finish the NCAA tournament even closer to home than it's starting it. This year's Final Four is at Sprint Center, where Havili and Payne watched Kansas and Missouri play an exhibition basketball game.
"It's right down the road and that's what we've been working toward all season," Payne said of the Final Four. "And now the time is here, so we're going to take it one day at a time, one practice, and focus on getting better."
The winner of Friday's match between Kansas (22-7) and Missouri (20-11) faces the winner of Wichita State (28-3) vs. Redford (25-4) in Saturday's 7 p.m. second-round match.