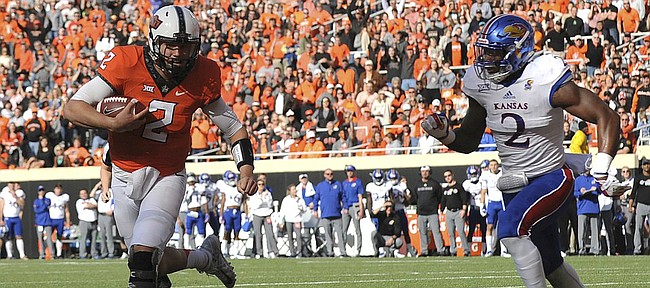 Stillwater, Okla. — The moment the University of Kansas football team's season ended with a 58-17 pasting at the hands of No. 18 Oklahoma State, athletic director Sheahon Zenger sent out a statement in support of head coach David Beaty.
Although Kansas went 1-11 overall and experienced its second winless Big 12 record in Beaty's three seasons, Zenger got out in front of any potential questions regarding the coach's job security.
"Beaty and I have been evaluating the program throughout the season and will continue to do so now that the season has concluded. While we know the results of this season are not acceptable, the rebuilding of this program is a process, and Coach Beaty will continue to lead us through it," Zenger said in the statement, just after Beaty's record as head coach dropped to 3-33 overall and 1-32 against FBS competition.
"I'm excited and encouraged about the coaching staff's recruiting efforts and the facility upgrades we've made thus far and those we are about begin," Zenger added, while endorsing Beaty heading into the offseason. "As we all know, recruits want to see first-class facilities; thanks to some amazing benefactors who understand what it takes to build a program, we plan to provide our coaching staff with even more recruiting resources."
Beaty, of course, expressed his appreciation for Zenger's words at his press conference, minutes after those were released.
"Well, it means everything, obviously. Very exciting just to continue to have it reinforced as we go through it," Beaty said. "They understand the vision and I've been very clear about how we build it. Unfortunately when you go through rebuilds there isn't always a quick fix. Sometimes there is, but it will be short-lived if you're not careful."
KU's coach stated he and his staff are attempting to salvage the program, which hasn't won more than three games in a season since Mark Mangino was forced out in 2009, "the right way."
"Trying to do it with guys that have three to four-plus years to where we can develop them. That's a senior-laden football team right there," Beaty said of Oklahoma State (9-3 overall, 6-3 Big 12). "You look at all the teams in the conference that have seniors."
Beaty then thanked KU chancellor Douglas Girod, as well.
"He is a worker, grinder and he understands the process. He understands that it's about work and he understands that we value and love this university as much or more than anybody could ever imagine," Beaty said. "We're going to work tirelessly to continue to work to get this thing to where we can all be proud of it as soon as we can."
Where will Wise and Armstrong be in 2018?
Although it appears a near certainty Beaty will remain KU's coach in 2018, whether the team will benefit from the presence of defensive linemen Daniel Wise and Dorance Armstrong Jr. a year from now remains to be seen.
Both Wise and Armstrong in the weeks ahead will look into the possibility of leaving KU early in order to enter the NFL draft.
Beaty, though, said he isn't worried about such a scenario, because "that's the goal."
"If it's the right time for them, I'm going to help them pack," Beaty said of either prospect potentially entering the draft. "That's why we brought them here, right? Our job is to make sure that we help these guys get themselves developed to maximize their first opportunity in that league. Their first opportunity. The good news is we've got a couple of guys that might be on that radar, which is good."
Wise, who made eight total tackles, including three tackles for loss and a sack, in his junior-year finale, said he isn't in a rush to make a decision on the draft.
"Love this university, love our fans, love coach Beaty, coach (Jesse) Williams, coach (Clint) Bowen, all of them," Wise said. "I'm going to make the best decision that fits me with my family and everyone else when we sit down and talk later on, now that we have time to focus on that."
Armstrong wasn't made available for postgame interviews on a day he tried to battle through illness and make an impact. The junior defensive end left the game in the second quarter with four total tackles. Beaty said Armstrong was sick "all night" Friday and had been on a regimen of IV fluids in an attempt to get him healthy enough to contribute.
"He did everything he could. He just didn't have anything in him," Beaty said. "Couldn't hold anything down. Just unfortunate, because I know he was excited to play in this game."
Adeniji played hurt; and more injuries
KU left tackle Hakeem Adeniji put off surgery on his injured shoulders to start every game this season.
Scheduled for surgery on a torn labrum Monday, Adeniji said he suffered one such shoulder injury in the preseason before having the same befall his opposite shoulder during an Oct. 7 loss to Texas Tech.
"He's played the entire season with two torn labrums, which, that's amazing," Beaty said of Adeniji, describing it as competing "with his arms strapped down. Stud, man."
Adeniji will have surgery on the opposite shoulder at a later date.
Beaty revealed right guard Chris Hughes, replaced at OSU by Larry Hughes in the starting lineup, also will need surgery soon. The same goes for junior safety Emmanuel Moore.
Safety Tyrone Miller Jr. broke an ankle during the season finale, and also has a shoulder injury that must be addressed. When Miller left the game, safety Mike Lee replaced him. Lee, who had missed the past two games due to injury, finished with five tackles.
"Guys, this is college football. That's the way it is. I don't know if I've ever seen this number," Beaty said. "I mean, we had 11 guys coming into this game that had surgeries and season-ending injuries that were more than that."
One more for the road
The 2017 Kansas football season ended just as the previous seven before it: without a Jayhawks road victory.
KU extended its unenviable major college football all-time record road losing streak to 46 games in Saturday's season finale at Oklahoma State. KU's massive skid began in 2009, with a loss at Colorado, roughly a month following the program's last road win, at UTEP, on Sept. 12, 2009.
What's more, the loss marked the program's 49th consecutive defeat outside of Lawrence, when neutral site games are included in the span.
Kansas hasn't won a Big 12 road game in even longer. On Oct. 4, 2008, the Jayhawks won at Iowa State. They have lost 41 conference road contests in a row since.
Bender says he'll be back
Although junior transfer Peyton Bender lost his starting job late in the season to Carter Stanley, Bender said after KU's 2017 finale he plans to return for 2018.
"I'm fully on board," Bender said. "I love the university, love being here. So, yeah, I'll definitely be back."
Bender returned to the starting lineup at OSU when a knee injury sidelined Carter Stanley.
New captains
With typical KU captains Armstrong, Wise, Joe Dineen and Jeremiah Booker stripped of those duties after the previous week's handshake snub of Oklahoma quarterback Baker Mayfield, four Kansas seniors replaced them in that capacity.
KU selected Jacky Dezir, Kyle Pullia, Ben Johnson and Kellen Ash to serve as captains at Oklahoma State.
Dineen's junior-year production
Kansas redshirt junior linebacker Dineen came up just shy of his 10th double-digit tackle output for the Jayhawks in the finale, totaling nine stops.
Dineen, who suffered a season-ending hamstring injury in the third game of 2016, bounced back to lead KU with 135 total tackles and 23 tackles for loss. That mark tied Dineen with Charlton Keith (2005) for most tackles for loss in a single season in program history.
---
More news and notes from Kansas vs. Oklahoma State