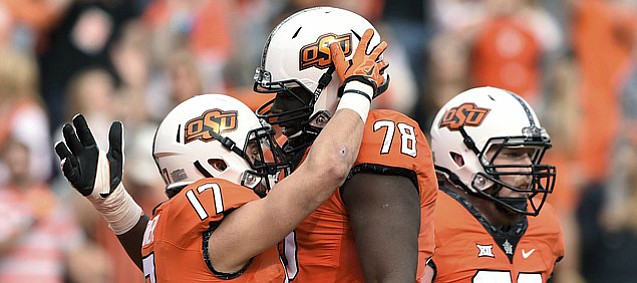 Similar to many of the other Big 12 games this season, the Kansas football team fell into an early deficit and didn't produce nearly enough offense to keep up in Saturday's 58-17 loss to Oklahoma State at Boone Pickens Stadium.
In the final game of the 2017 season, the Jayhawks trailed by as many as 31 points in the first half as they struggled to contain the Mason Rudolph-led Oklahoma State offense. Five of the Jayhawks' first six possessions ended in three-and-out punts.
Junior quarterback Peyton Bender earned his first start in five weeks, completing 17 of his 32 passes for 172 yards, two touchdowns and one interception. He tossed a 33-yard score to Evan Fairs in the final minute of the first half and a 2-yard touchdown pass to Steven Sims in the third quarter. Sims had eight catches for 66 yards.
Playing without a few members of the secondary, Kansas had trouble slowing down Rudolph, who was 31 of 43 for 438 yards and two scores. Rudolph added two touchdown runs. Receivers James Washington, Dillon Stoner and Marcell Ateman all had more than 100 receiving yards.
Kansas ended the 2017 season, its third year under David Beaty with a 1-11 record and an 0-9 mark in Big 12 play. The program's road losing streak was extended to 46 games, dating back to 2009.
Here's a quick look back at some of the action:
• The game turned when: On the ensuing drive following Kansas' field goal at the end of the first quarter, the Cowboys quickly responded with a 10-play, 75-yard drive that ended with a 12-yard touchdown run by Justice Hill.
The Jayhawks couldn't afford to trade field goals against touchdowns against one of the top offenses in the country. Oklahoma State (9-3, 6-3 Big 12) took a 17-3 lead and only increased its lead from there.
OSU scored on six of its seven first-half possessions.
• Offensive highlight: Fairs, a sophomore receiver, has emerged as one of the team's top targets in recent weeks. He had another chance to prove himself in the final seconds of the first half when Bender looked his way on a fade pass.
With the ball aimed toward Fairs' back shoulder, the receiver spun around for the catch, kept both of his feet inbounds and secured the grab next to the pylon for his first touchdown reception of his career. It was a 33-yard touchdown catch, giving the Jayhawks their first touchdown of the day.
• Defensive highlight: The Jayhawks didn't force any turnovers and only had two sacks, but did force two punts. Yes, it is hard to find a highlight when an offense scores 58 points.
• Key stat: Yards per passing attempt. Rudolph and the rest of the Cowboys' offense thrives on big plays and Saturday was no different.
Rudolph, likely a first round pick in next year's NFL Draft, averaged 10.2 yards per attempt against KU's banged up secondary. He was aggressive and wasn't afraid to dial up a big passing play.
By comparison, Bender averaged 5.4 yards per attempt with more throws around the line of scrimmage.
• Up next: The Jayhawks concluded the 2017 season with a 1-11 record and will enter the offseason. Besides the upcoming spring game, Kansas will play its next game on Sept. 1 against Nicholls State at Memorial Stadium.
SCORING SUMMARY
FIRST QUARTER
12:05 — Mason Rudolph 1 run . Matt Ammendola kick. Seven-play drive for 74 yards, in 2:55. (OSU 7, KU 0.)
6:22 — Amendola 43 field goal. Six-play drive for 16 yards, in 1:39. (OSU 10, KU 0.)
1:36 — Gabriel Rui 50 field goal. Twelve-play drive for 46 yards, in 4:46. (OSU 10, KU 3.)
SECOND QUARTER
13:40 — Justice Hill 12 run. Ammendola kick. Ten-play drive for 75 yards, in 2:55. (OSU 17, KU 3.)
10:41 — Dillon Stoner 76 pass from Rudolph. Ammendola kick. Two-play drive for 78 yards, in 0:31. (OSU 24, KU 3.)
4:28 — Ammendola 36 field goal. Thirteen-play drive for 59 yards, in 4:31. (OSU 27, KU 3.)
2:00 — LD Brown 1 run.
0:07 — Evan Fairs 33 pass from Peyton Bender. Rui kick. Nine-play drive for 73 yards, in 1:53. (OSU 34, KU 10.)
THIRD QUARTER
14:00 — James Washington 30 pass from Rudolph. Ammendola kick. One-play drive for 30 yards, in 0:06. (OSU 41, KU 10.)
5:41 — Steven Sims 2 pass from Bender. Rui kick. Seven-play drive for 41 yards, in 2:20. (OSU 41, KU 17.)
2:12 — Rudolph 1 run. Ammendola kick. Eight-play drive for 75 yards, in 3:29. (OSU 48, KU 17.)
FOURTH QUARTER
10:43 — Ammendola 49 field goal. Twelve-play drive for 60 yards in 4:32. (OSU 51, KU 17.)
4:58 — Brown 1 run. Ammendola kick. Seven-play drive for 65 yards, in 4:16. (OSU 58, KU 17.)
---
More news and notes from Kansas vs. Oklahoma State