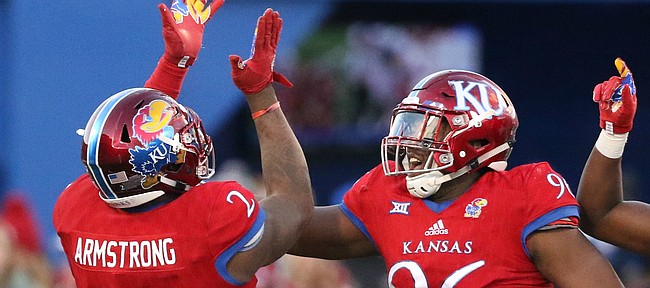 When the Kansas football team's captains decided to snub Oklahoma quarterback Baker Mayfield during pre-game unpleasantries this past weekend, they had no idea of what fallout would come.
A day after their head coach, David Beaty, declared public apologies to numerous parties on their behalf, he announced at his Tuesday press conference Daniel Wise, Dorance Armstrong Jr., Joe Dineen and Jeremiah Booker will be deprived of their captain status for the upcoming season finale at No. 18 Oklahoma State.
Beaty said he visited with KU's captains "on a couple of occasions" between Saturday and Monday and one of those sessions dealt with accountability.
"In visiting with those guys (Monday), we talked a little bit about what was going to take place, and it was good listening to their thoughts, as well. One of the things that they articulated before I talked about what we were going to do with them was the fact that they felt terrible about a lot of different things, one of which was Senior Day, and that those guys were not able to be really honored in the way that they wished they could have," Beaty stated, referring to the final home game for KU's seniors, a 41-3 loss to Oklahoma.
According to the Kansas coach, whose team is 1-10 overall, 0-8 in the Big 12 headed into its Saturday finale (11 a.m. kickoff, FOX Sports 1), the captains themselves ntroduced the idea of having seniors replace them in that role this week.
Podcast episode
On this episode of the KU Sports Hour, hosted by KU football beat writer Benton Smith, the KUsports.com staff discusses KU's 41-3 loss to Oklahoma. Topics include: recapping OU-KU (open-8:10), the on-field antics (8:10-23:20), injuries and other leftovers (23:20-30:30), and the KUsports.com football mailbag — discipline, birthday presents and Mark ...
Said redshirt junior captain Wise, who didn't attend post-game interviews Saturday, following the blowout loss to OU: "We took the Senior Day away from the seniors. We took the attention away from the seniors with what we did and we kind of shifted gears and want to give the seniors an opportunity to bring light to the seniors again."
The repercussions for the captains, Beaty said, won't include losing their starting jobs or playing time versus the Cowboys (8-3, 5-3).
"There's a little bit more to it than that, but we're handling that," Beaty said, alluding to some further punishment.
The Big 12 on Tuesday afternoon issued public reprimands of both Mayfield, for his inappropriate gestures and screamed profanities during the game, and the KU captains for violating the conference's Sportsmanship and Ethical Conduct Rules.
"The refusal of these student-athletes to shake an opponent's hand during the pre-game ceremony is contrary to tradition and inconsistent with common courtesy," league commissioner Bob Bowlsby stated in a release. "The pre-game handshake among team captains is symbolic of good sportsmanship. This breach of protocol is not in keeping with the standards of the Big 12 Conference. I am grateful for the work of the Kansas administration and coaches to resolve this matter."
KU athletic director Sheahon Zenger released the following statement on the incident to the Journal-World: "We all understand that what happened Saturday was unacceptable, and we have apologized to the University of Oklahoma. These four captains have always been examples of competitiveness and outstanding sportsmanship. This was a one-time act based on emotion and the heat of the moment. After discussing the incident with these young men, we are confident that they have learned a valuable lesson and will continue to be good leaders going forward."
The whole non-handshake ordeal, according to Armstrong, who also didn't attend a Saturday post-game media session, described it Tuesday as a "last-minute idea" by the captains.
"It wasn't for any other reason than to just get our team excited, knowing that it was a big game we were going into, knowing that Baker was going to try to get his stats up for the Heisman," Armstrong explained. "It was just something we took personal, knowing that that's what he wanted to do. … We just tried to get our team pumped up and ready to play."
Mayfield, who lost his captainship and starting duties for OU's home finale, had not said publicly prior to the matchup with KU he planned to run up the score or anything of that nature.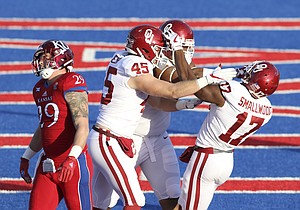 "It was just something obvious," Armstrong clarified, of why he brought up Mayfield wanting to produce big numbers against the Jayhawks. "It wasn't clear who was going to get the trophy. So you just figure that yourself."
The captains declined to identify who came up with the idea to hold their hands behind their backs during the pre-game handshake, instead claiming it was their collective plan.
Junior receiver Booker, who suffered a season-ending injury and didn't play against OU, was part of the group and attended Tuesday's media interviews even though he wasn't requested. Booker wanted to stand beside Wise, Armstrong and Dineen, who have encountered scrutiny via social media and beyond.
"I just felt like it wasn't fair for everybody to be asking them questions, getting on them, talking about them, when I was out there, as well. Teammates voted me a captain, just like them, so I wanted to take full responsibility for this action, because it wasn't just Joe, it wasn't Dorance, it wasn't just Daniel that decided that. I said that, as well. We all decided that," Booker said, adding the group failed to think the whole concept through.
All of the captains expressed remorse.
Said Armstrong: "It's kind of sad that we actually did that and now we're losing our captains spots due to something that was pretty selfish. And I hope that whoever is the captains for this week is ready to fill in for those spots."
Added Wise: "Hindsight is 20-20. Obviously it wasn't the best decision. That's not who we are really as captains. We (should) put sportsmanship over everything. Looking back on it we displayed bad sportsmanship for our team, and for Kansas fans we let them down, and obviously kids who are around."
Defense to be punished for late hit
Although the Big 12 didn't issue a punishment for the late hit Kansas cornerback Hasan Defense delivered on Mayfield in the second quarter of the Sooners' victory, Beaty said his staff internally addressed the dangerous play.
"We also have a policy here if you're involved in a personal foul situation here, there's accountability for that," Beaty said, "and we had one that Hasan Defense was involved in that, and we've handled his consequences, as well."
The third-year KU coach said he was glad Defense's potentially harmful action was the first this year he would characterize as a "dumb category situation" by one of his players on a personal foul.
"I can handle when you're hustling and you get there just a hair late, but when you make a selfish mistake, that's another thing altogether, and I know Hasan felt badly about it, because he knew he was a little bit later than what he thought," Beaty said, "but there's still accountability that goes along with it. So we handled that, as well."
Asked whether Defense's starting job or playing time will be impacted as a result, Beaty replied: "No, it won't. He's fine."
So is the unspecified punishment carried out at KU practice?
"Yep," Beaty responded. "It's the policy.